Empire Ears Odin
Pursuing Extraordinary – The Story of Odin
HERO – Official Product Description and Specifications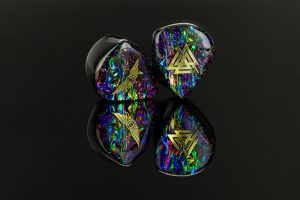 -MRSP: Universal fit $3399 USD pre-order from Bloom Audio and MusicTeck
I am featuring the long-awaited TOTL release from Empire Ears, The ODIN. Empire Ears ODIN is a TOTL Tribrid IEM and I will have a review coming soon.
Empire Ears is the designer and developer of Top Tier IEM's from Norcross, Georgia. Owned by Founder and CTO, Dean Vang, and the front-face of the organization, VP Jack Vang,  Empire Ears is well-known throughout the audiophile ranks as a significant player in the IEM industry.
Empire Ears being no stranger to Audio Rabbit Hole as I have reviewed two of their previous TOTL releases, Zeus XR and Legend X
I will certainly chime in with some impressions along the way, ultimately culminating in a full review. Until then, enjoy the photos and click on the included links above for more information.
Pack-ins are top notch and the included cable, is named the Stormbreaker. The Stormbreaker is a collaboration between Empire Ears, PW Audio and Pentaconn of Japan. The cable is reminiscent of the PW Audio 1960's cable .
The faceplate is called Bifrost, it represents a one-of-a kind design. In Norse Mythology, 'Bifröst' is the burning rainbow bridge that connects Earth and the realm of the gods (Asgard).  Stunning!
It will be interesting to hear this new offering and as always, I will let you know whether this is a hit or a miss. The price is a mind-numbing $3399.
Empire Ears ODIN TOTL Tribrid IEM consisting of;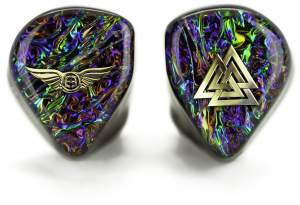 1 – Sub-Bass
1 – Bass
2 – Low Mid
2 – Mid
1 – Mid High
2 – High
2 – Ultra High
108 db SPL @ 1kHz
5Hz – 100Khz Frequency Response
3 Ohms @ 1kHz Impedance
A little more about the tech inside
Dual W9+ Subwoofers – Sub Bass, Bass
Our signature W9+ dynamic driver brought serious performance to the IEM world by
combining the breakthrough of an enclosed woofer in a tuned bass-reflex system. Elevating the
W9 design formula to its highest level, the W9+ boasts a larger internal coil diameter, more
linear excursion envelope along with a more capable suspension to handle peak-to-peak
excursion while mitigating distortion. W9+ extinguishes any limits the previous design had and
delivers unparalleled bass on all fronts.
Five Precision Balanced Armature Drivers – Low Mid, Low Mid, Mid, Mid, Mid High
ODIN comes equipped with 5 proprietary balanced armature drivers to deliver the signature
midrange that the world has come to know and love from Empire Ears.
Four Electrostatic Drivers – High, High, Ultra High, Ultra High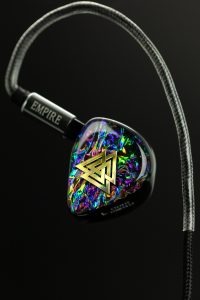 ODIN masterfully manipulates quadruple electrostatic drivers in unison with our proprietary
EIVEC technology to effortlessly reproduce a remarkable 5Hz-100kHz frequency range. The
ultralight moving membrane within Odin's electrostatic drivers give the most accurate transient
response, resulting in unparalleled clarity, separation and detail.
synX: Legendary Crossover Network
Genetically dissimilar from the rest of the IEM world, our synX crossover network truly stands
out with countless bespoke methods and technologies protecting it as a unique masterpiece. A
marriage of 3 different driver technologies become symphonized by a unique, proprietary 7-way
synX crossover network designed to maximize performance from each and every driver.
EIVEC: Mastering the Electrostatics
The lightning-quick electrostatic drivers accommodates ODIN's wide frequency range while
remaining balanced and compact. A single bespoke transformer unites the quadruple
electrostats via our proprietary EIVEC technology to all of the other components while
eliminating any signs of phase incoherence and distortion.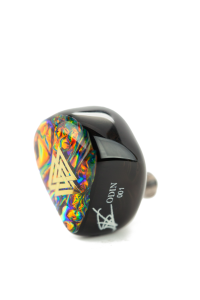 ARC: Resonance Mitigation Technology
ARC (Anti-Resonance Compound) is a proprietary conformal coating that virtually eliminates
unwanted vibrations and resonance from within IEMs. ARC effectively increases the mass of the
components it's applied to: every driver, crossover, and sound tube. This gives the internals
more solidity while serving as a dampener to absorb the unwanted resonance instead of
reflecting them out of phase. With A.R.C. clarity is increased substantially, bass is deeper, and
the IEM becomes more efficient.