Empire Ears Legend X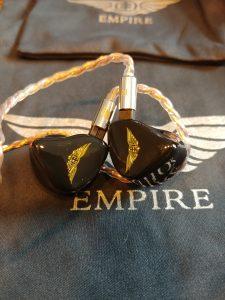 Legend X
Empire Ears Legend X Universal – Universal Legend X
Empire Ears Legend X CIEM – Custom Legend X
A Little Technical Stuff:
Specs
7 Proprietary Drivers, Hybrid Design
2 W9 Subwoofers, 2 Mid, 1 Mid-High, 1 High, 1 Super High
10-Way synX Crossover System
R.C. Resonance Mitigation Technology
Impedance: 14 ohms @ 1kHz
Frequency Response: 5 Hz – 40kHz
Sensitivity: 102dB @ 1kHz, 1mW
26AWG UPOCC Litz Copper Cable, Handcrafted by Effect Audio
     -MRSP: Universal/Custom-fit $2299.00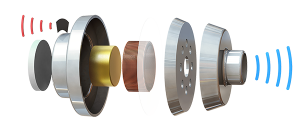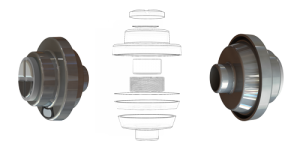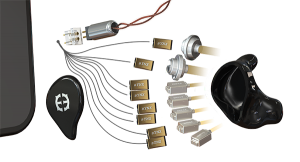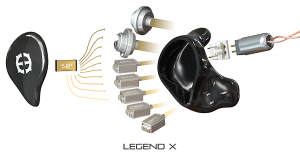 Empire Ears an American Company based out of Norcross, Ga. Norcross is not one of those cities that comes to mind when you think of audiophile juggernaut, such as Empire Ears. The population of Norcross can't be more than 20K inhabitants, but I guess it is close enough to Atlanta, Ga. if you want to travel to the big city excitement, but far enough to not be in the hustle and bustle. Jack & Dean Vang and Team call Norcross home, at least Empire Ears the company does. The list of artists and churches that have drunk the Empire Ears Kool-Aid are too numerous to list here. Empire Ears is super progressive with their development but very methodical with their releases. As a matter of fact, they have recently announced a couple of new offerings a year after the X, one being TOTL.
Almost a year ago, I had the privilege of purchasing the Legend X Universal, acknowledging the high price of admission, I went Universal, for resell purposes. Without the opportunity to demo the Legend X, it could have been a high priced experiment gone wrong, fortunately that was not the case. I have demonstrated great restraint in not writing this review for a year.  I knew the X was unique on first listen, but also knowing that it was a hybrid, utilizing DD's, I knew it would season and improve with age, and my assumptions were correct. It is a pity many consumers only have an opportunity to experience a short audition. The X is not a short audition IEM. In fact, if I had written my review a year ago, it would be a different review with a different outcome.
I wrote a review on the Zeus XR and heralded its extreme clarity, transparency, and layering. It is unmatched in that type of signature. Jack uses the following excerpt from my review on their home page, "You will have a hard time finding an IEM that does everything as well as the Zeus XR. Truly difficult to find better." The Zeus XR is a marvel and best in class if you are seeking transparency. Still, I enjoy a fuller, warmer signature and I remember Jack communicating with me saying they were releasing a couple of IEM's that would be more towards my preferred signature. One of those products was the Legend X.
The Legend X is at the technical pinnacle of my collection, past or present. The IEM checks 95% of my boxes. Nothing is perfect, but to my ears, it raises the bar and sets the new hybrid benchmark. That said, I have heard many TOTL IEM's and not one of them sucks. It all comes down to your personal preference in signature. The bass may be a bit too much for some, and to others, such as myself, it is a beautiful bassy indulgence. I can only stress enough, my X's were adequately seasoned. Once the DD's settle in and your brain aligns, I think you will find this to be one of the most technically proficient IEM's to date.
A Little Marketing Hype from their site:
At long last, the Legend has returned to the throne to push the limits of in-ear monitor performance to its highest point ever. Experience a world-class prestige IEM and a new era of uncompromising design and performance. From its arsenal of 7 proprietary drivers (including twin sequential W9 subwoofers) to its industry leading, state-of-the-art 10-way synX crossover network, the Legend X is the culmination of everything extraordinary we do at Empire.
Designer's Notes
"While neutral in tone and a balanced signature throughout, an addictive treble energizes the music, while simultaneously remaining smooth. But our greatest challenge yet was incorporating the low-reaching, impactful bass of the W9 subwoofers, with technical performance rivaling any in-ear monitor on the market; a challenge we can proudly proclaim we have overcome. Offering top-tier levels of transparency and separation, as well as one of the widest sound stages in the industry, our flagship has earned its position at the top of the lineup: a Legend is reborn."
Every aspect of the Legend X was conceived, designed, and crafted to faithfully reproduce what the artist had intended. With the expertise of producers and mix engineers, including 7x GRAMMY Award winner, Jeremiah Adkins, we were able to understand firsthand what they require from in-ear monitors.
synX Crossover Technology
synX is a supercharged crossover design that designates more individual audio bands per driver than any other crossover technology currently in existence. By creating an ultra-wide, multi-channel highway our engineers can manipulate specific parts of the frequency range in order to precision craft the target response and eliminate any signs of phase incoherence between the drivers. Alternatively, mix engineers and audiophiles will have full control of the drivers when equalizing through a mixing console or digital audio player. synX is the industry's most advanced IEM crossover technology with each model featuring its own uniquely designed synX network.
Hybrid Technology
The Empire X series model features a combination of both proprietary balanced armature speakers and dynamic range W9 subwoofers in order to deliver maximum clarity while achieving a powerful low end response. Each model is further tuned with a specially designed synX crossover network to achieve studio monitor levels of audio reproduction effortlessly and faithfully.
After nearly 2 years of relentless R&D Empire is proud to announce the Weapon IX (W9), a proprietary 9mm rare-earth magnet subwoofer with the ability to deliver extreme output, accurate dynamics and sublime sound quality all at the same time. The keys to these performance capabilities lie at the very core of its design, where the woofer is enclosed in a tuned bass-reflex system with a front-firing sound port and rear-firing vent for maximum efficiency.
Conventional dynamic drivers and passive radiators (a speaker without the magnet and coil) often suffer in low octave frequencies and are heavily dependent on internal shell enclosures for volume, limiting form factor and vastly reducing efficiency with limited extension. The W9 is superior in its custom port tuned design, reaching frequencies even lower than its target response while mitigating distortion as the woofer isn't required to move as far near resonance frequency.
Every W9 subwoofer is hand assembled to our exacting quality standards in our Norcross, Georgia laboratory.
WHAT'S IN THE BOX:
In Ear Monitor
Empire Aegis Case
Empire Cleaning Cloth
Empire Cleaning Tool
A cloth logo bag for the Aegis case
A smaller cloth logo bag to carry IEM's
Various size Final Audio "E" type tips
Pamphlet
Unboxing and Accessories: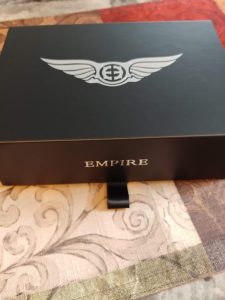 One thing you can count on from Empire Ears is that when you receive your product, opening it is like Christmas morning when you were a child. EE believes in providing not only what you need, but many things you don't.  Their packaging, as well as the included pack-ins, exude class. I am a sucker for all black and EE appears to feel the same. The Aegis case is an excellent, protective, hard stock case. Not only does it protect, but it can be personalized with an engraved nameplate. A wonderful touch! I do not opt for an engraved nameplate because if I ever sell, I am sure the buyer would rather have Legend X on the plate than my personalization.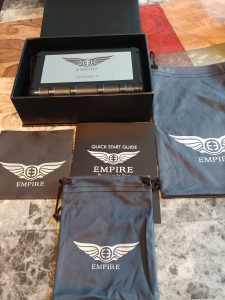 Since this is a Universal model, it includes a package of Final Audio "E" type tips. Obviously, a Custom design would not need the eartips.
The Legend X includes an Effect Audio Ares II cable. I actually purchased an Ares II before receiving the X, so I can attest to the fact that it is a quality cable to include as stock. You can request the termination of your choice, 3.5m, 2.5mm, and so on.  It is a top-quality 2-pin cable, and to include it as stock makes you realize what a premium package you are actually receiving with the Legend X.
To be honest, I am okay with few pack-ins or many. For the consumer that like goodies Empire Ears will always satisfy.
Build Quality and Fit:
My Universal came in all Black emblazoned with the Gold Wing logos on the left and right. The build is smooth, flawless, and ergonomic. The shells are large, and I could see where they could be annoying in small ears. I had no problems once I selected the proper eartips. They are comfortable, but to my ears the EarSonics Grace is a more comfortable universal fit. The X is also very lightweight, so it's beefy frame only fills your ear in volume but not in weight. The X is available in Custom as well, so fit should not be a reason to experience the X.
I went on a tip rolling expedition upon initially receiving the X, and waffled between the JVC Spiral Dots and the included Final Audio e tips.  For seal and sound quality, I landed on the wide bore Spiral Dots, and a year later, I haven't found any other tips that deliver the experience I achieve with the Spiral Dots.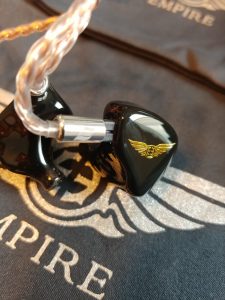 One criticism of the build is the short nozzle and the fact that Empire Ears does not provide a lip on the end of the nozzle to help hold an ear tip in place. This also renders my Custom Art custom tips impractical because they won't stay in place on the nozzle.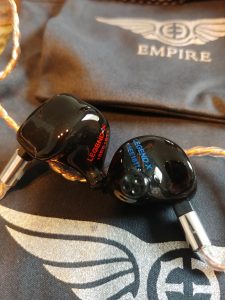 Review Setup:
This review was written utilizing multiple sources. I listened using multiple aftermarket cables to include the Ares II 4-wire and the Ares II 8-wire Bespoke cable, as I found both paired really well. My sample music consisted of 320kb, FLAC, 16 and 24bit, as well as streaming Tidal Masters, Qobuz.
Moving on to the sound section….
The sound section is the part of this review that makes me so glad I did not rush right out and review the Legend X. If you notice, there is a pattern to the early reviews. The initial, out of the gate reviews, discuss how the bass is overpowering. While the bass may set a new standard for audiophiles, proving that you can have molar rattling sub-bass and clarity and detail in one complete package. Legend X is the most comprehensive tuning I have heard in an IEM. The reviews that have come out after the initial wave all seem to point to the fact that the X is not the same IEM after plenty of seasoning. I am part of the second group after a year into my journey with Legend X.
Commonplace among the bassier IEMs is a V-shaped signature. Developers use the treble lift to dilute overwhelming bass. The Legend X is not a V-shaped signature, it has a unique tuning, actually more balanced than a quick listen can reveal. The mids do take a little step to the rear, maybe you could say it is more U shaped than anything. However, it is an impactful listen. While the experience you get from EDM or Hip-Hop is sublime, if you listen to acoustic Eric Clapton, Tears in Heaven, you can actually hear/feel the vibration of his acoustic guitar strings. This is the first IEM to offer me that sensation, all of the while, providing me the detail and clarity throughout the upper registers of the frequencies.
Legend X's soundstage will instantly impress you with its L/R separation and width. The X may not be a holographic experience with notes floating around your head, but there is pin-point preciseness that makes is super easy to locate the percussion in Latin infused music, the percussion attacks your brain from all points in the stage. Logical thought would tell you that copious amounts of bass would muddy the preciseness of the signature, but it delivers its precision surgically. The stage lends itself to showcase the ability of X's imaging. Stellar imaging, spaciousness, and accuracy, what's not to love.
The sub-bass of the Legend X takes almost every IEM to task, it is guttural. You can feel the rumblings, and the sensation is awe-inspiring. It reaches down with spectacular depth. Amid the quantity is a level of quality in all of its technical glory. The Legend X demonstrates what a bass showcase IEM should be. Jack and Dean have pulled off an incredible feat.
Mids of the X warrant attention but are not often recognized because the bass is so delicious. They have an organic feel and a smooth overtone. They are strategically placed in the mix, creating an artistic blend and cohesion with their older sibling, the bass. The mids provide warmth but are natural and neutral when compared to the bass. The mids may be slightly pulled back, all the while allowing details to shine with clarity. Vocals are displayed exceptionally with a natural tone and energy, but a warmth that blends with the signature, not standing alone. All instruments are displayed with weight and heft and richness. Notes have air, which is provided by the upper mids. The upper mids have a hint of shine and sparkle which allows female vocals to have a sexy rendering.
The level of symbiosis between the bass and mids is five-star, considering this is a hybrid. I have heard many hybrid arrays, and they can come off as incoherent or unblended. The overall cohesion in the Legend X proves that the time spent in R&D paid off.
The treble carries on the tradition of blending into the mix. The treble extends and has a hint of sparkle, but never would offend the listener. There is about the right amount of energy, never sharp or offensive. The overall treble could be described as a bit laid back, but man does it blend oh so well. I really think Empire Ears wish was to play it safe with the treble, because it goes to the edge, at times, but allows the showcase to be the sub-bass and mids. The amount of air around notes was a pleasant surprise for a bass focused IEM. Again, I am not sure how Jack and Dean made this signature encompass everything. They have, and it deserves the accolades I am giving it. Clean, full, and guttural sums up the signature. Super technical and a tuning wonder.
Pairings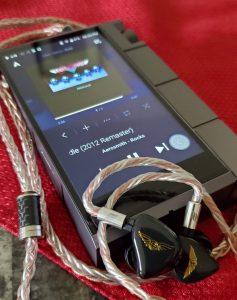 I have found that the Legend X pairs well with any of the sources that I drove the Legend X with. Knowing that the signature is rich, it would probably be best for the listener to avoid a warmer source. For a hybrid IEM, it is relatively easy to drive, although my preference is to generally use the 2.5mm balanced output of most of my sources, which is usually going to provide plenty of power for most IEM's. The QP2R was one of my favorite pairings and the ability to showcase the bass of the X was fully demonstrated.
The QA361 and the Kann Cube also provided an excellent listening experience allowing for the stage and details to shine through.
Of the three sources mentioned all be considered some of the best performers in the business at their perspective price points and level of performance. I can only assume that you would achieve the same level of performance from the likes of a Cayin N6ii or iBasso DX200.
Comparisons
EarSonics Grace
The Grace is aptly named as it delivers its signature with maturity and grace. The bass of the Legend X is deeper and more pronounced, especially in the sub-bass region. The X is a hybrid, containing DD and BA drivers and the Grace is strictly BA, so considering that the Grace has a very technical bass with beautiful layering and transparency. The Grace has punch and speed with rapid decay overall, but the Grace lacks the snap that the Legend X has in the midbass and doesn't extend as low as the X.
To my ears, the Legend X really isn't warmer than the Grace; it just adds more rumble. The Grace holds it's own really well against the Legend X.
FIBAE 6
The F6 is strictly BA, so consider that. Honestly, the bass of the F6 holds its own reasonably well compared to the DD bass of the X.
Overall the F6 is a smoother listen. The X has a much better treble extension, and while neither IEM is offensive in it's treble, the amount of sparkle in the Legend X allows the spectrum to extend further. In the mids, the X can reach into a song and extract more detail from the music. Both are very full in the mid-range, but technically the X showcases more detail, and the F6 smooths out the sound. I prefer DD bass, but the bass level and tone that Piotr and team can achieve with this BA offering is undoubtedly impressive. The X is more layered and has quicker transients while the F6 is more warm, smooth, and organic.
You might want to own this IEM if:
+ You want incredible bass which balances out with proper seasoning  
+ You prefer a full, indulgent signature that rumbles
+ You are sensitive to treble peaks and sibilance, as this is super smooth
+ You like a coherent, pinpoint accurate stage
+ You want TOTL technical abilities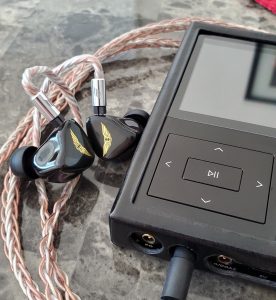 In Closing
The Empire Ears Legend X is not perfect. It is not a single listen IEM, or designed for a quick listen. The Legend X has sub-bass, it is a basshead audiophile listen. The critical component to fully appreciating the Legend X is giving it seasoning time. This allows your brain to become accustomed to the signature as well as the DD bass time to balance out. There are only a couple of IEM's I own/owned that I feel benefit from seasoning time and the Legend X is one of those.
As stated many times in this review, the X is super synergistic for a hybrid IEM. The accuracy of the stage is noteworthy, as well.
I have only had the opportunity to hear two Empire Ears offerings, but both have been Top Tier. I would enjoy hearing the tunings of some of their lower price offerings; who knows maybe I will make that happen.
To wrap this review up, I can only say that the Empire Ears Legend X is one of the most technically proficient hybrid IEM's I have heard and decadent sub-bass to be felt as well as heard.