Astell & Kern Odyssey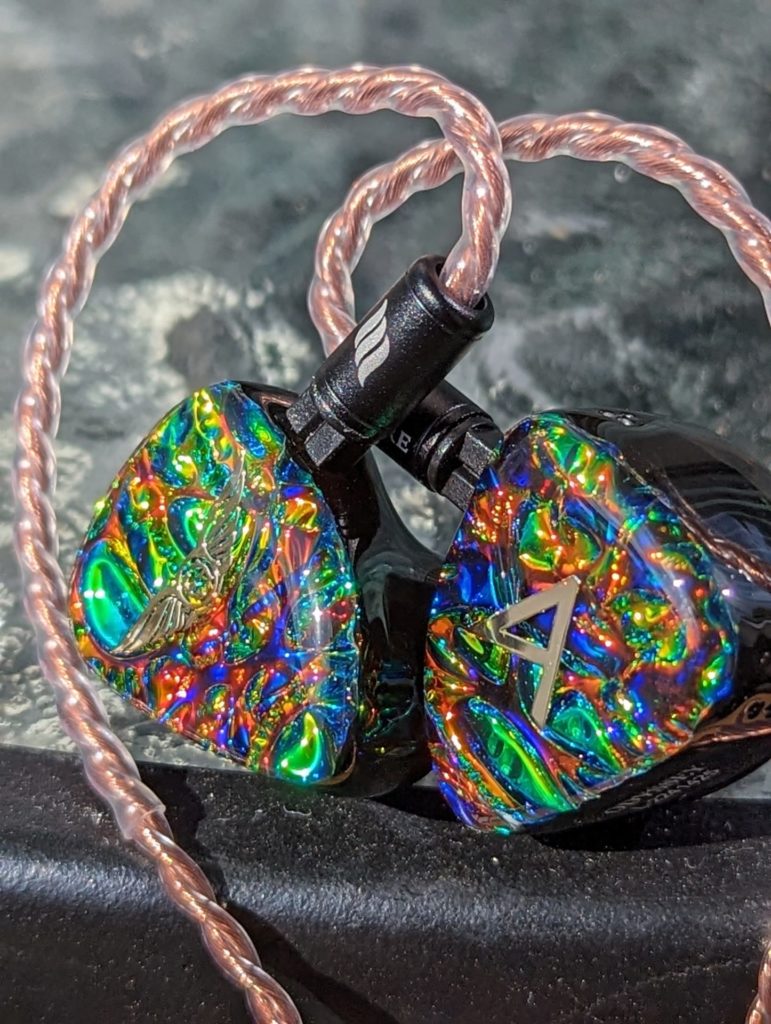 A Little Technical Stuff:
Specs
10 Driver Quadbrid, Dual Conduction Design
Dual W9+Subwoofers
Five Proprietary Balanced Armature Drivers
Dual Electrostatic Tweeters
W10 Bone Conduction Ultra Driver
4mm Bespoke Effect Audio ARES II UPOCC Copper Litz Cable / Pentaconn Termination
4mm to 3.5mm Pentaconn adapter
Aluminum ENIGMA Shell
5Hz-100kHz
100dB @ 1kHz, 1mW
1ohm @ 1kHz
 Universal fit $3399.00
This writing is more of an introduction to one of my latest additions to my audiophile stable than an unboxing. Both companies are no strangers to Audio Rabbit Hole. Valkyrie MKII /ODIN
I pre-ordered the Odyssey and entered the waiting room. I want to thank Audio 46 for getting the Odyssey to me as soon as they arrived at their store. Thanks for the communication along the way; I must have called six times to receive an update. Other parts of the globe had already received the Odyssey weeks before.
The logistics of this purchase are a story in and of itself. The item was postponed a month by Astell & Kern. While I love A&K, there are undoubtedly logistical improvements for future releases.
Two industry leaders in collaboration to release a top-of-the-line product. It was like Christmas came a week early.
The only issue with me writing this may be the item's lack of availability. It was a pre-order, and there were to be 600 units worldwide. I do not know how it sold, but all of the sites I know say "Sold Out." Lack of current availability means that unless there is another release, consumers may have to wait for them to hit the used market.
WHAT'S IN THE BOX: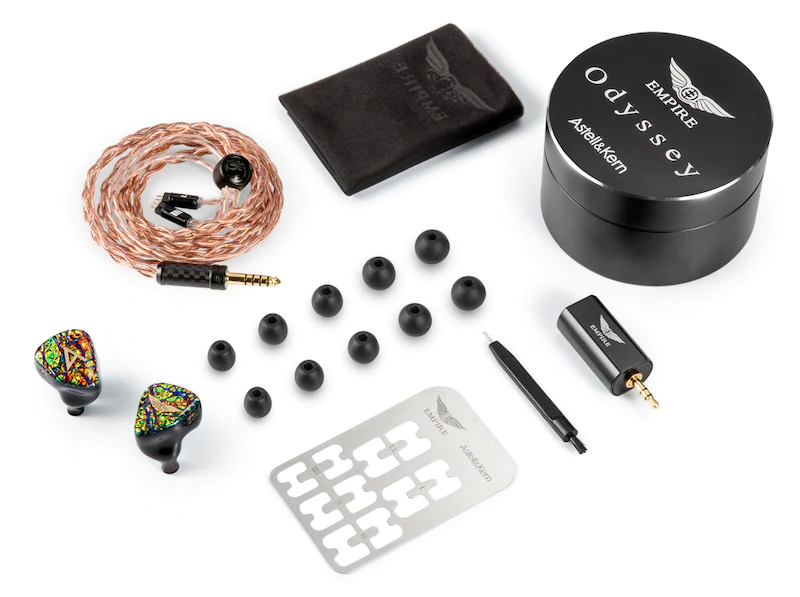 Odyssey Earphones L/R x 1
4mm Bespoke Effect Audio ARES II UPOCC Copper Litz Cable x 1
4mm to 3.5mm Pentaconn adapter
5 Pairs of Final Audio E-Type Earphone Tips (XS/S/M/L/XL) with Aluminum Tip tray
Pandora V2 CNC anodized black aluminum case x 1
Cleaning Tool x 1
EE x AK Microfiber Cloth x 1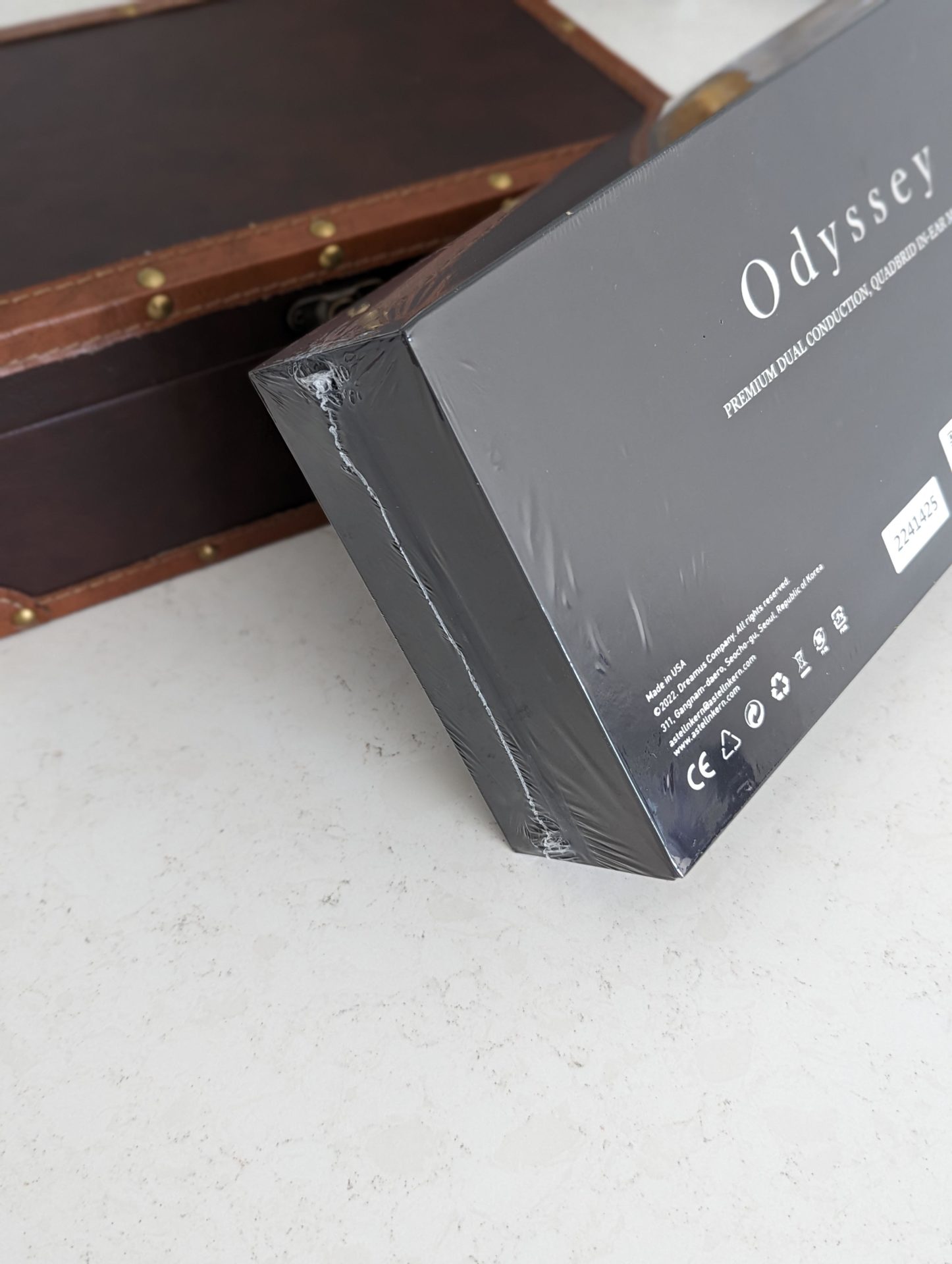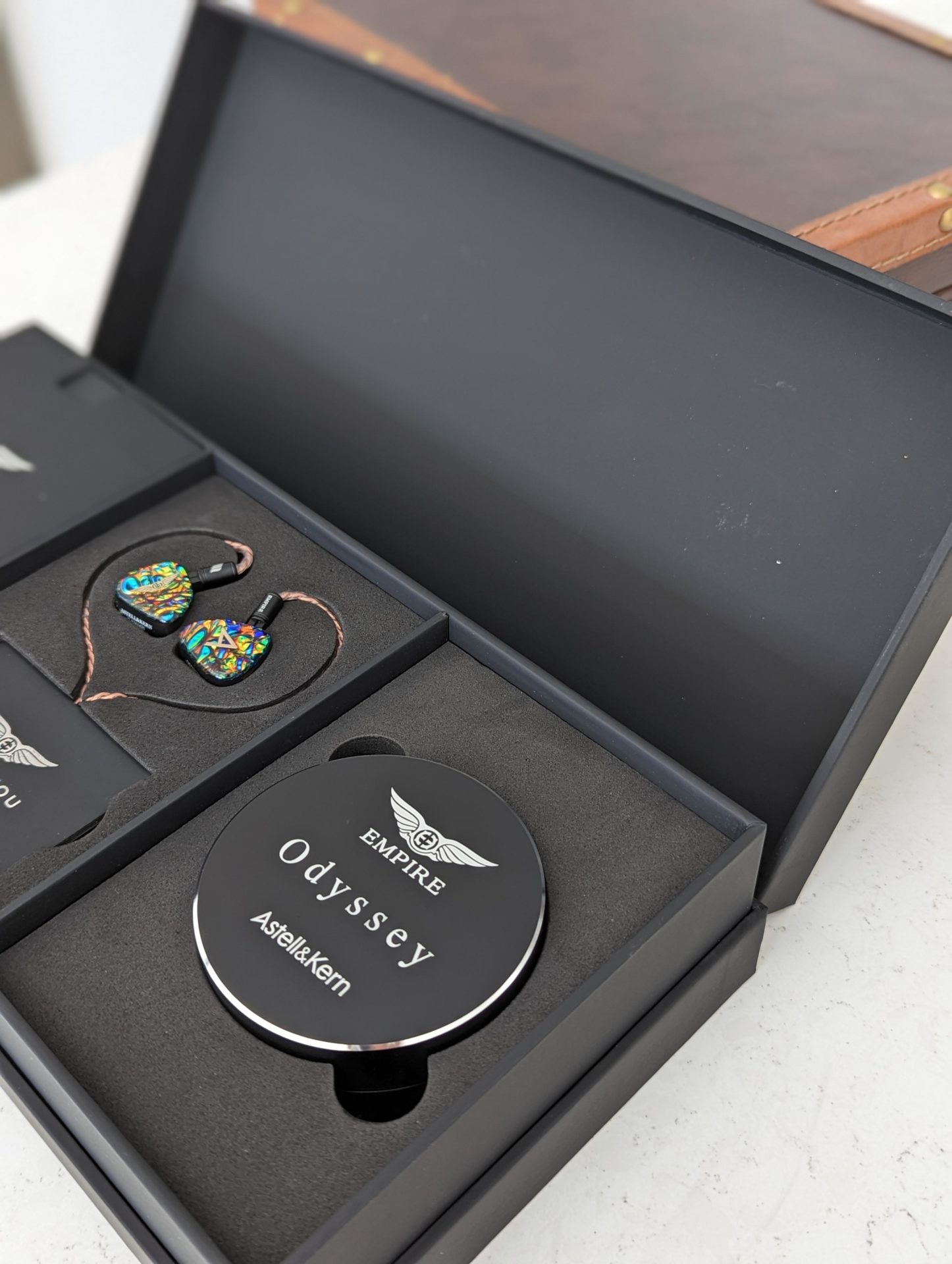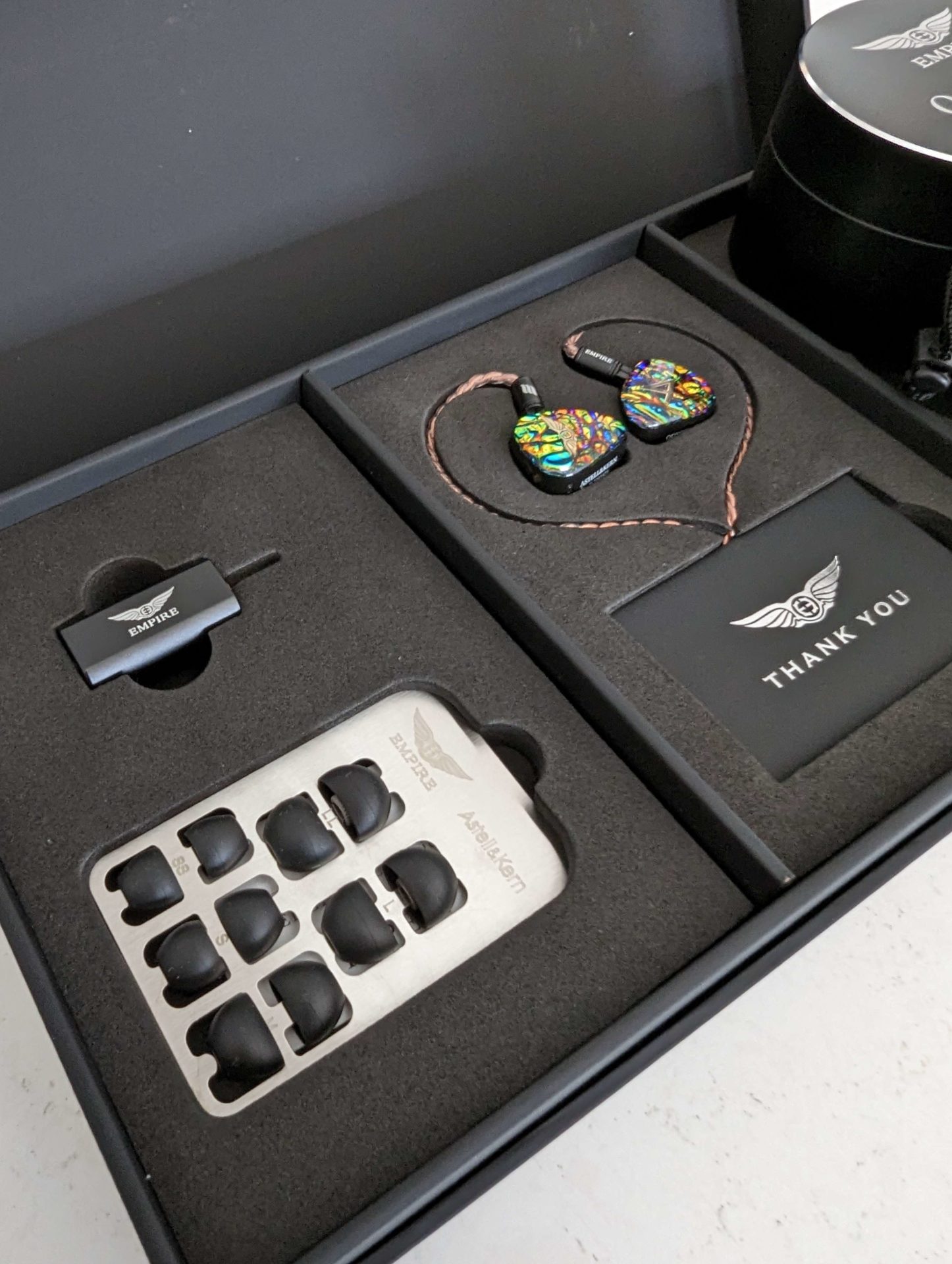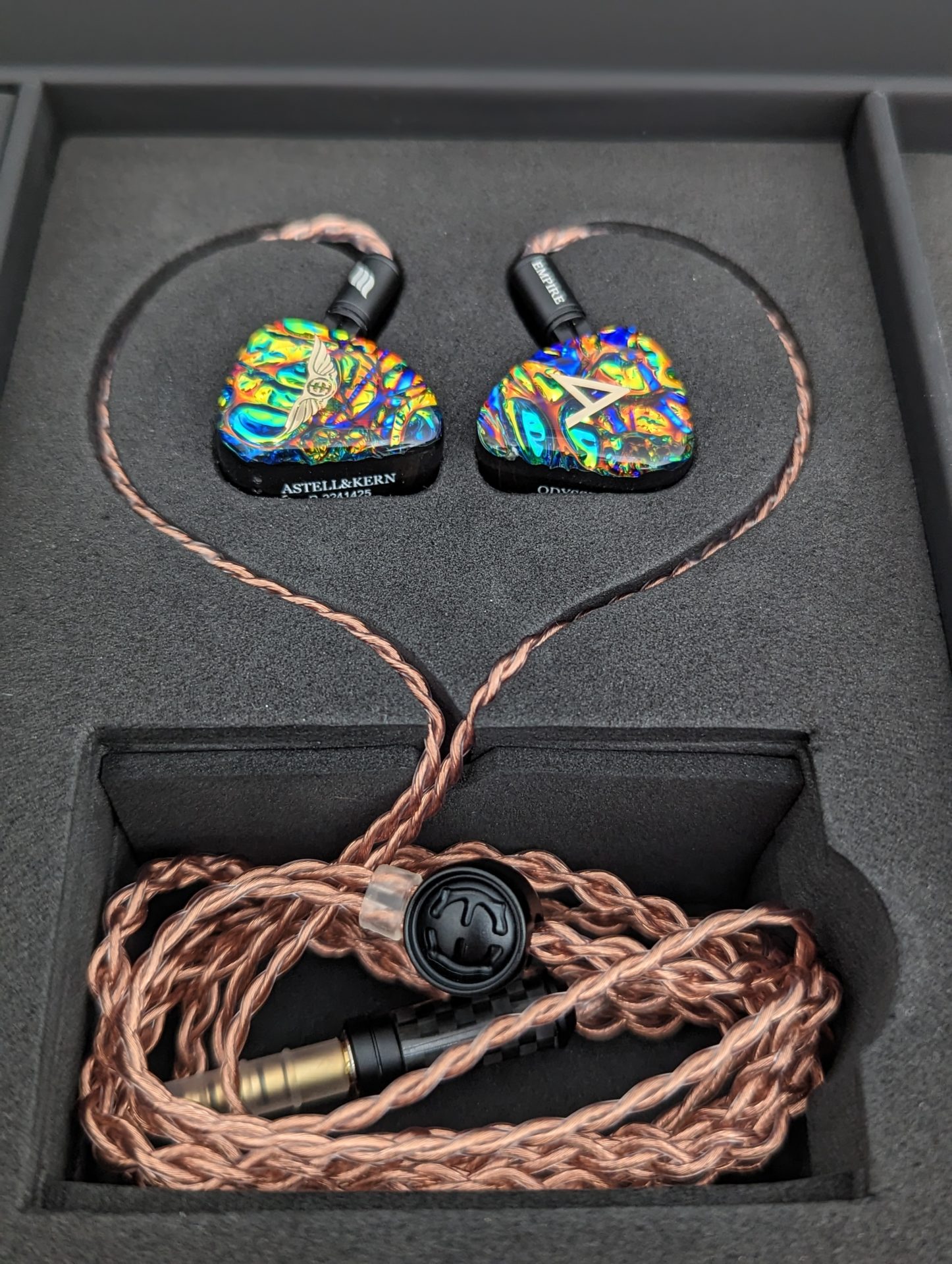 The photos speak to the Odyssey and its pack-ins. All I need to say about build quality and design that may not be evident in pictures is that the shells are large. I have zero issues with the fit, but all of this technology requires a large shell. The Odyssey rarely left my ears yesterday. They arrived at my door at 11:30AM and I retired for the night at around midnight, without discomfort.
I didn't waste time picking up where I left off last night. Instead, I listened as I enjoyed my coffee and began writing for another two to three hours.
Build quality is top-notch, and the final product is super sexy. Each faceplate is unique, and the one I received has all of the colors available in the design pattern, in a word, spectacular.
Equipped with the stock Ares II cable and the included Final E tips, I paired Odyssey with the Astell & Kern SP3000 DAP. AK SP3000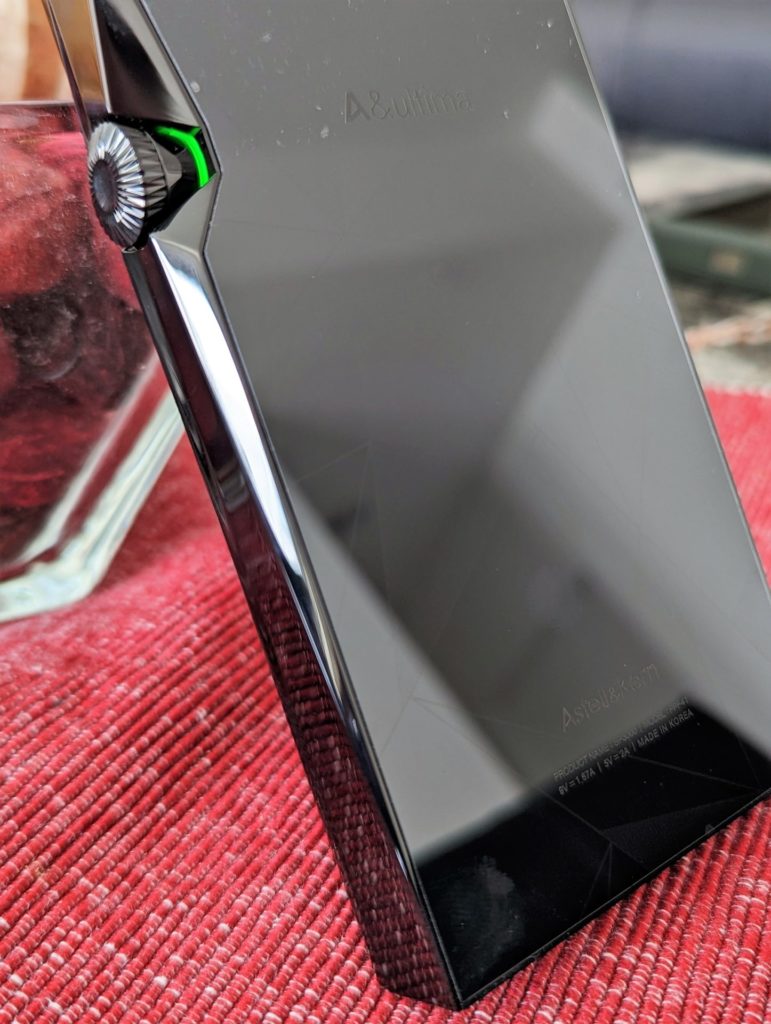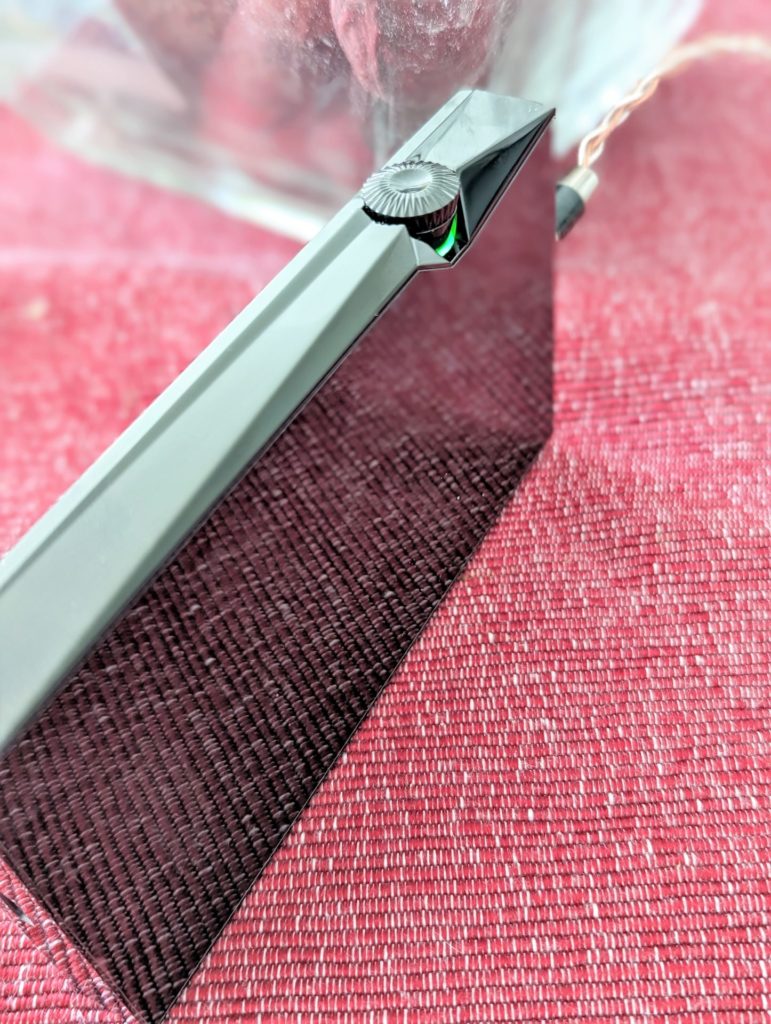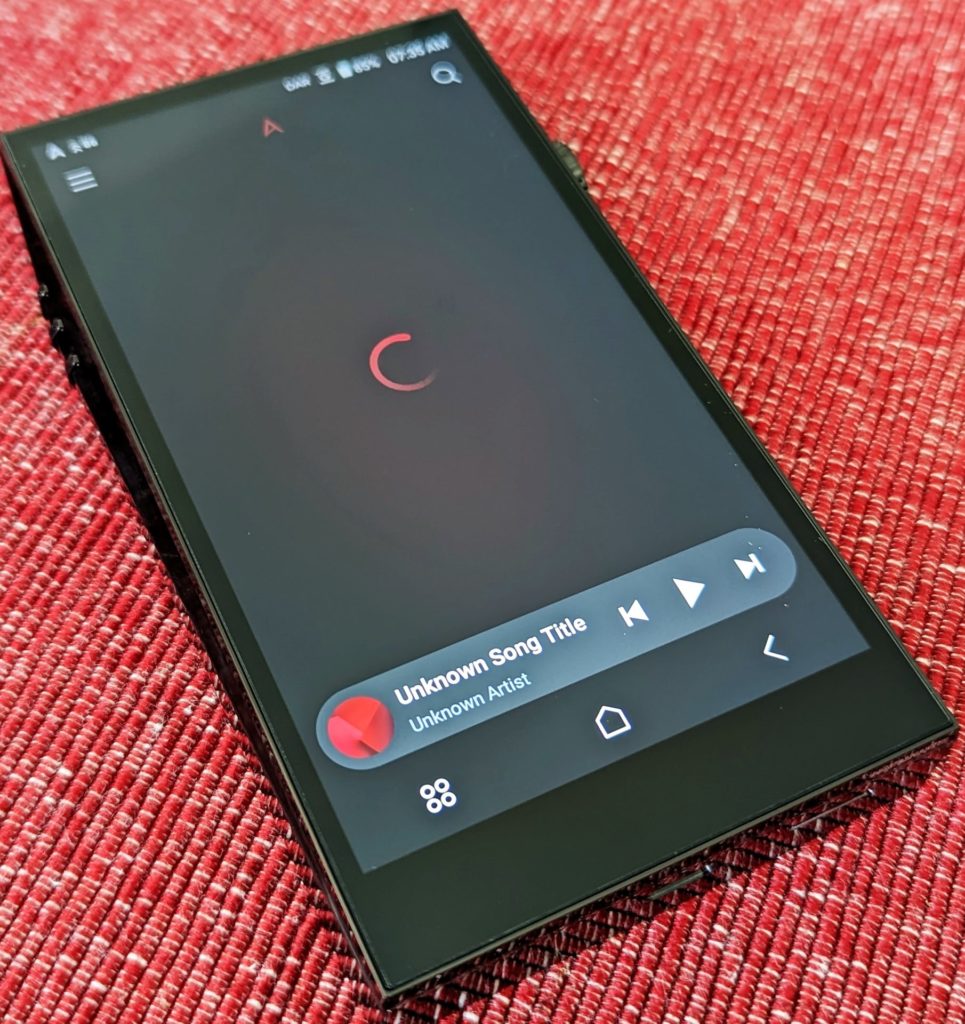 Subjectively, the SP3000 is the best-sounding DAP currently on the market. It features the "blackest" background I have heard. Priced at USD 3700, it is expensive. The SP3000's price is a couple hundred more than my previous best in class, the Cayin N8ii, at USD 3500. My prior reference DAP, for around three years, was the AK SP2000. Fortunately, at the high price of admission, AK only releases their Top Tier DAPs every three years, give or take.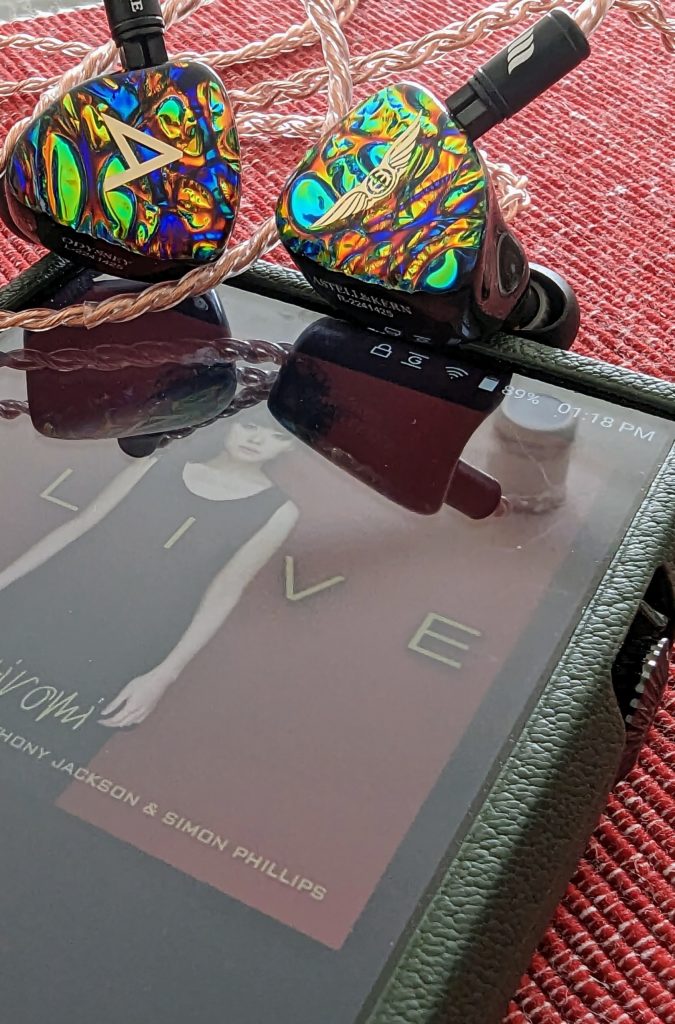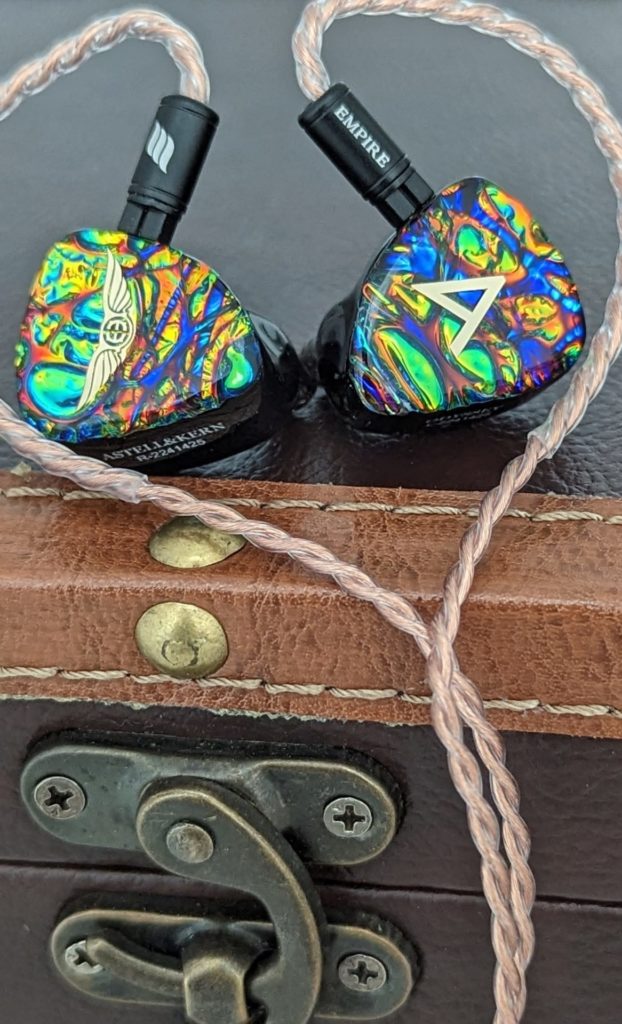 Moving on to the sound section….
Please keep in mind that these are only out-of-the-box impressions. I will update these impressions if glaring flaws become apparent once Odyssey is fully seasoned and my brain adjusts.
I generally avoid writing initial impressions as I believe it takes time to appreciate nuances or hear IEM's faults. However, I have listened to IEMs whose initial impressions didn't warrant any time beyond the out-of-the-box session.
I am not practicing what I preach with Odyssey, and out-of-the-box impressions of the Odyssey are WOW.
The last three IEMs from Empire Ears have had class-leading bass, so I assumed this would be a given. Sure enough, Odyssey takes the bass to a new level and raises the bar relative to other IEMS I have heard. The rumble and quality in its layering make the Odyssey bass the best I have listened to. In addition, while the Odyssey bass rumbles and digs deep, it does not interfere with the mid-range.
Like the Odyssey, EVO also has bone conduction and insane bass. But the Odyssey does a great job blending the bass tonality into the overall signature. This blending creates an environment that showcases the entire range of frequencies, not just the bass. As a result, the bass is spectacular in quantity and quality relative to the overall tuning of the Odyssey. In contrast, I feel the bass is the star of the show with EVO.
Regarding the Empire Ears Odin and Legend EVO, many listeners feel that the mid-range is too sharp and has too much lift. While it didn't affect my ears unless I listened at high volumes, I couldn't tell anyone else what they are hearing or their preference in an IEM tuning.
With ODIN and EVO,  the upper mid-range created the majority of details.  In contrast, the details are present throughout each frequency with Odyssey and without any sharpness. Since Odyssey does not solely depend on the upper mids for details, the volume level isn't a factor as to whether it has sharpness; crank it up as you see fit. The mids are rich and full and tie together Odyssey's balance.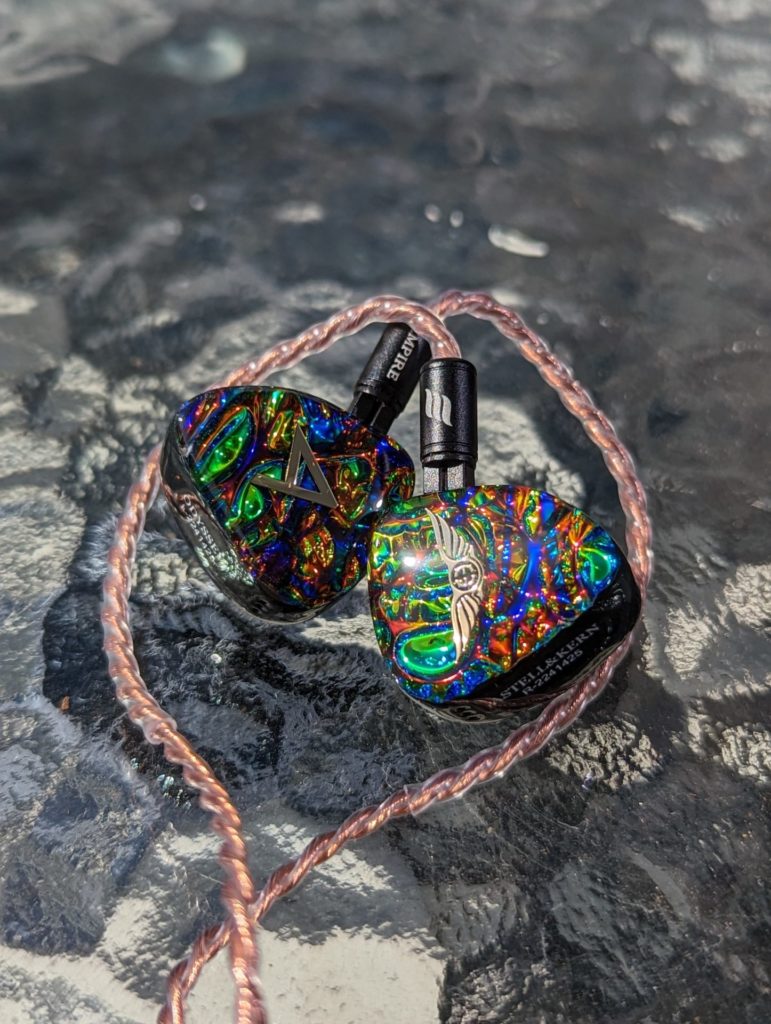 Overall, this tuning checks so many of my boxes. I have tried almost every genre of music; while writing this, I am listening to Santana Moonflower, and it has never sounded better.
I am not a fan of the term all-arounder, but this early in the morning, my wordsmithing skills aren't allowing me to come up with another description. Instead, every genre I have thrown at Odyssey has made me smile.
As I stated above, the details are present throughout the frequencies, and are not entirely dependent on the treble or upper mids. The treble displays extension but is super smooth from low to high range, effectively utilizing the Dual Electrostatic Tweeters. Overall, the industry's implementation of Estats has improved since their inception and are now being widely used, and Odyssey continues the trend.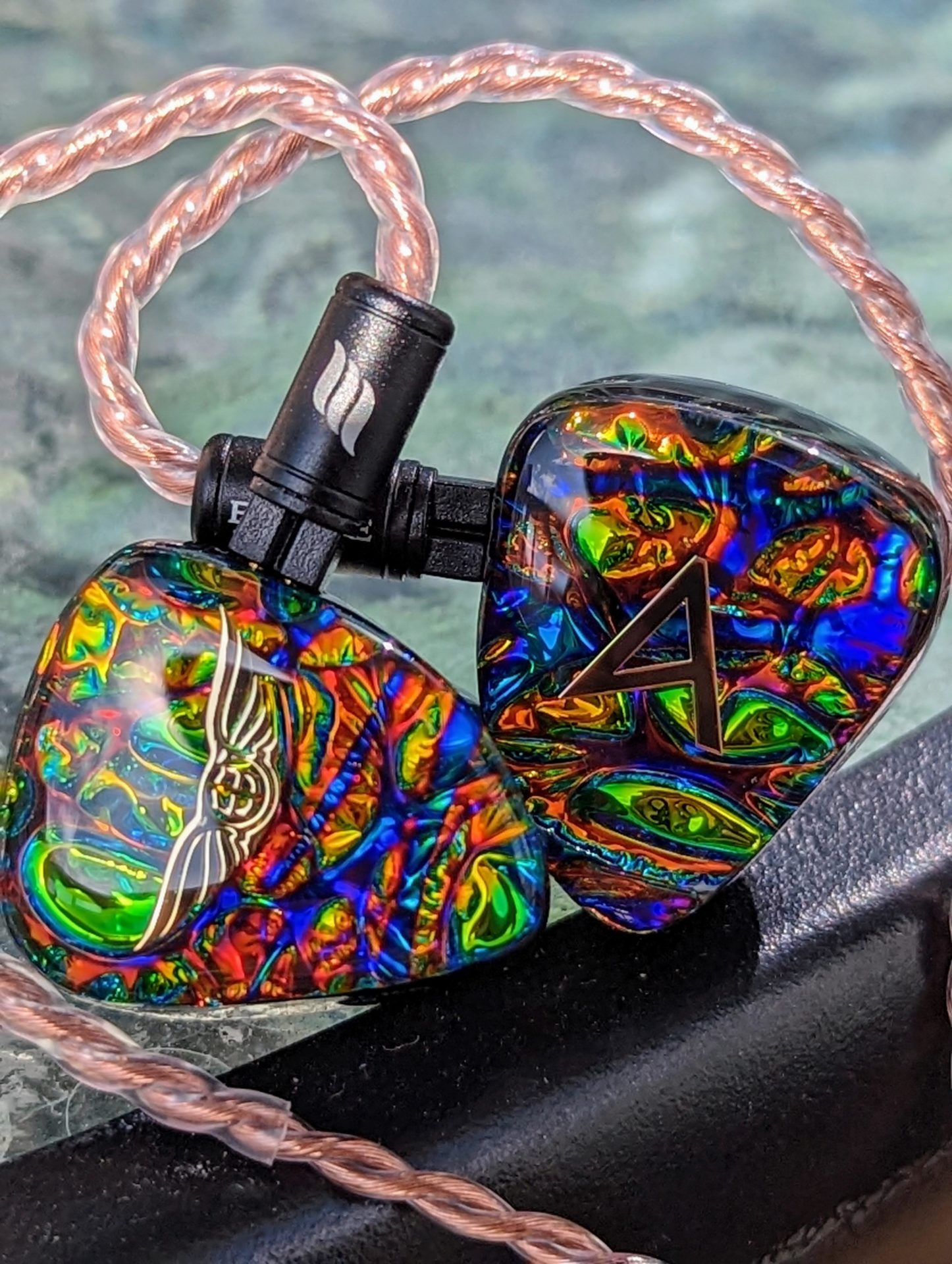 The staging is fantastic. The left-to-right separation is wide. Overall, there is more than ample height and width, and the accuracy is spot on. I listened to a live Snarky Puppy recording of a concert I attended to verify the staging.
Odyssey is hybrid in its design, Quadbrid, to be more specific. However, knowing it is a "brid," the coherency and synergy are some of the best I have encountered from any "brid."
In some hybrid releases, for example, the Estats or bass drivers can sound separate or have a distinctness on their own, not seamlessly or synergistically integrating. As if the bass or treble is a separate IEM to itself, not working in conjunction with the whole.
I said this was an introduction, but the more I listened, the more compelled I was to write. Since it is only early impressions, I have deviated from my usual review format, eliminating some of the sections I generally include. If I write a full review, I will include the deleted sections, plus any changes to my impressions.
From my experience, if a signature is to your liking out of the box, it may improve once it settles in with some seasoning. If an IEM doesn't inspire you out of the box, no amount of seasoning will make you gel with its characteristics.
Now, I couldn't be happier with Odyssey and look forward to logging a couple of hundred hours, allowing Odyssey to settle in. Although the Odyssey is not for the faint of heart, it is a full, rich, impactful, and wonderfully balanced signature. If you are looking for analytical, look elsewhere.
Thank you! Odyssey is/was worth my wait.