Empire Ears Legend EVO
Empire EarsLegend EVO – MusicTeck
Empire Ears Legend EVO – Bloom Audio
 A Little Technical Stuff:
 Specs
 Dual W9+ Subwoofers
Five Precision Balanced Armatures
Weapon X Bone Conduction Ultra Driver
9-Way synX Crossover Network
Dual Conduction Architecture
ARC Resonance Mitigation Technology
Impedance: 4.5 Ohms @ 1kHz
Frequency Response: 5Hz-35kHz
Sensitivity: 103dB @ 1kHz, 1mW
Empire X PWAudio "GENESIS" Ultra Pure OCC Copper Cable, 4.4 Pentaconn Termination
 Universal fit $3099.00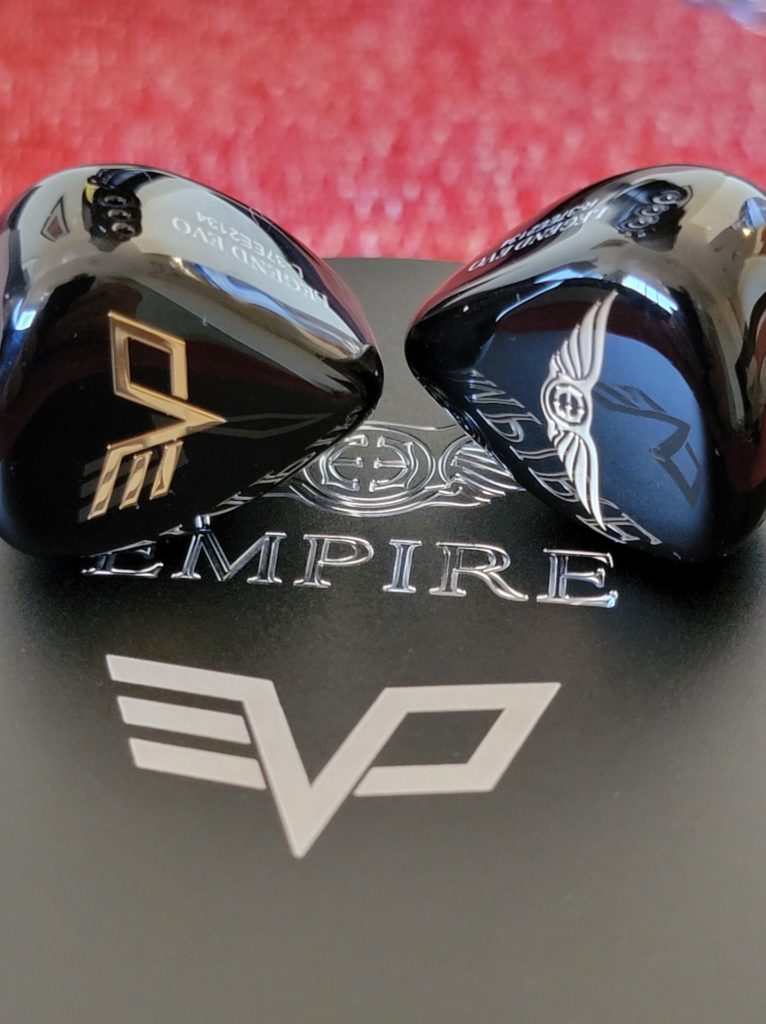 I have highlighted the company Empire Ears many times. If you want the backstory, read one of the other reviews I have written. ODIN  Legend X .
This review is about an IEM I learned about reasonably far in advance of its release. After being made aware, my excitement peaked. It is the Legend EVO. Piggybacking off the wildly popular Legend X, the Legend EVO also goes down a path of the Legend X not just in name but its giant, outstanding bass.
The Legend X has the appropriate name IMO because it is a Legend amongst IEMs. So, when I was made aware of Legend EVO, simply EVO moving forward, I was like, cool, maybe I can lay the X to rest. New technology, including Weapon X Bone Conduction, and who doesn't like a little bone conduction?
Many thought this was to be Legend X MK II, but while they both have industry-leading bass, they are more different than similar.
While I heard balance in the Legend X signature (after copious amounts of seasoning), many others felt the bass was overpowering. But, of course, subjectivity and preference are at play, as always in all reviews and opinions. Still, Legend X is one of my favorite IEMs by Empire Ears.
Let's see what this latest release is all about. Empire Ears Legend EVO.
A Little Marketing Hype word by word(italicized) from their site:
 LEGEND EVO (UNIVERSAL)
The story of the Legend EVO is one of revolution. Free from the constraints of convention and empowered by the skills gained from decades of experience, we knew that in order to develop a proper successor we had to take extraordinary new measures.
With a pioneering Dual Conduction Architecture and 8 driver tribrid system at its core the Legend EVO emits unprecedented levels of innovation and performance to create a new benchmark in the IEM industry.
 The Legend EVO stands as the paragon of technical brilliance and it represents the boldest expression of Empire Ears.
 The Science of Hearing
When you look at our hearing system you can break it down into 3 different regions: the outer ear, middle ear and inner ear. Air conduction utilizes all 3 as sound is collected by the outer ear and directed along the ear canal into the eardrum, vibrating the bones of hearing (ossicles) in the middle ear to stimulate the hair cells inside of your cochlea in the inner ear. This stimulation creates electrical nerve impulses which are then carried to the brain by the auditory nerve to be converted into sound.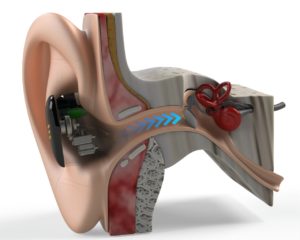 Bone Conduction
Bone conduction completely bypasses the outer and middle ear components by sending vibrations directly through the skull to stimulate the hair cells inside of your cochlea. Through bone conduction we can perceive ultrasonic hearing (beyond 20kHz) Bone conduction is generally perceived to have a lower, deeper tone because the skull conducts lower frequencies more efficiently than air.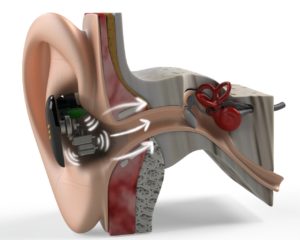 Dual Conduction Architecture
The Legend EVO fully exploits the best of both worlds with its pioneering Dual Conduction Architecture. A full range 5Hz-20kHz frequency response is delivered via air conduction from the dual W9+ subwoofers and 5 balanced armatures while imaging, soundstage, detail retrieval, low frequency extension and reverb is extraordinarily enhanced from 5Hz-40kHz via bone conduction from the W10.
Through the Dual Conduction Architecture and our masterful tuning the Legend EVO reproduces the most immersive, pure and stereophonic sound possible.
The Weapon X
Bone Conduction Ultra Driver
INTRODUCING THE W10 – When designing the most formidable bone conduction driver ever used in an IEM, it was of utmost important to carefully and thoroughly evaluate every facet of the W10 to ensure that no stone was left unturned. Every element of the W10 is hand selected, designed and vigorously tested for optimal bone conductivity performance.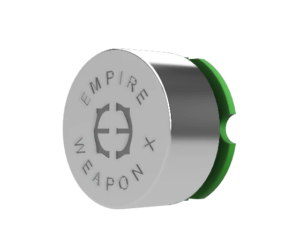 STAINLESS STEEL CHASIS – The W10's ultra robust nickel plated, sonic welded SPCC chassis is designed to eliminate any coloration that may occur from internal resonance or flex.
 THE X FACTOR – The crown jewel and driving force of the W10 is its obscenely potent N52 neodymium magnet. N52 is the highest grade of neodymium currently available and its DNA consists of neodymium, iron and boron. The entirety of the W10's design revolved around this very magnet.
 PURE COPPER VOICECOIL – The voice coil is one of the most important aspects of the W10. When the electrical current of audio signal passes through the coil it creates a varying magnetic field that pushes and pulls against the W10's magnet. By altering the current back and forth we're able to generate immense levels of sonic vibrations throughout the W10's chassis.
 The W10 employs a pure copper voice coil optimized for accuracy in frequency and transient response. The consistency of winding tension, density of enamel, adhesive application techniques, dimensions and copper compositions were all factors that were essential for linearity, ultra low distortion and efficient heat dissipation.
There is more information on their site regarding their W10 , driver placement, synX Crossover Technology and ARC Technology if you wish to be scienced to death.
WHAT'S IN THE BOX:
In-Ear Monitor
The first 400 units come with a beautiful hand-crafted leather case
Empire Cleaning Cloth
Empire Cleaning Tool
Final Audio Type E Tips – SS, S, M, L, LL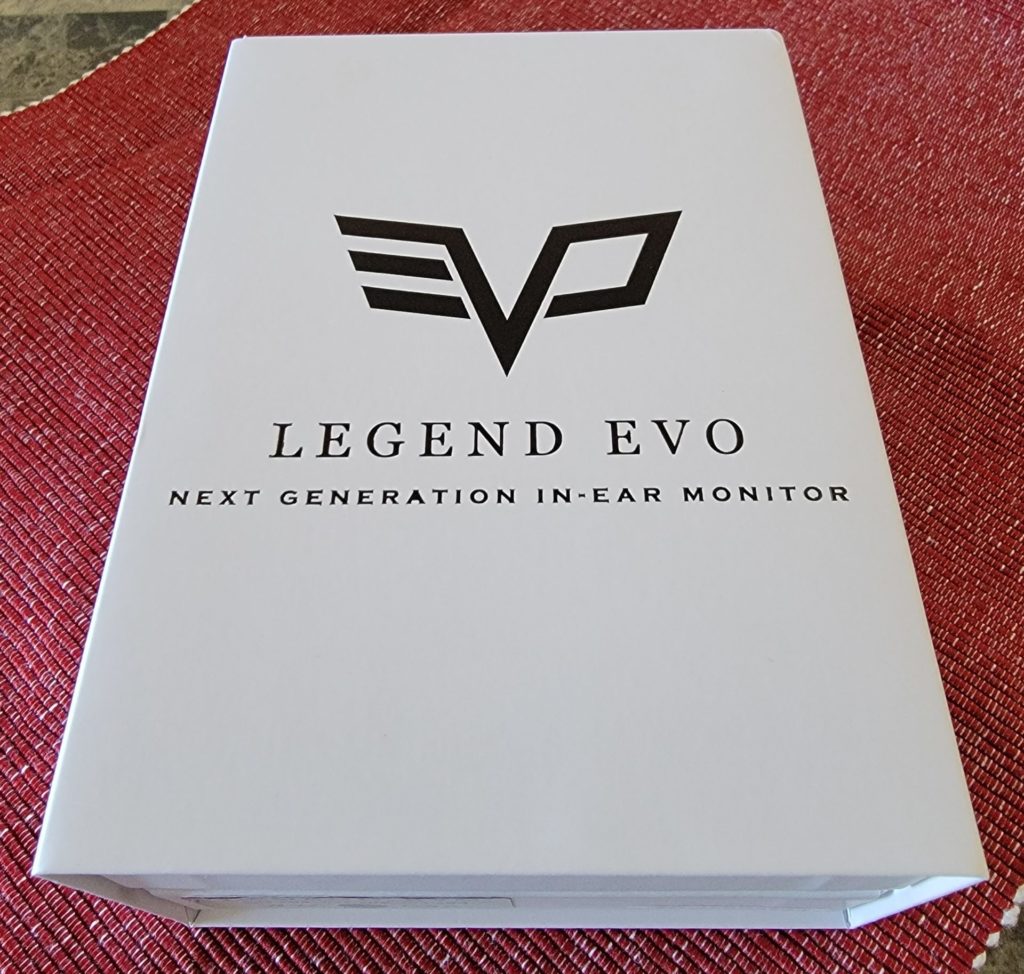 Unboxing and Accessories:
 Empire Ears always offers a premium unboxing experience for their IEMs. Is it to the level of, say, Vision Ears Erlkonig? Nope, but I enjoy the experience offered up by Empire Ears. The leather puck-style Pandora case is included instead of the usual metal one in this case. I have both for the EVO because the leather ones were still in production when agreeing to review the EVO.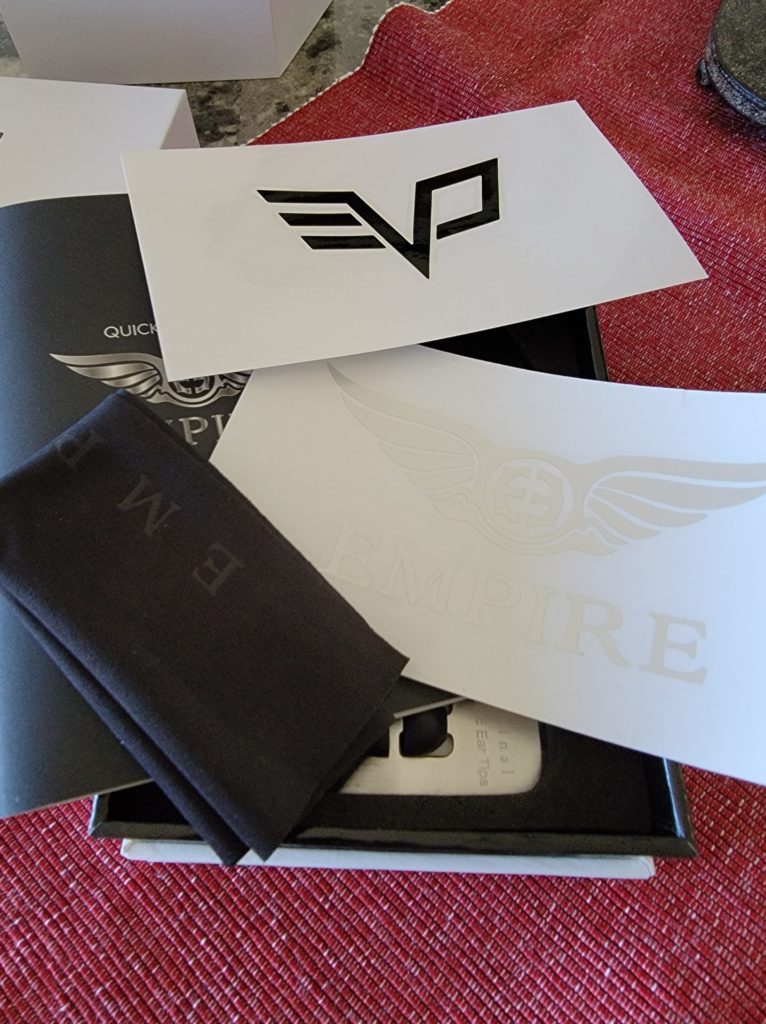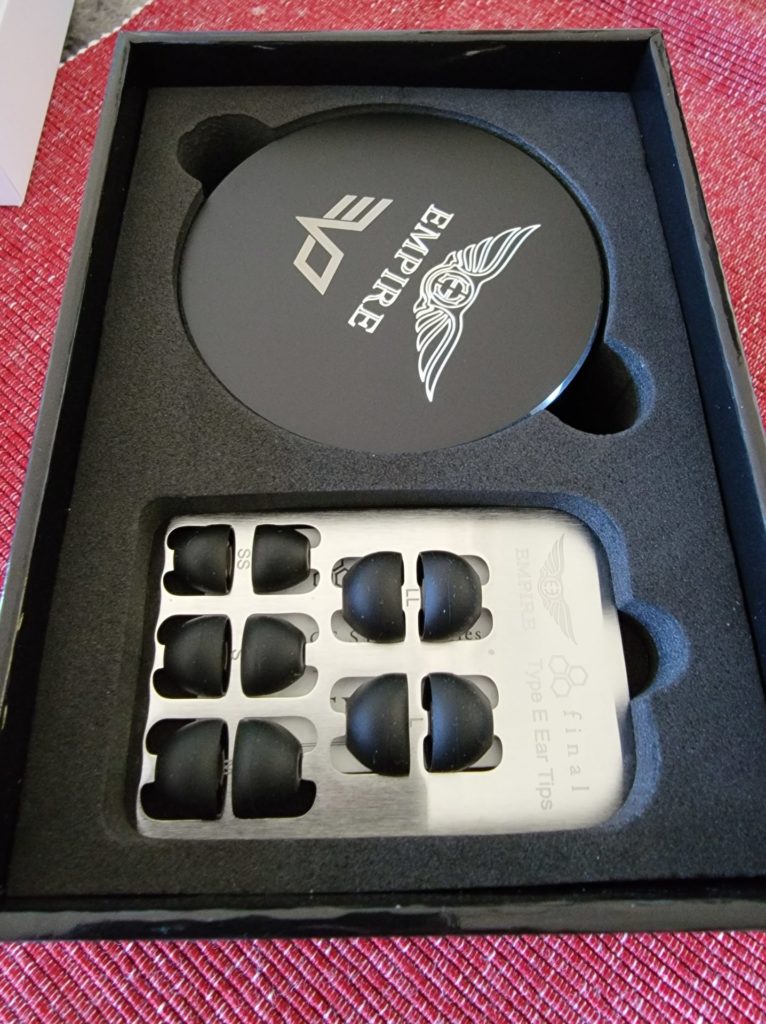 The other unique add-in is the PWAudio Genesis cable. Below are the specs of the cable;
24AWG Ultra-Pure OCC Copper
Quad Conductor, Polypropylene Reinforced Core
Insulated UV-Resistant Polyvinyl Chloride Sheath
4.4mm Balanced Pentaconn Termination
I like the looks of the cable with its blue accents intertwined with the clear-wrapped OCC copper wires. Empire Ears tuned EVO with this cable, so you know you will hear the sound as Empire Ears intended.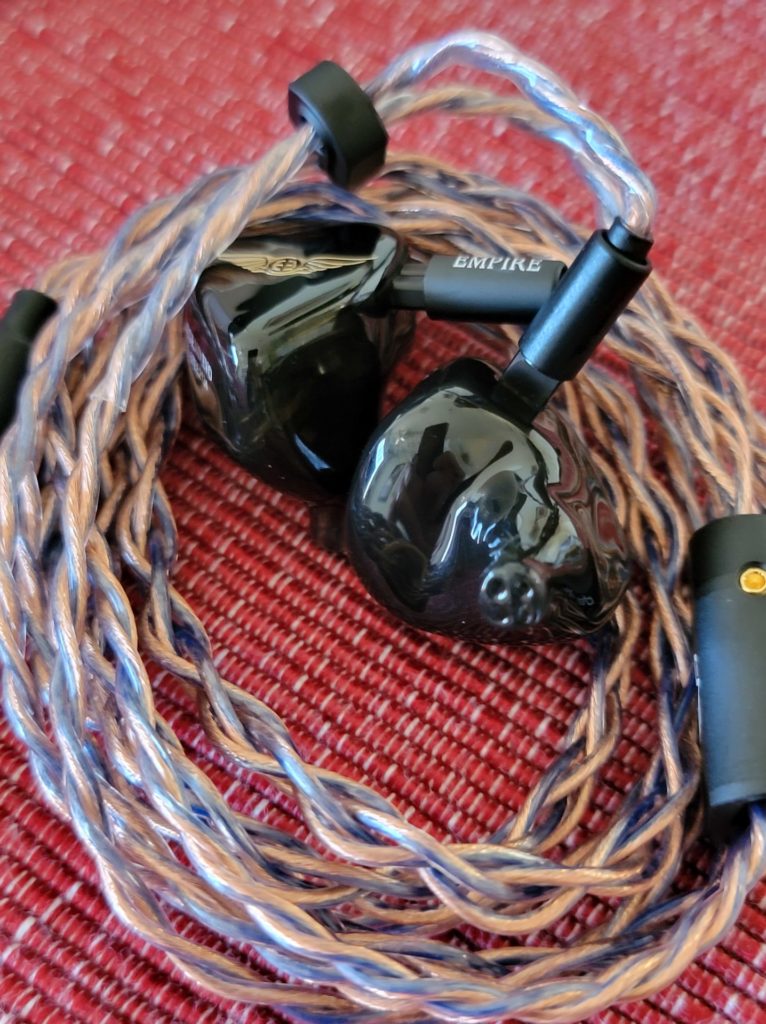 My only criticism of the cable is the ergonomics. It is a little unwieldy. Not to the level of the Dita Truth cable, which had a mind of its own. I rank the Truth cable as the worst cable ergonomics of all time. Good luck neatly coiling the Dita cable; it was a two-strap cable wrap to control it. Think of twisting an invasive Everglades python, and you know the Dita cable.
The Genesis cable is well constructed, with the 4.4mm Pentaconn termination. It has a metal cable splitter with the words Legend on one side and EVO on the other. It also comes with a loose-fitting chin slider which I never use. It is not just this chin slider, but I rarely use any chin slider.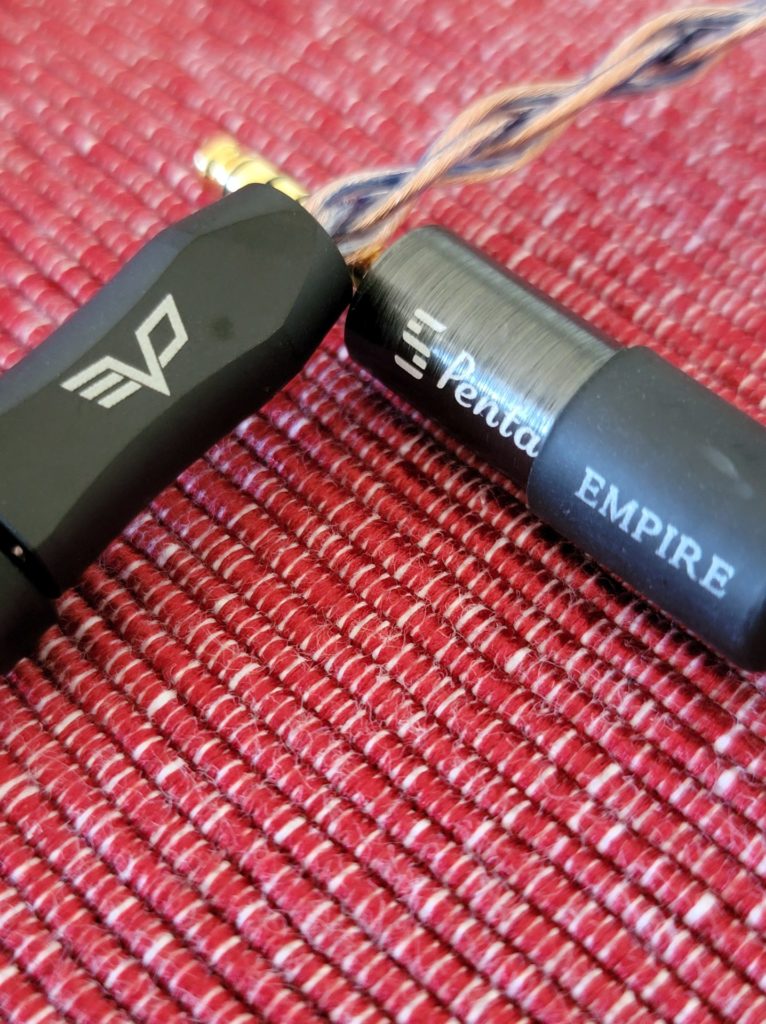 Not being a dude that does much cable swapping, I haven't swapped cables on the EVO because the sound quality is fine, but this is all I know. Can the sound be tweaked with cable rolling? I have read from owners that I respect that EVO reacts well to cable and tip rolling. I will leave cable swapping and thoughts on cable swapping up to the reviewers who love cables, especially cables that often approach the price of the IEM.
Owners may wish to experiment with ear tips and cables to add final tweaks to their EVO. I leave my EVO stock for review purposes and am content with the stock setup.
Build Quality and Fit: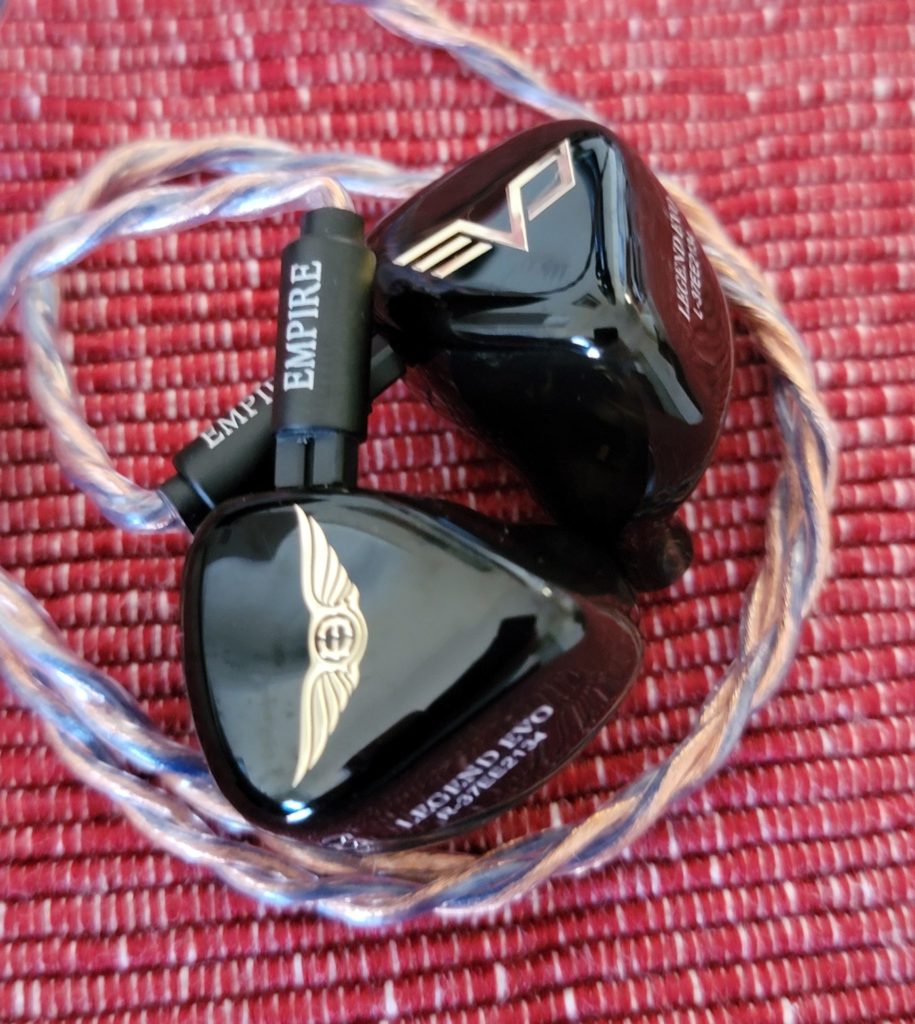 The EVO has the same impeccable build quality and attention to detail as all previous Empire Ears I have had the pleasure to try.
I have always loved black shells with simple designs. The EVO is precisely that, simple and lovely. If there were imperfections, I would note them here.
The nozzles are shortish but acceptable for my use. I constantly hurl barbs at Empire Ears for not putting a lip on their nozzles to assist in keeping the tip in place when removing it from your ear. I won't say it this time; because there appears to be a slight flare at the end of the nozzle. Alas, the Final E tips still come off in my ear. It could be that I am obtaining a hell of a seal. So okay, I wave the white flag with harping about needing a lip on the nozzle.
Final E tips do stretch with time. Swap them if they become too loose. Also, oils on the nozzle and tip cause slippage; proper nozzle and tip hygiene are essential, always and forever.
Due to Bone Conduction, it is necessary to use silicone tips because foam tips will dissipate the Bone Conduction properties.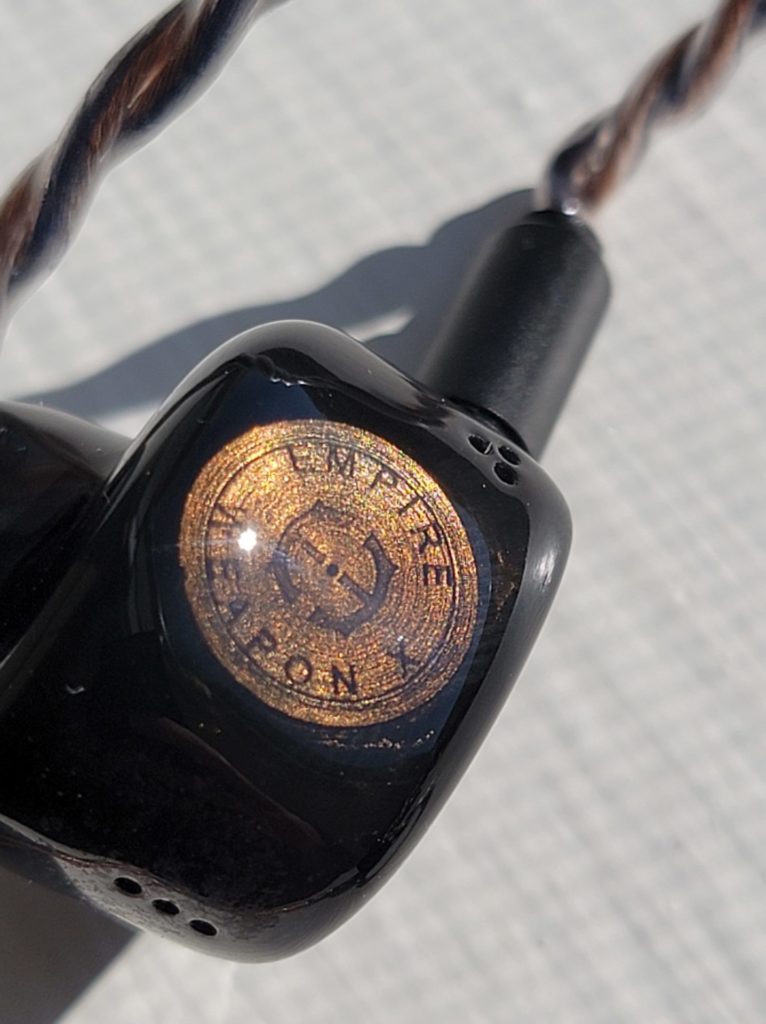 As far as size goes, the shells are large. While I thought The ODIN was large, the EVO is larger. So the best advice I can give is if you have small ears and there is an opportunity to try them before buying, do so.
Comfort and fit are paramount to the entire experience.
 Review Setup: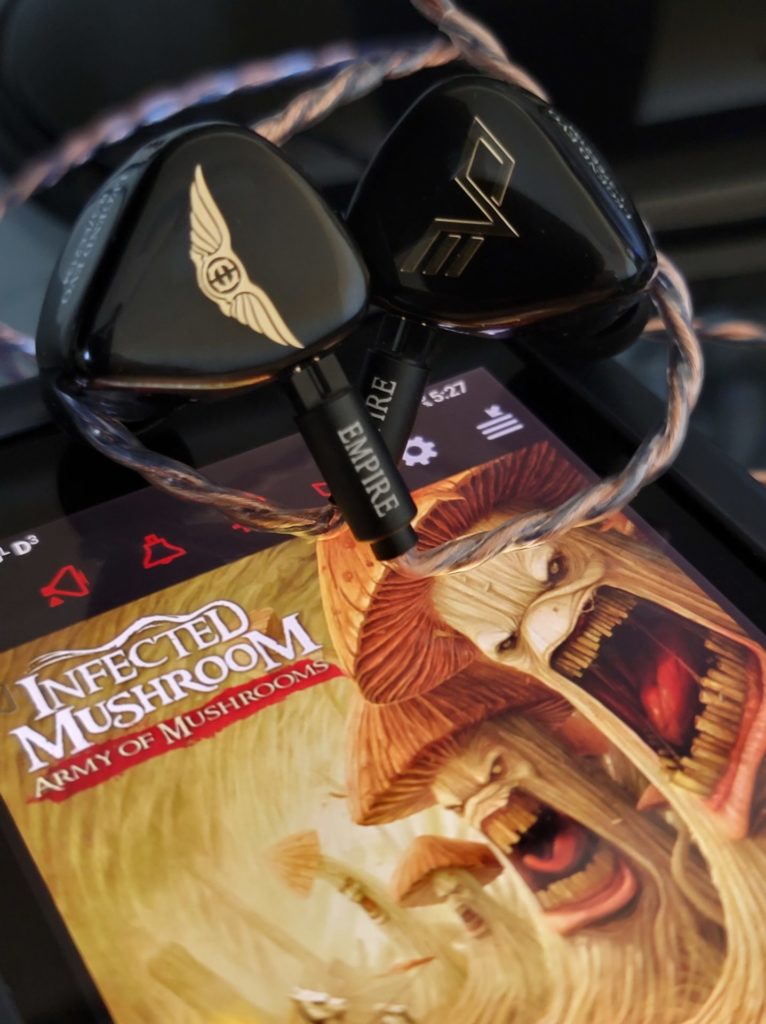 The review uses multiple sources: AK SP3000, AK SP2000, Cayin N8ii, AK Kann Max, Questyle M15—Qobuz and Amazon Music Ultra HD music streaming, and my FLAC, DSD, and MP3 files.
Moving on to the sound section….
My EVO unit has been seasoned for many hours, days, and months since its release.
I did not need to match a specific DAP to the EVO. The overall signature paired well with every source I own.
EVO spanks the competition with its quantity and quality of bass. Of course, most reviewers will comment about the bass, as they should, but there is much more to this IEM. The EVO has God-Tier bass and is unequivocally the best bass I have had the pleasure to hear.
The EVO has greater control and separation throughout the bass spectrum than the previous bass king Legend X. The bone conduction provides plenty of guttural sonic boom, but the control is impressive, given the quantity of the bass.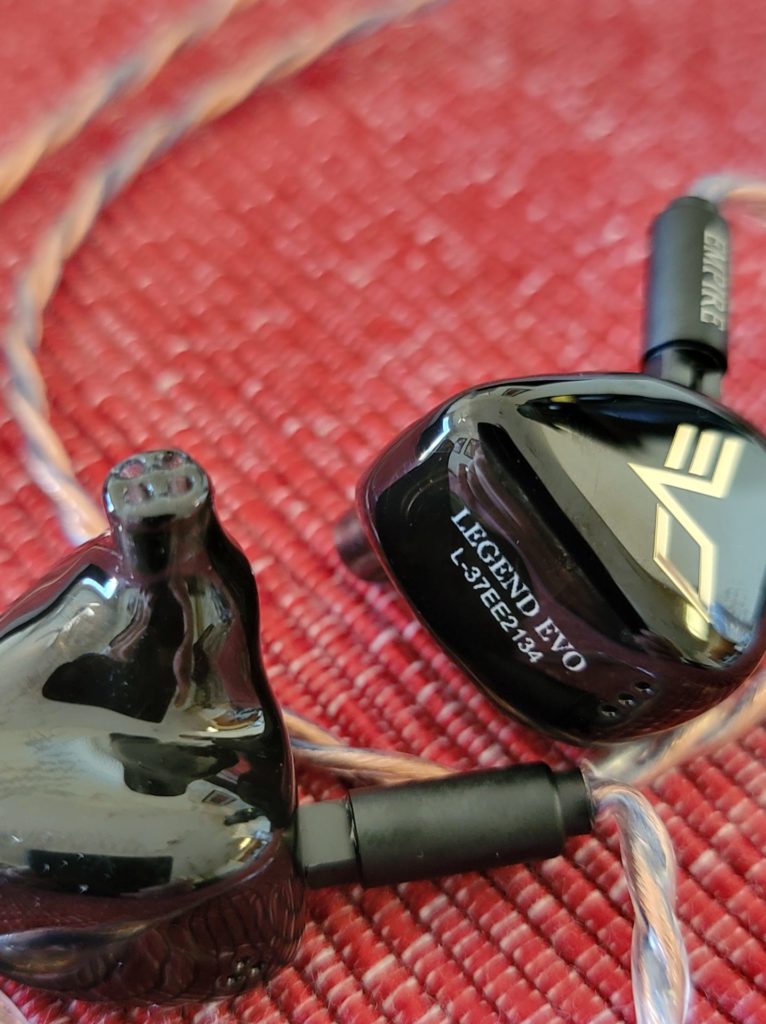 Initial listening impressions may be a perceived wall of bass. As a bit of time passes, you can hear layering through the wall of bass and its transparency. Once you reach this point, you have revealed the EVO's full signature. With a seasoned EVO, the bass is not overwhelming. The signature becomes more balanced and blended but with a bass focus. Not to stir controversy, but seasoning has become necessary to fully enjoy the last three or four Empire Ears IEMs.
I was listening to the Dire Straits album Money For Nothing(2022 Remaster), and the EVO was able to dig into the release and extract all of the bass goodness. Dire Straits is not a band I would think of to test bass. However, surprisingly there is sub-bass rumble, layering, and definition between frequencies. It is an incredible art for Empire Ears to tune an IEM to this level. Still being able to hear all of the guitar nuances that Mark Knopfler has graced us with throughout his career and digging deep to render flawless bass.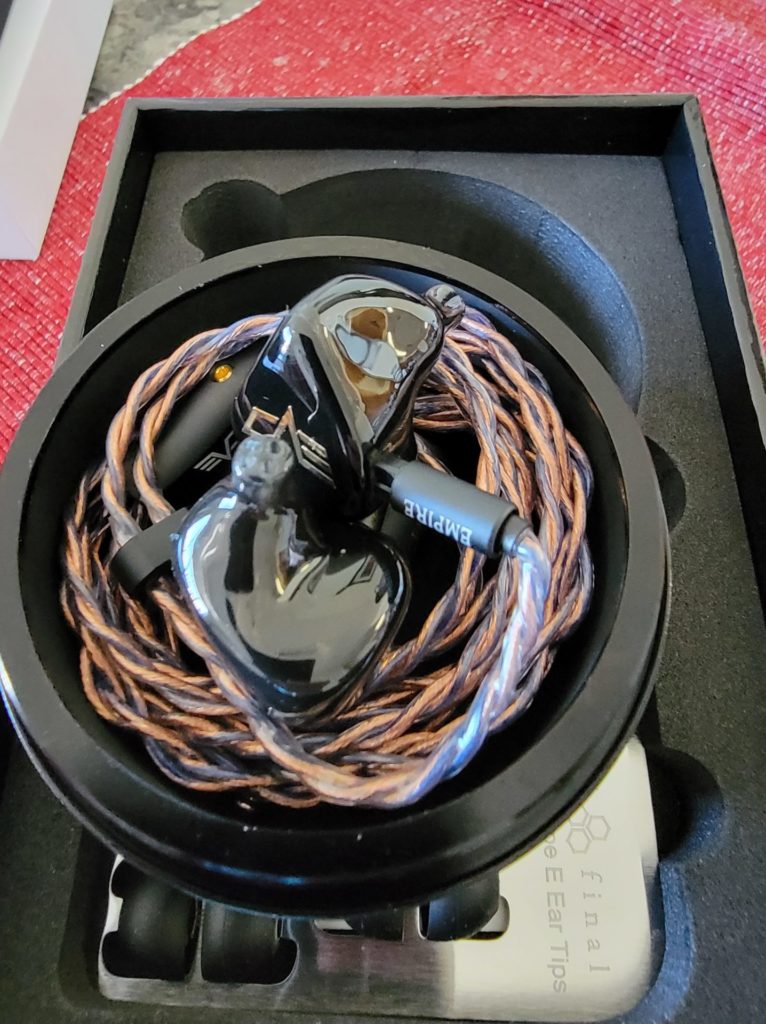 The mids are distinct and clear. There is a lift in the upper mids, just like the Empire Ears TOTL ODIN. The overall clarity and transparency are reminiscent of ODIN. However, EVO feels an overall touch smoother than ODIN. There have been many real-world comments on the sharpness of the upper mids in EVO. However, I experienced no fatigue caused by the upper mids on the EVO. It is, of course, subjective and YMMV.
It is important to note that I use moderate volume and feel spikes would be more troublesome if I were a high-volume listener. The upper mids provide much of the details in the music. However, high volume is not necessary to extract the details in the music. The details in the music are apparent and do not require critical listening to enjoy.
In the lower and mid-treble, you can expect to hear a smoothness, maybe too smooth for some, but that will be a personal preference. While the lower and mid treble is flat relative to the lift in the upper mids, it extends in the upper regions. Not to say there is not a smooth transition from the upper mids to the lower treble, because there is, but it is flatter than the upper treble.
As it is, the treble comes off as very natural and linear. Unfortunately, to some, this linear treble may not deliver the sparkle that some listeners want. Regarding the overall tuning, if the treble had a high sparkle or were bright, the signature would come off too bright in conjunction with the upper mid-lift.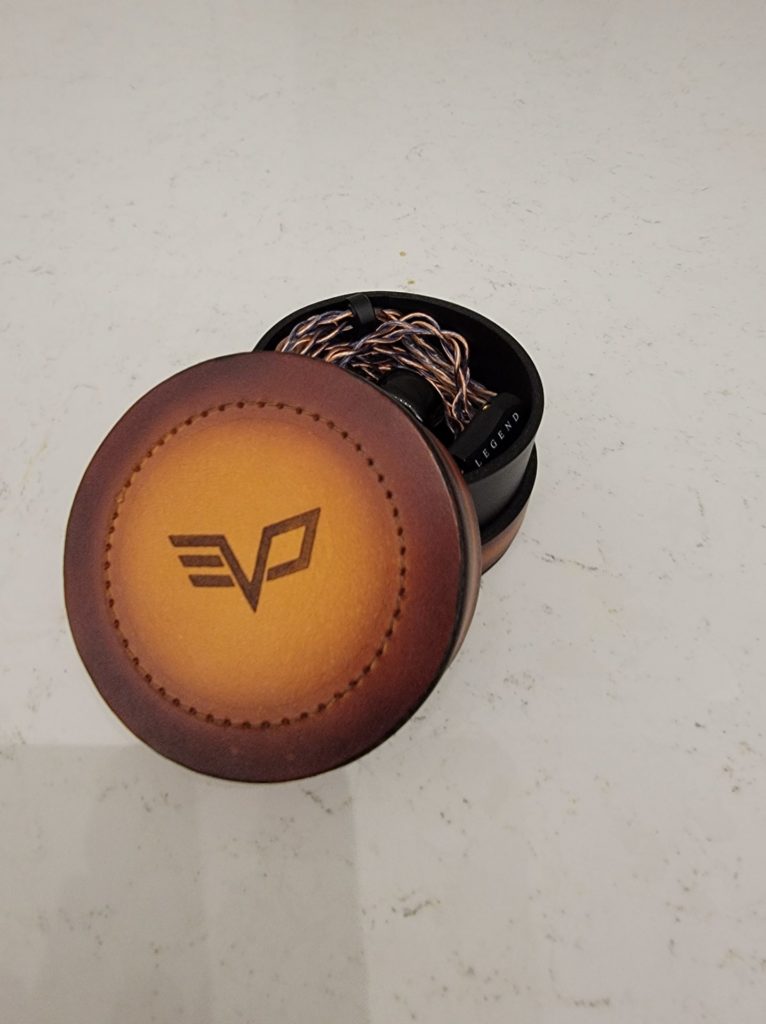 I am okay with the linearity because what strikes me the most is the natural tone. Cymbals have a natural decay and tonality. So the treble is realistic without hinting at the artificial tonality in some IEM releases that plague treble.
The staging is above average with depth and well-separated width with the AK and Cayin DAPs, presenting clear definitions with musical layers and airiness between notes. Imaging is open and holographic, not the swirling around-your-head type of holography, but with well-above-average height, depth, and width.
Infected Mushroom(all) and Marcus Miller(Trip Trap) lovers rejoice. I found EDM, Jazz, and soundtrack music expertly delivered during my sessions.
Overall, the EVO signature agrees with me. The ODIN may be one of the best technical performers I have heard. However, subjectively speaking, EVO is one of my favorite signatures, and I prefer it to ODIN. When engaged in a listening session, the EVO commands more of your attention than the Legend X. The Legend X is an IEM you can put in your ears and effortlessly enjoy the music.
Although the Legend X is one of my all-time Empire Ears favorites, each could easily share a place in my collection.
Look elsewhere if you want an IEM that is analytical or without bass coloration. However, remember that the quality and quantity are so good that they make many other bass tilted IEMs sound pale.
I have said that someone with ODIN and EVO would have their end-game bases covered. At least until the urge to travel down the audio rabbit hole again.
Intermission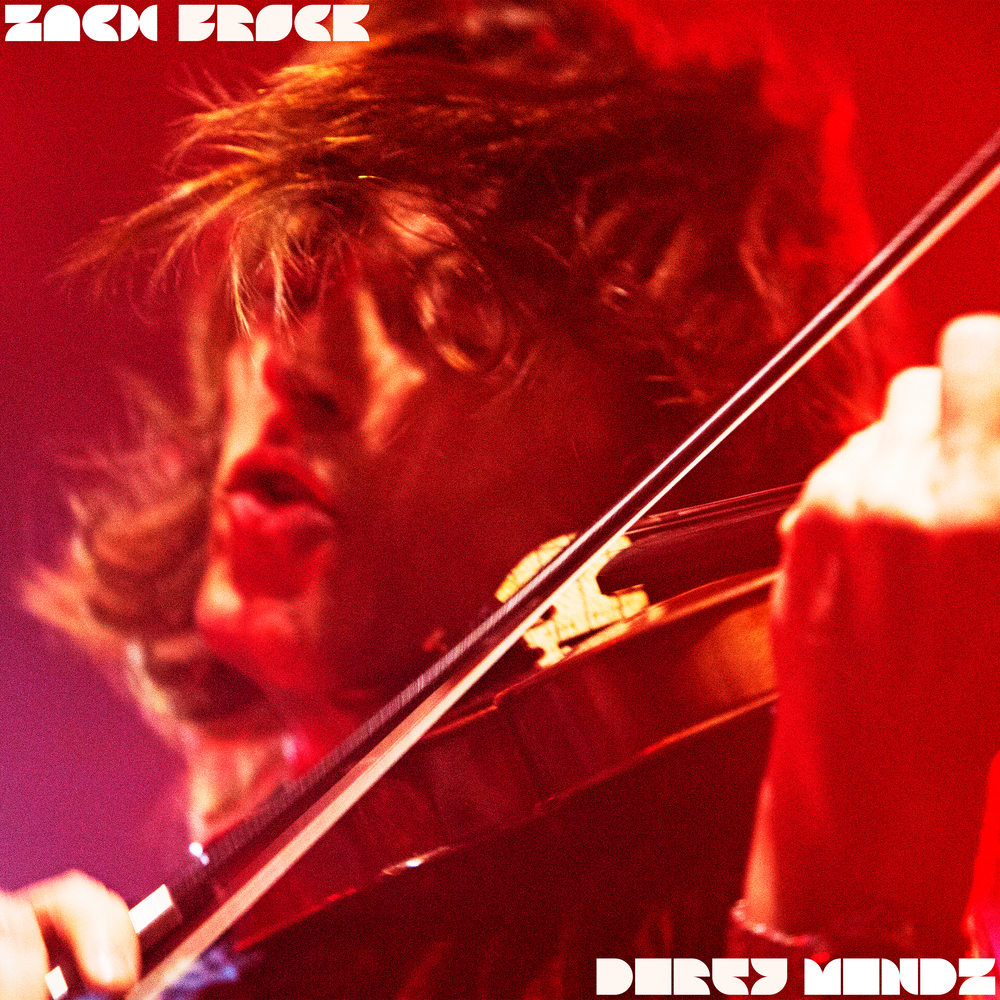 I want to pause and introduce a music release I have listened to repeatedly with EVO. This entire release showcases EVO's capabilities.
It is from a renowned Grammy Award-winning violinist,  Zach Brock. The release is titled Dirty Mindz and released on the GroundUp Music label. The song Dirty Mindz always appears in the top five of my streaming accounts' "Most Listened" playlists.
The Dirty Mindz release was in June of 2022. The release is a who's who of artists and Snarky Puppy alums, featuring members Mark Lettieri, Justin Stanton, Eric Harland, Jonathan Maron, and Chris Bullock. I apologize if I omitted any other contributors.
If you are unfamiliar with these musicians, I will encourage you to research them. Aside from Snarky Puppy, these artists have won awards and collaborated with multiple groups and top artists.
From the opening track, Invocation, the listener is on the edge of their seat with the ominous drone that perfectly transitions to the title track, Dirty Mindz.
I have listened to every "album" Zach has released; they are all stellar. However, there is something special about the synergy between these musicians and Zach's mindset while recording this release. You can feel Zach was reaching outside the "norm" for a violinist.
Frankly, the sounds and effects emanating from his violin make you question whether you hear the violin at all. Infused with keyboards, Lettieri's virtuosity on guitar and Harlands staggered beats and drum timing, this entire release is never more of the same. It holds your attention from the opening track to the final track. Each musician periodically improvises and showcases their craft.
So do yourself a favor and introduce yourself to Zach Brock's Dirty Mindz and the entire cast of renowned musicians. In my opinion, this is Zach Brock's finest work to date.
Now back to our regularly scheduled program…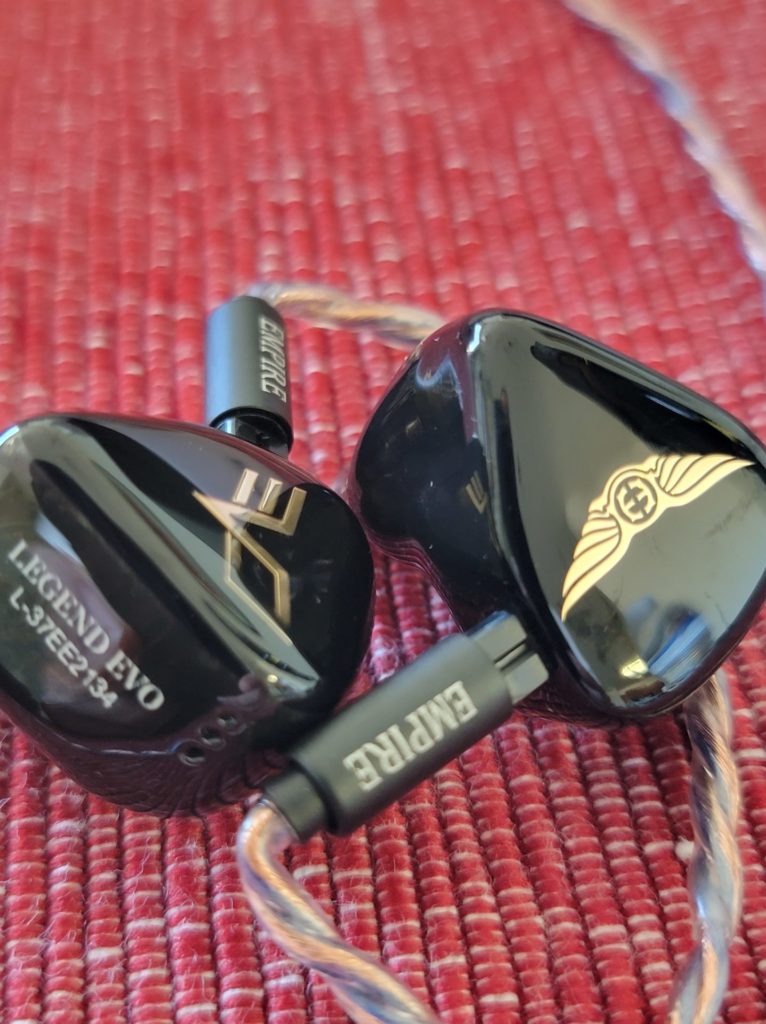 Comparisons
Empire Ears Legend X
In the Empire Ears lineup, the Legend X was the bass benchmark. Maybe folks would argue outside of the EE lineup as well. The Legend X is the predecessor to the Legend EVO.
I was one of the first to refer to Legend X's signature as balanced, but that was after one year of owning it and writing my review. That declaration met with many a comment and disagreement. I can remember listeners sticking the X their ears on a quick listen, stating too bassy, and discounting it as a one-trick pony. However, Legend X was an effortless listen to me.
At times the Legend X can become a bit bloomy and loose, but not the new Legend EVO. The bass is controlled and doesn't bloom into other frequencies. Weapon X takes bass to a new level with more definition and layering.
EVO has more detail than Legend X. Concerning EVO; Legend X can sound veiled. The upper lift in the EVO mids is the reason for the clarity and detail. The treble in Legend X would be its weakest link.
Imaging is far better on the EVO with an open and precise staging.
It may sound like I am not a fan of Legend X, but that isn't the case. It is merely an evolution, and the Legend X will still go down as a legend and trendsetter amongst IEMs.
Empire Ears ODIN
 I compared ODIN throughout the review so that I won't belabor this. ODIN is the most technical Empire Ears IEM. While refined, detailed, and with greater clarity, ODIN could use a little more presence in its bass.
ODIN and EVO share the same quality bass. However, with EVO, the bass is more present in its quantity and technically advanced. Mids in the ODIN reveal a crisper and more detailed sound, particularly in the upper lane. However, the upper mids walk the line of being too overbearing in ODIN compared to EVO.
While both IEMs have energy, I prefer the EVO and the energy it imbues with its best-in-class bass. It will come down to preference, but once again, if you owned these two IEMs, you would have all genres of music covered.
The ODIN may sit at the top of the Empire Ears lineup, but I prefer EVO.
You might want to own this IEM if:
+ You want best-in-class bass
+ You want excellent imaging and staging
+ You want a sound that gets your attention, is lively and energetic
+ You want an IEM with Bone Conduction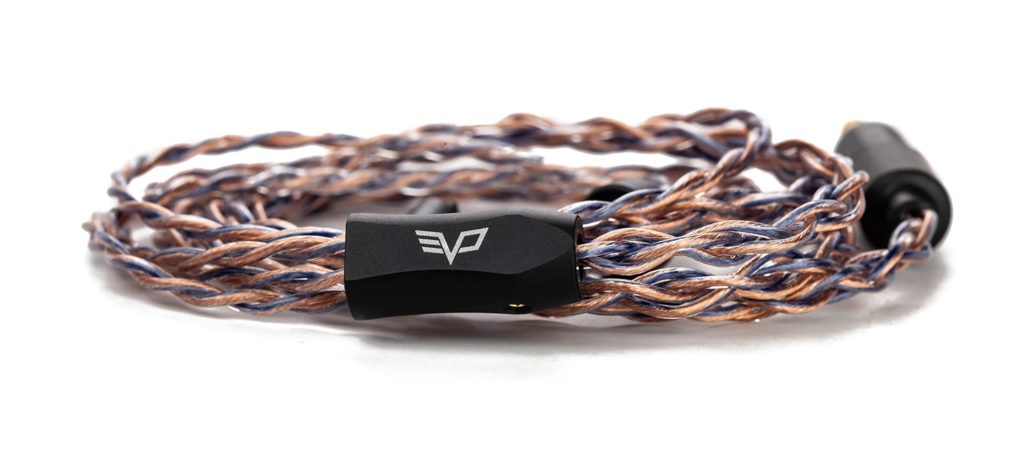 In Closing
 Is Legend EVO an evolution or a Legend X part two? I would say no, it is not a part two; it is an evolution, but utterly different in its tuning and technicality from its predecessor.
Due to Bone Conduction, no foam tips. Instead,  silicone tips are a must. The stock Final E tips or any narrow bore tips are the best.
Legend EVO has best-in-class bass, both in quantity and quality. I have not heard a rival to its bass. That is not to say one doesn't exist; I have just not heard it.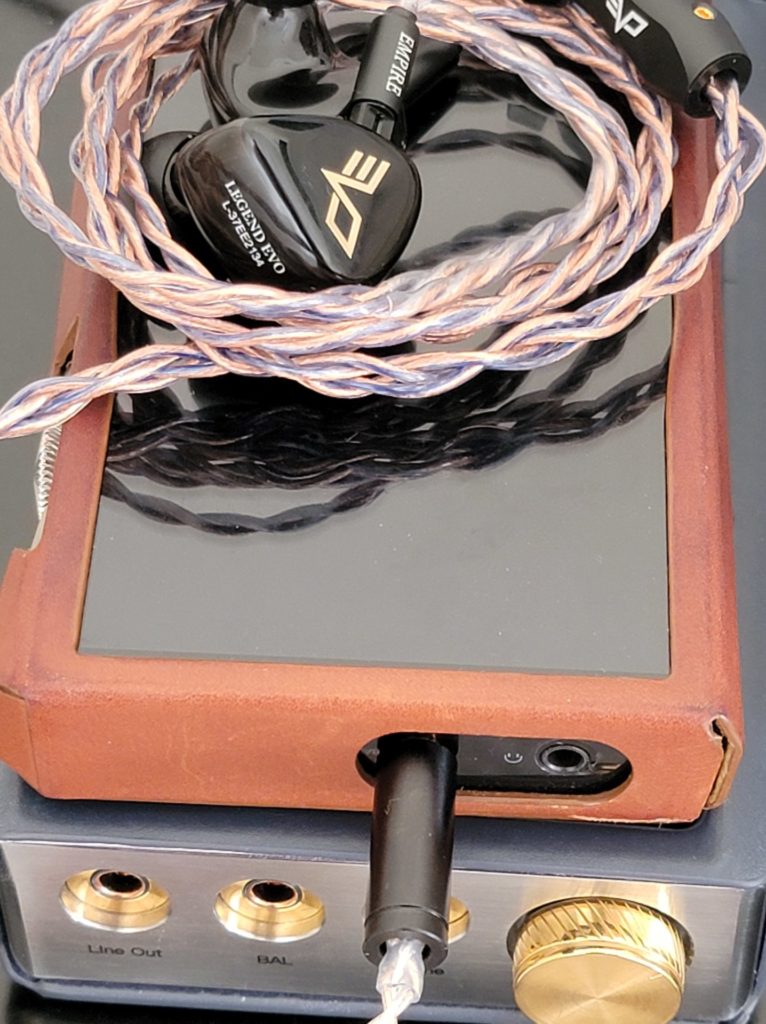 While some consider the upper mids sharp, they do not impede listening to me or make long sessions fatiguing. On the contrary, the upper mids provide a lot of detail and clarity.
The treble is smooth and linear to my ears but does have slight sparkle on the fringe. I do feel Empire Ears went for a natural-sounding treble as opposed to a treble that could be harsh. I could do with a little more treble extension.
Staging is wide, deep, and high. It is accurate and has excellent imaging.
The overall signature is an exceptional listen—Bass, bass, and bass but with much more. To my ears, EVO is well-suited for multiple genres and is not source dependent.
The Empire Ears Legend EVO is another stellar release from the Norcross, Ga. team.