Empire Ears Valkyrie MKII
Valkyrie MKII
Empire Ears VALKYRIE MKII – MusicTeck
 A Little Technical Stuff:
Specs
3 Proprietary Drivers, Tribrid Design
1 Next Generation W9+ Subwoofer – Sub-Bass/Bass
1 Proprietary Balanced Armature Driver – Mid
1 Premium Electrostatic Driver – High/Super-High
4-Way synX Crossover Network
EIVEC – Empire Intelligent Variable Electrostatic Control Technology
R.C. Resonance Mitigation Technology
Impedance: 3 Ohms @ 1kHz
Frequency Response: 5 Hz – 100kHz
Sensitivity: 100dB @ 1kHz, 1mW
Bespoke Alpha Hybrid IV UPOCC Copper& Silver Litz Cable
-MRSP: Universal fit $1599.00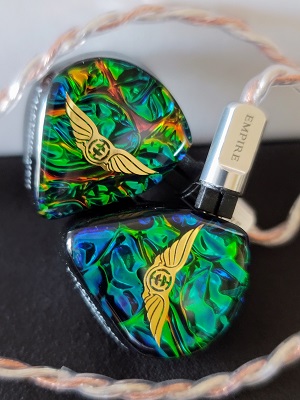 Empire Ears, an American company based out of Norcross, Georgia. These guys have a longstanding reputation for their cutting-edge technology and sound quality.  Owned by Founder and CTO Dean Vang and the front-face of the organization, VP Jack Vang, Empire Ears is well-known throughout the audiophile ranks as a significant IEM developer in the IEM industry.
This review is about a second-generation IEM, the Valkyrie MKII. Full disclosure, I have never listened to the OG Valkyrie. So instead, I read about it, actually read about all of the releases the year Valk was released, and I decided to skip a year with Empire Ears. Not for any real reason, but I was still enjoying my Legend X.
Well, here we are, with the Valkyrie MKII. It is an intriguing IEM with mid-tier(to me) pricing. This review has been a relatively long time coming, but not because of Empire Ears or the Valk, but personal time restraints.
Empire Ears being no stranger to Audio Rabbit Hole, as I have reviewed three of their previous TOTL releases, Zeus XR, Legend X, and ODIN.
Empire Ears has created a heck of a lineup for themselves and their consumers. Legend X still holds a super-strong spot in the TOTL IEM market and ODIN which set a new standard. Can this second-generation IEM compete in their mid-tier market? Yes. I can write this review using four adjectives. Fun, engaging, musical, and dynamic; add photos and review over.
The Valkyrie MKII, from now on in this review referred to as Valk, a wonderfully dynamic listen. Emotion and passion are most certainly not lacking when you listen to the Valk. If this sounds like how you enjoy listening to your music, continue reading; this is the IEM for you.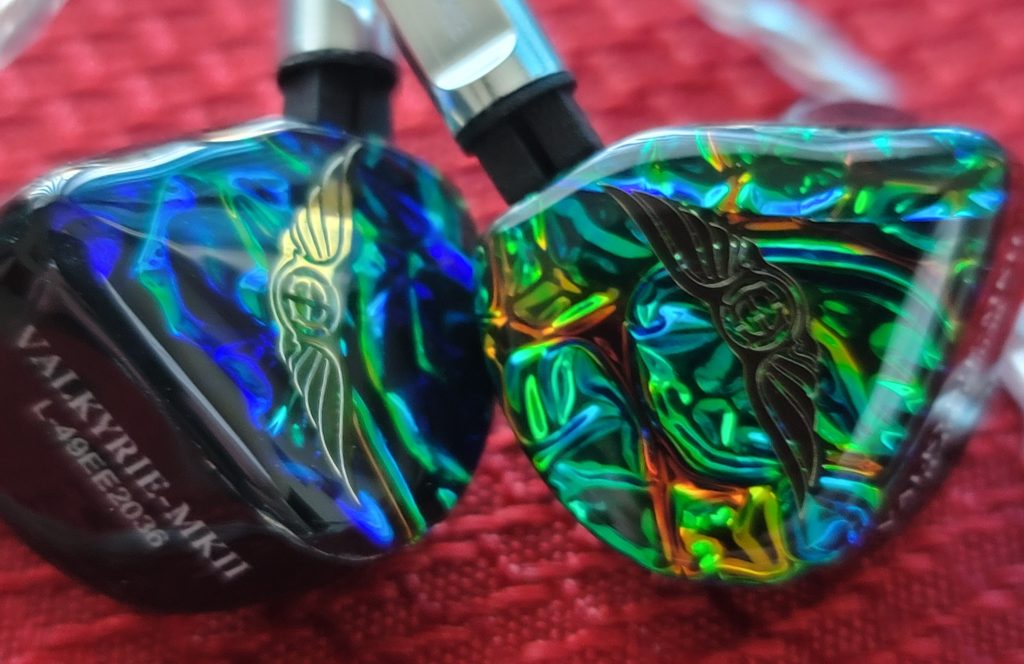 A Little Marketing Hype word by word from their site:
VALKYRIE MKII (UNIVERSAL)
A thorough and no compromise approach has led us to the evolution of our very first tribrid IEM, the Valkyrie. The Valkyrie MKII is the latest in a distinguished bloodline of evolved, powerful and detailed IEMS. Equipped with a proprietary tribrid driver design and a reengineered 4-way synX crossover network the Valkyrie MKII showcases exhilarating highs from the electrostatic driver, lifelike vocals from the balanced armature and unrivaled bass response from our next gen W9+ subwoofer.
With a stunning design, extraordinary performance and advanced technology the Valkyrie MKII is crafted to deliver breathtaking listening sessions.
At Empire Ears we believe that an extraordinary IEM requires an extraordinary cable. We're proud to introduce Alpha Hybrid-IV (AH4); a premium handcrafted 4 core cable comprised of a proprietary 26AWG UPOCC Litz Copper and Silver with multi-size stranding. The advantage of multi-sized stranded design within the same encapsulations enables AH4 to achieve distinct highs and details due to the signal transmission speed in thinner cable strands, while the thicker size cable strands deliver smoother bass and mids.
AH4 features a durable, overmolded .78 2-pin connector offered with either a 3.5mm right angle or 2.5mm balanced termination and improves upon the previous cable design. 2.5 to 3.5mm and 4.4mm Empire adapters are available.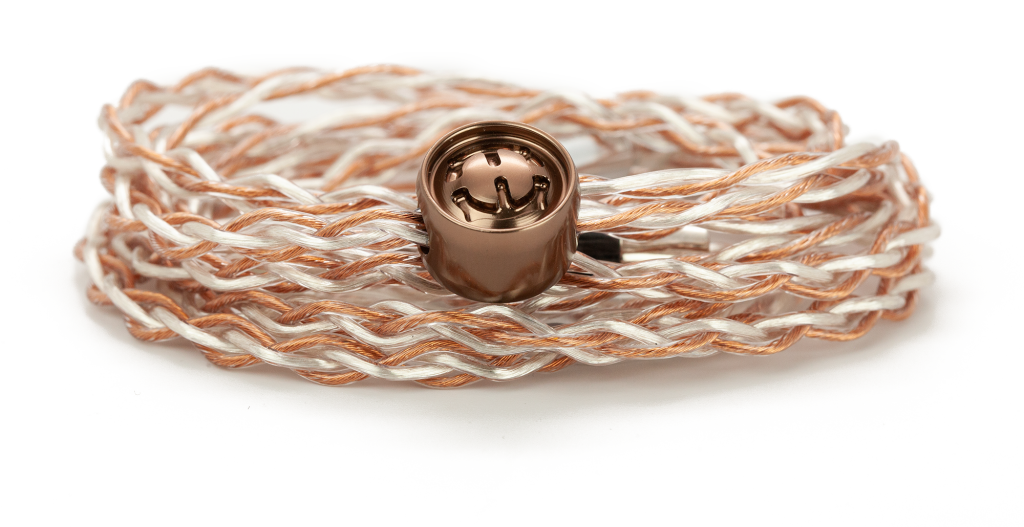 Dragonhide – Enter the Dragon
Dragonhide is an ultra-exclusive, one-of-a-kind faceplate designed to optically simulate the scales of a mythical dragon. Dragonhide features nine individual polymer layers in three proprietary lamination steps and each lamination is unique in its ability to filter and reflect specific wavelengths of light. This results in a faceplate that will produce breathtaking color transitions as the viewing angle changes — literally shifting before your very eye.
Dragonhide is masterfully handcrafted in the USA by an award winning chemist that currently holds two patents in polymer science for high solids coating chemistry.
A Trinity In Unity
Boasting three of the industry's most advanced driver technologies, Valkyrie MKII is truly a standout Tribrid IEM with an uncompromising performance ethos focused on delivering the purest connection between listener and IEM.
W9+ Subwoofer Sub-Bass/Bass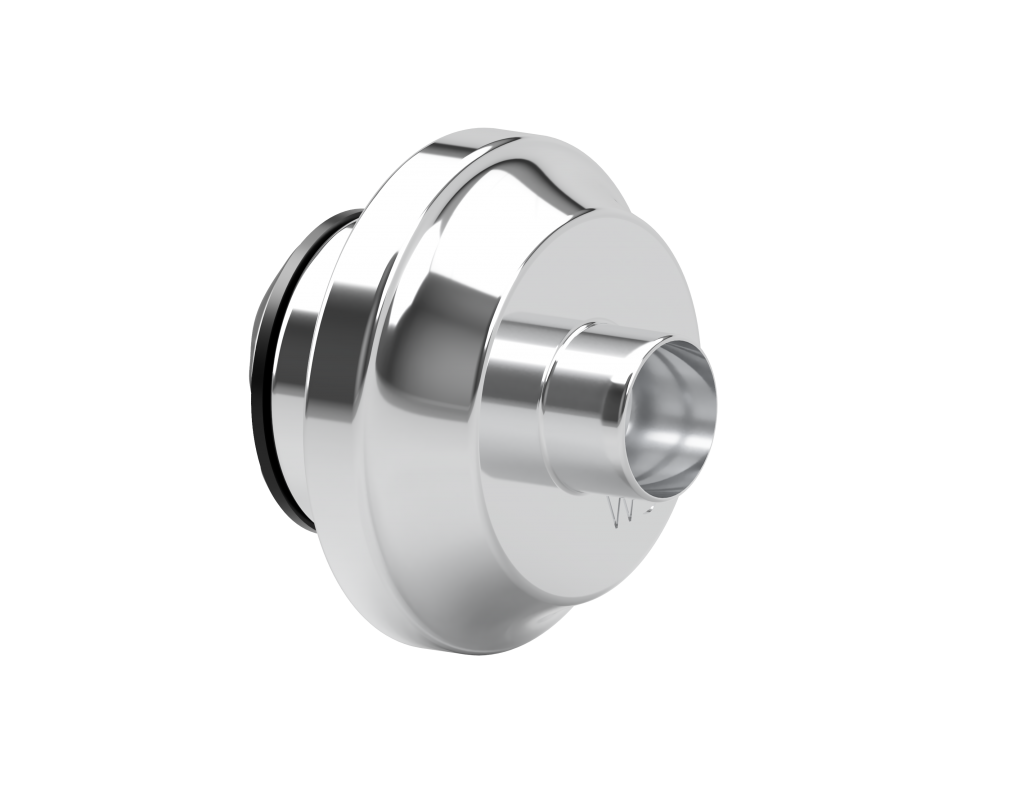 Weapon IX+
Our signature W9+ dynamic driver brought serious performance to the IEM world by combining the breakthrough of an enclosed woofer in a tuned bass-reflex system. Elevating the W9 design formula to its highest level, the W9+ boasts a larger internal coil diameter, more linear excursion envelope along with a more capable suspension to handle peak-to-peak excursion while mitigating distortion. W9+ extinguishes any limits the previous design had and delivers unparalleled bass on all fronts.
BA Drivers
Valkyrie MKII comes equipped with a single proprietary balanced armature driver to deliver the signature midrange that the world has come to know and love from Empire Ears. Precision Balanced Armature Driver Mid
EST Drivers
Valkyrie MKII masterfully manipulates electrostatic driver in unison with our proprietary EIVEC technology to effortlessly reproduce a remarkable 5Hz-100kHz frequency range. The ultralight moving membrane within Valkyrie MKII's electrostatic driver gives the most accurate transient response, resulting in unparalleled clarity, separation and detail. Electrostatic Driver High/Ultra-High
synX Crossover Technology
Legendary Crossover Network
Genetically dissimilar from the rest of the IEM world, our synX crossover network truly stands out with countless bespoke methods and technologies protecting it as a unique masterpiece. A marriage of 3 different driver technologies become symphonized by a unique, proprietary 6-way synX crossover network designed to maximize performance from each and every driver.
synX advantages
synX powered in-ear monitors have remarkably high stereo separation and smooth phase response, leading to more dynamic realistic imaging and staging for both live and studio use. synX features a myriad of other advantages including:
Ultra-Wide Frequency Bandwidth: The Valkyrie MKII produces a super-wide frequency range, offering listeners unparalleled sound quality and details that bests even the most high-end headphones on the market.
Best Signal-to-Noise: In order to ensure that all of the industry-leading sound quality is heard in your ears we've worked to create a unique combination of handpicked resistors, electrolytic capacitors, and filters in order to ensure the cleanest signal path possible while offering an exceptionally low noise floor.
Low Distortion: Extremely low distortion means that every nuance in your mix will be reproduced faithfully without audible artifacts.
Maximum Signal Transfer: Every driver and crossover is individually wired and insulated with 7-strand, UPOCC Litz wires to eliminate acoustic feedback and further soldered with highly conductive, ultra pure silver and gold Mundorf Supreme for maximum signal transfer.
E I V E C
Empire Intelligent Variable Electrostatic Control
The lightning-quick electrostatic driver accommodates Valkyrie MKII's wide frequency range while remaining balanced and compact. A single bespoke transformer drives the electrostat via our proprietary EIVEC technology to all of the other components while eliminating any signs of phase incoherence and distortion.
ARC Technology
ARC (Anti-Resonance Compound) is a proprietary conformal coating that virtually eliminates unwanted vibrations and resonance from within IEMs. ARC effectively increases the mass of the components it's applied to: every driver, crossover, and sound tube. This gives the internals more solidity while serving as a dampener to absorb the unwanted resonance instead of reflecting them out of phase. With A.R.C. clarity is increased substantially, bass is deeper, and the IEM becomes more efficient.
WHAT'S IN THE BOX:
 In Ear Monitor
Empire Pandora Case
Empire Cleaning Cloth
Empire Cleaning Tool
Final Audio Type E Tips – SS, S, M, L, LL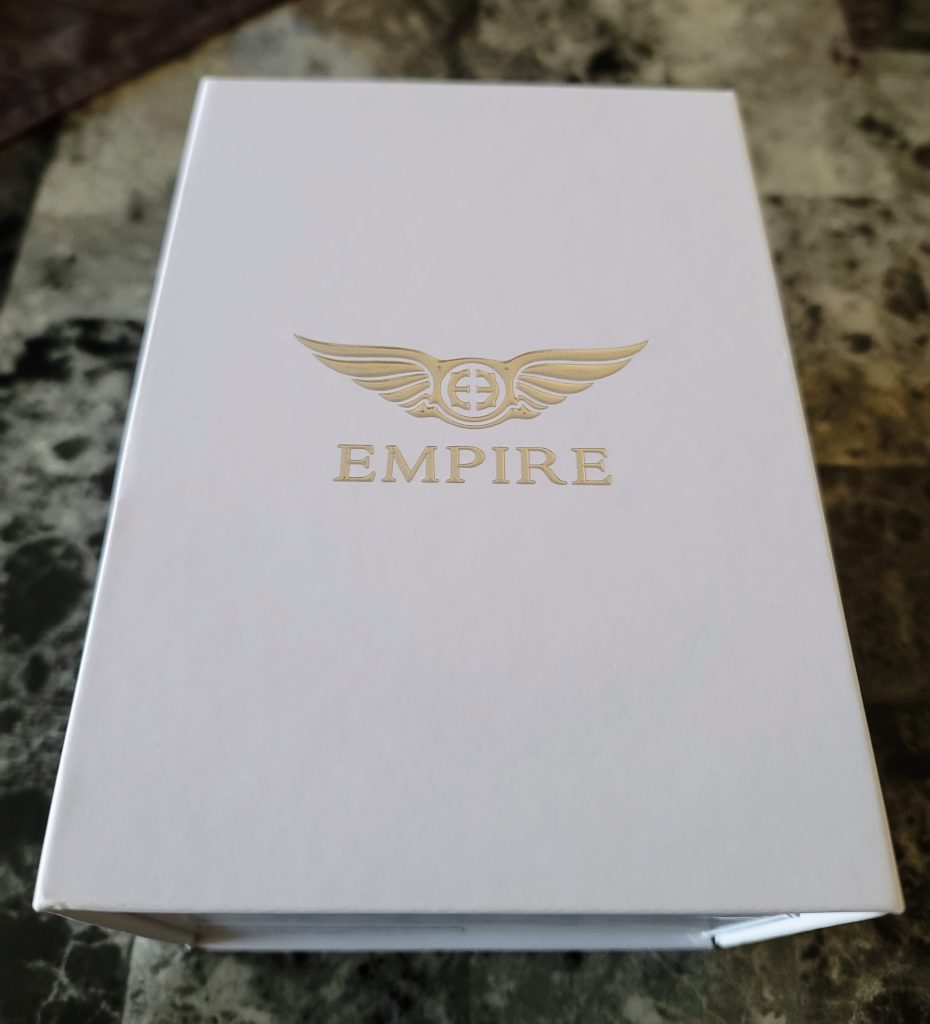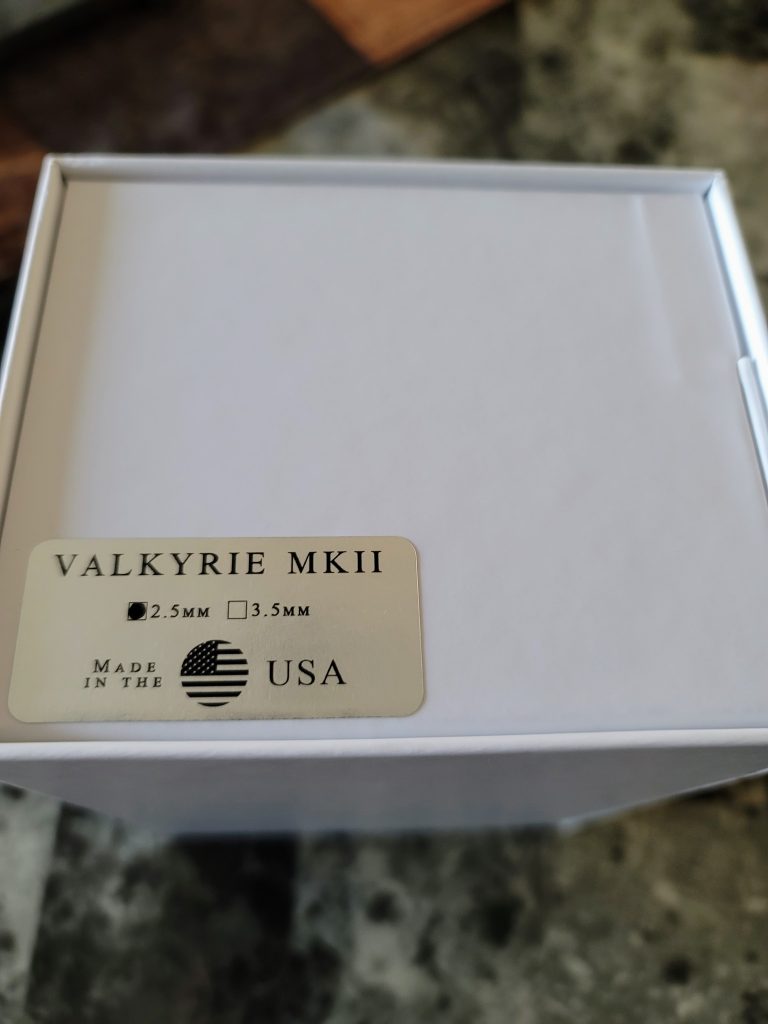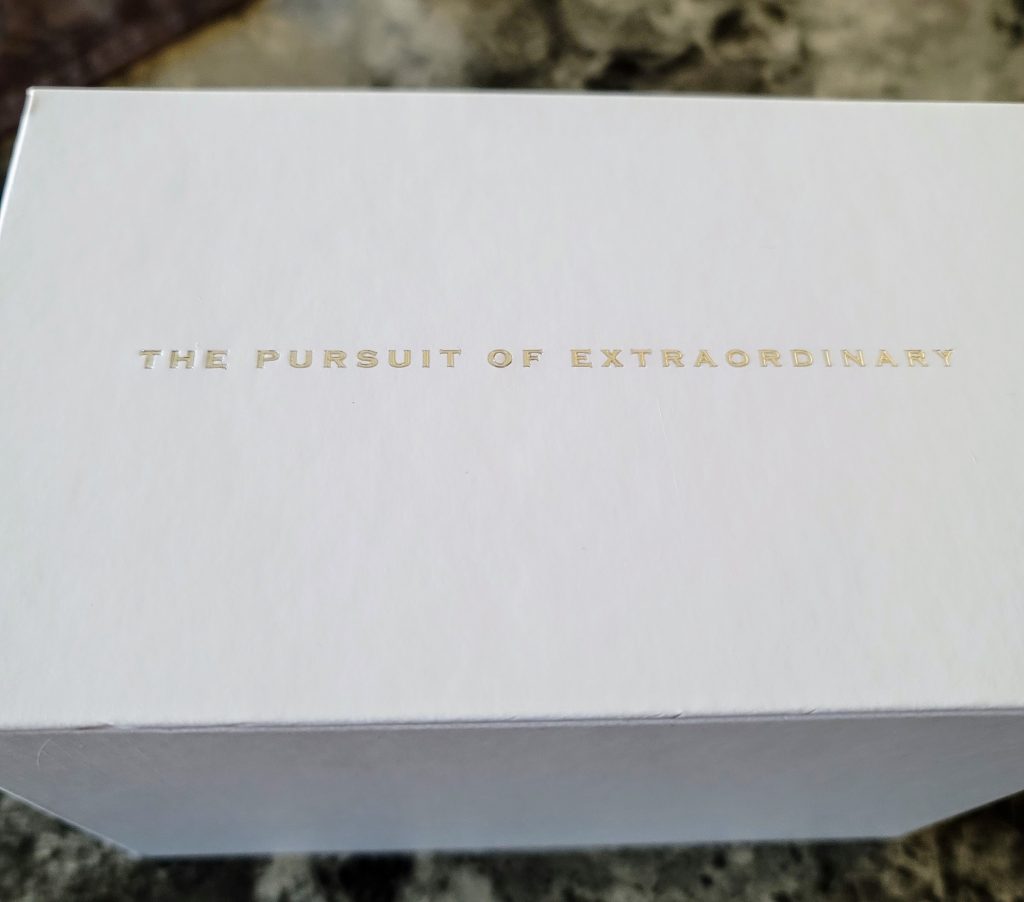 Unboxing and Accessories: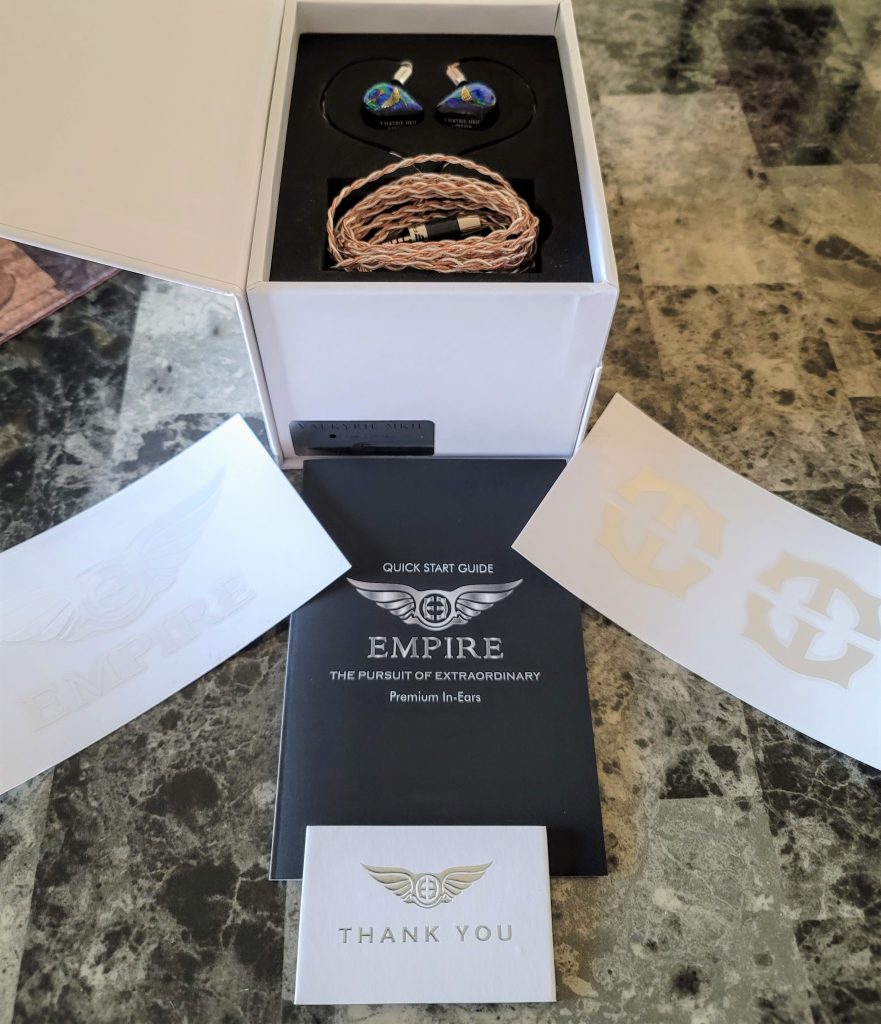 I always enjoy unboxing an Empire Ears offering, and the VALK MKII is no exception.
Empire Ears always has a premium feel with the packaging and pack-ins.  Stickers, cleaning cloth, cleaning tool, Pandora case, and an assortment of Final E tips. I am not sure what more you could want. I feel the pack-ins are perfect in terms of quality and quantity at their given price point.
The consumer receives a white box that opens with a side flap adorning the words, "The Pursuit Of Extraordinary." Upon opening the magnetic flap, you gaze at a white envelope with the EE logo in silver. The envelope contains the paperwork and stickers. Upon removing the envelope, it is as if you are staring at the Holy Grail, enter angel choir. This Dragonhide faceplate is gorgeous.
Also beneath the side flap is a pull-out drawer, if you will, which houses the Pandora case and ear tips.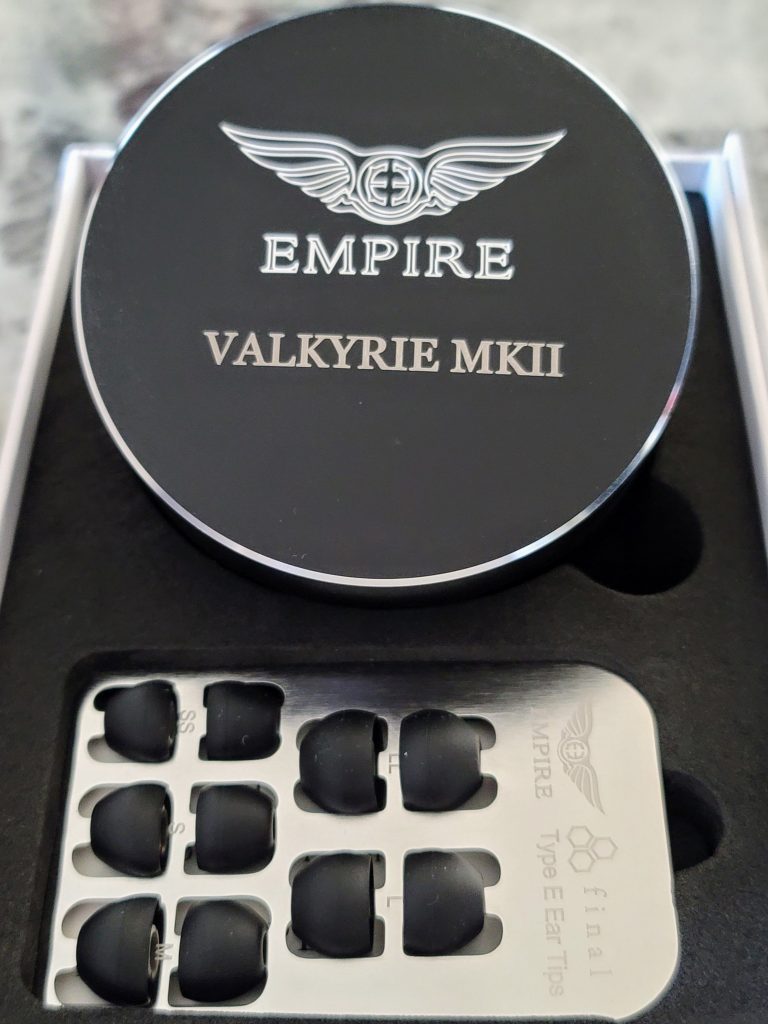 The stock cable, named Alpha Hybrid-IV, is an excellent upgraded stock offering produced by Effect Audio. It is a handcrafted four-core cable comprised of a proprietary 26AWG UPOCC Litz Copper and Silver with multi-size stranding. Below the cable divide is their EE logo on a copper-colored "nut," showcasing the dual EE's logo.
AH4 features a durable, overmolded .78 2-pin connector offered with either a 3.5mm right angle or 2.5mm balanced termination and improves upon the previous cable design. I asked for the 2.5mm balanced connection for easy connection to my AK SP2000 and Shanling M8 with its interchangeable outputs.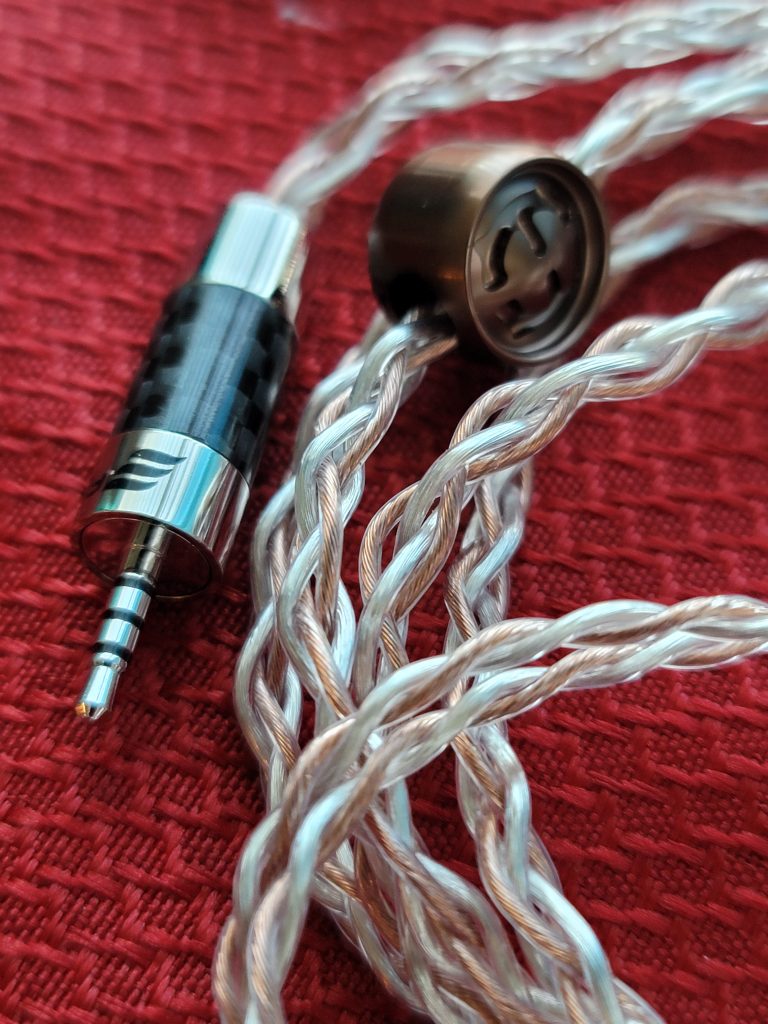 Build Quality and Fit: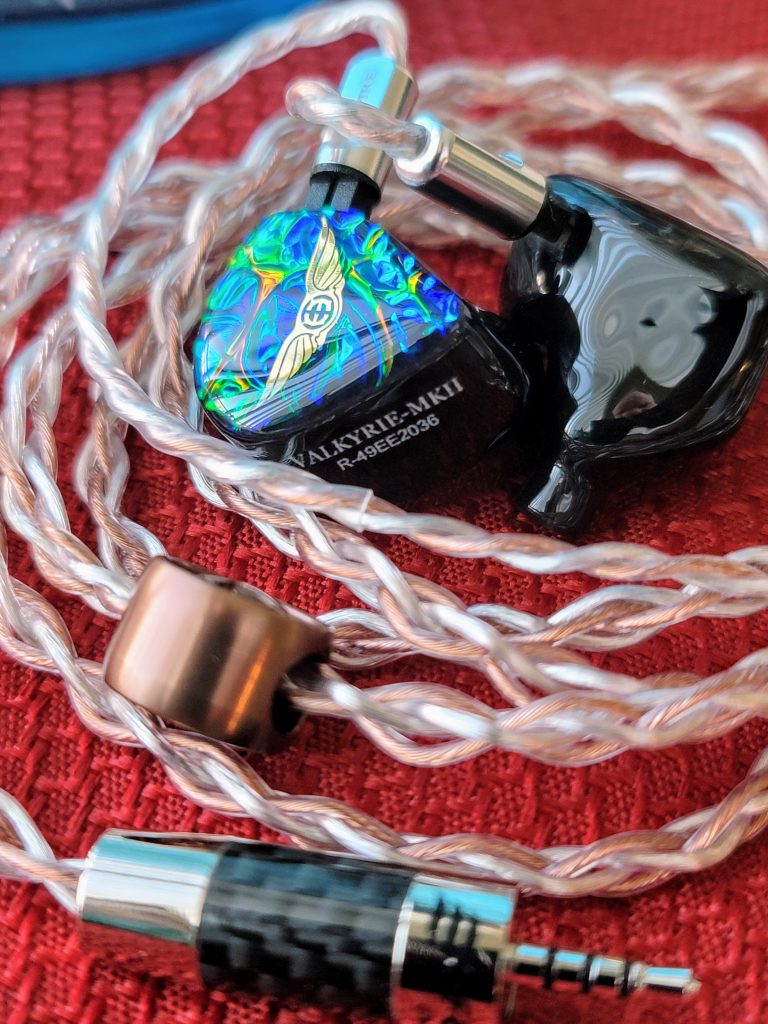 The Universal Valk comes with a black shell and the Dragonhide faceplate. I was under the assumption Empire Ears was utilizing the ODIN shell, but when side by side, the Valk appears to have a tiny bit more heft.
The shells are largish, and I could see where they could be annoying in little ears. However, I have no problems, as the Valk has excellent ergonomics and fits in my large ears without discomfort. Fit is subjective, but they are a touch more comfortable than the Legend X as a reference point. If you have an ODIN and struggle with the fit of ODIN, you will struggle with the Valk as well.
The nozzles are short but not the shortest I have encountered. If you have issues with the stock Final E tips staying in place on the nozzle, wipe off the nozzle and the tip to remove excess oils, and you should be fine.  Always important to have a clean nozzle and tip…hehe, mind out of the gutter, you pervs.
Another review I feel I need to suggest to EE to please put a lip or flange on the nozzle to help hold favorite tips on the nozzle and not leave them in your ear when removing. My Custom Art custom tips will not work with these because they always stay in my ear when removing.
The build quality is superb, as is always the case with Empire Ears. There are no blemishes, and the faceplate and shell seams are smooth and seamless, and the Dragonhide faceplate is a beauty. Between Valk and ODIN, I am oh so blingy!
Review Set-up:
The review is written utilizing a couple of sources, the Shanling M8 and AK SP2000—Tidal Master and Amazon Music Ultra HD music streaming, and lastly, my FLAC and MP3 files.
Moving on to the sound section….
The review unit Valkyrie has been seasoned for at least 100 hours.
The Valk is a V-Shaped IEM. I have never been a massive fan of V-Shape, as usually, you feel you are missing something because there can be a scoop of mids missing. The Valk is V-Shaped, yes, scooped out and missing something, absolutely not! The Valk is almost sinful in how it slings the sound at you. The Valkyrie is most definitely not a reference IEM. Analytical or reference lovers need to look elsewhere.
This 2nd generation Valk will demonstrate just how good W9+ drivers can be. Fast, tight, and full of rumble, incredible bass, reminiscent of my favorite bass, the Legend X, but snappier and with less decay.
This IEM will also show you just how far the estat technology has come. Not the honky, harsh in-your-face treble that appears on its island, lacking coherency. The Valk has a smooth balance in the treble with no uncomfortable sizzle, even on the fringe. It does not lack in the coherency of estats of days past.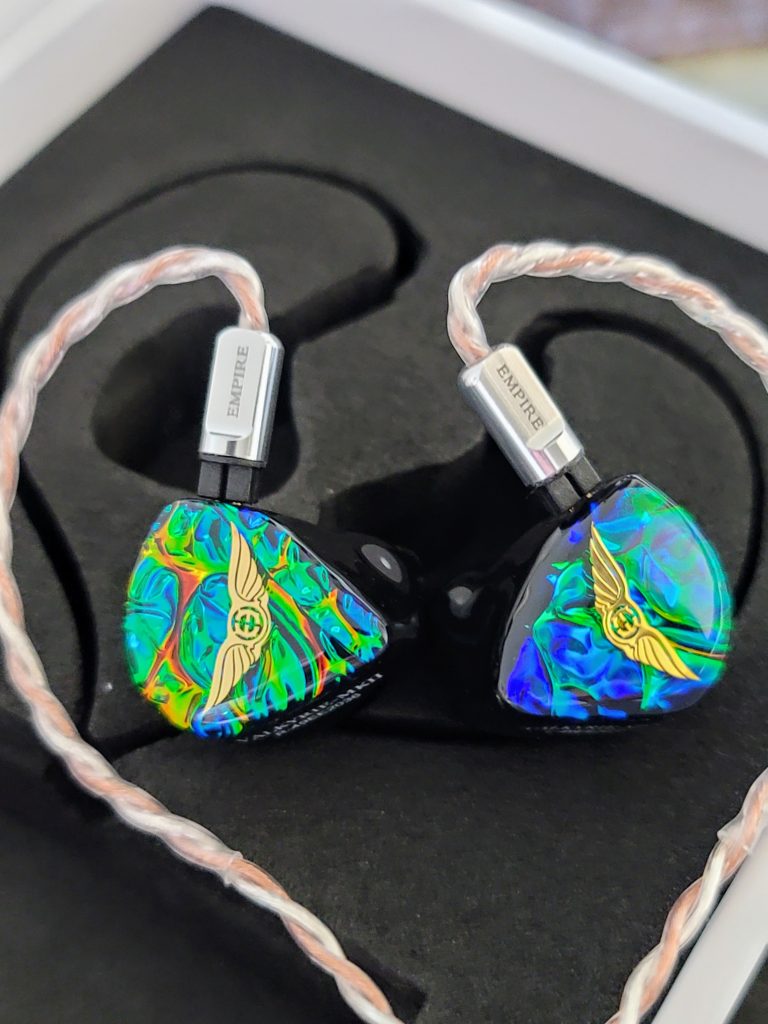 The stage is extensive, and I love how the stereo separation is so distinct. The stage is open, mainly as you go up the scale.  The sub lows are forward and airy, and there is a peak in the 3-4K midrange. The ranges between the sub-bass and upper mids are where the V-shape is in regards to staging. Once you hit the upper mids and treble, you find space and openness, with an airy stage.
I think the Valk has a masterful tuning, remembering it is a 3-driver IEM. Also, it is a unique V-shape, with the V stopping at upper mids, so there is more to it than just bass and treble, as is the case with most other V-shape tunings.
The bass to my ears is a showcase. It isn't easy to think of a better bass. The Legend X was the best bass I have heard, but enter Valkyrie MKII. I wish my Legend X had these newer W9+'s. It rumbles with such speed and authority. The decay is faster than on the Legend X, but most certainly has the Legend X level of rumble and possibly more than the Legend X. The bass does not bleed into the upper bass or lower mid frequencies because that is the primary V-shape range, but with the quantity of bass, it is a great filler and creates the body to the signature and soul to the music. If the other bass regions were not less pronounced, I could imagine some interference from the sub-region. Masterful actually!
I could go on and on about the quality and quantity of the bass, but I think by now you get it—some of the best bass, if not the best bass I have heard.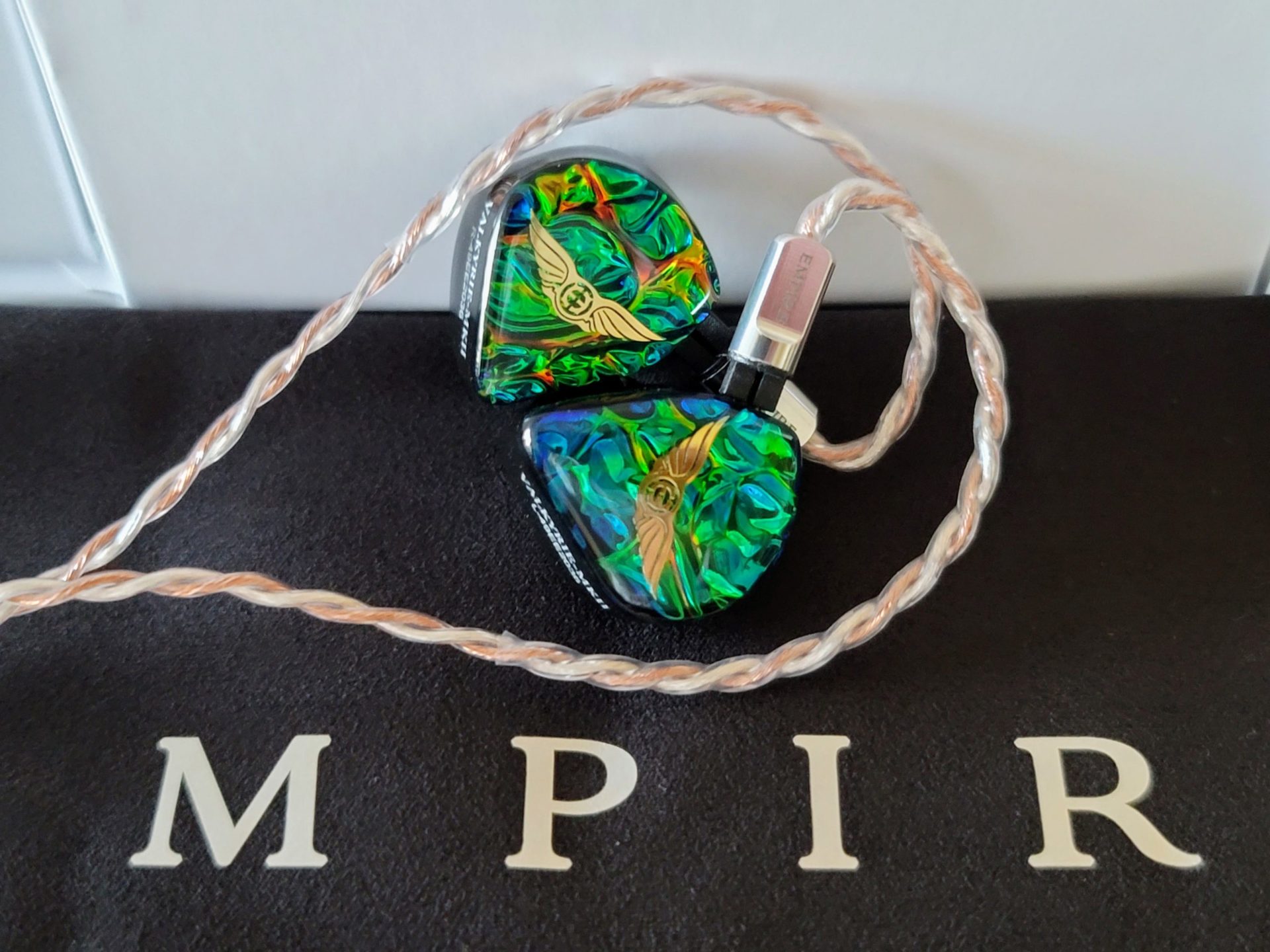 The mids have oodles of clarity and are defined by their own space. With the lift in the upper mids, it would maybe conjure memories of ODIN forwardness; however, the Valkyrie, for the most part, has less bite than ODIN in the upper mids. I think that the smoothness of the treble and the fullness of the bass helps to balance out that lift. Also, the peak of the lift is in the 3-4k range, not the 2-4k range.
Think female vocal forwardness and male vocals with less intensity, and you will understand the mid-range tuning. From all of the previous impressions I have read regarding the OG Valkyrie, I can say that this may have been one refinement Empire Ears made, a more refined, less harsh tone. I think even though the signature is lively; it still retains a comfortable tonality.
Less 6k and more 8K in the treble region along with the coherency and pull back leading up to the 3-4k peak somehow creates a balance and smooth, coherent 2nd gen estat treble.
The treble air and detail are noteworthy, and I have only heard sharpness in less than a handful of tracks. What I do hear is stereo separation and space. Instruments with treble focus stand out but in a smooth and non-offensive manner. The overall coherency and tuning, while avoiding unwanted sharpness, brightens the future when considering an IEM with estats. However, I have had some negative experiences in the past with similar configurations.
I have found the Valk easy to drive, and my preference is to listen to lower or moderate levels because high volume can exacerbate the dynamic, lively nature. I also avoid wider bore ear tips with the Valk and like the sound quality I achieve with the included Final E tips.
EDM, Rock, Classic ++++++++ Jazz all sound great
Pairings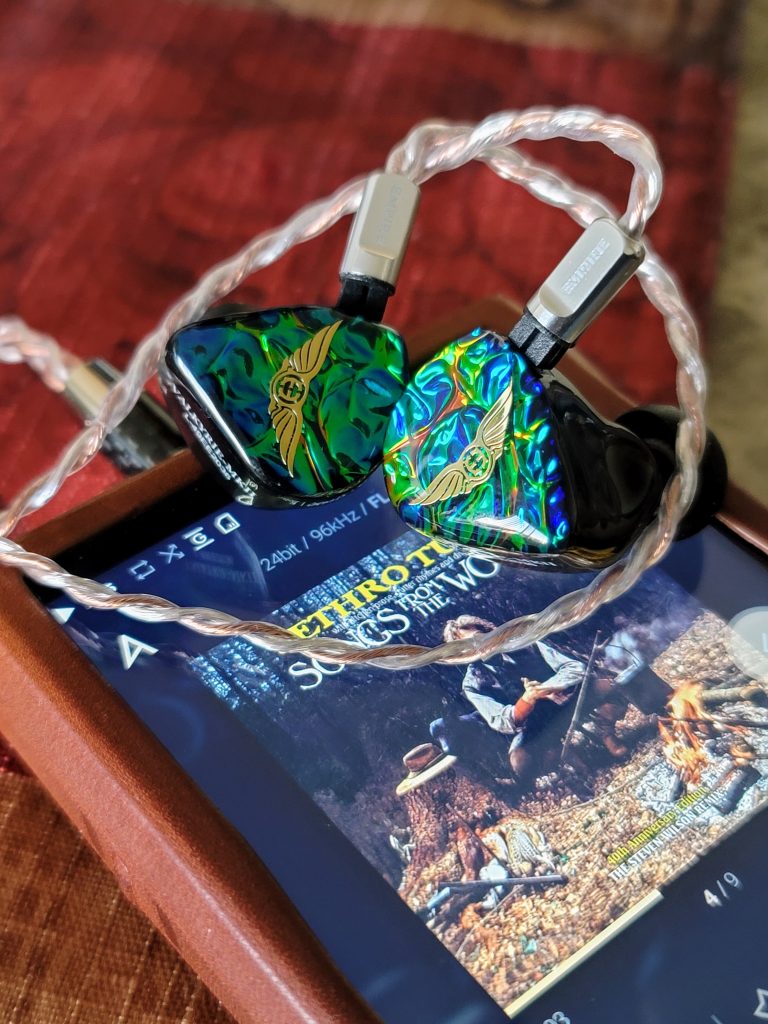 I have found that the Valk pairs well with any of the sources that I tested. However, knowing that the signature is dynamic and snappy with an upper mid-lift, it would probably be best for the listener to avoid a brighter source. Either the M8 or the SP2K delivered an exceptional experience.
The Valk scales so well with the power, but I found my experience better at lower volumes. With this musical, energetic gem, it is difficult to fight the urge to nudge the volume knob to uncomfortable levels. The A&K SP2000 is always one of my favorite pairings and can showcase the stage at its widest and provide a smoother overall signature. In addition, the A&K delivers such a quality tone and timbre that I haven't found any odd pairings when using it as my source. No Hiss, black background with either the M8 or SP2K is present.
Comparisons
Legend X
 The Valk and Legend X share DNA. These two rule the roost in the bass world. I have consistently rated the X to have the best bass available. Enter the Valkyrie MKII. The W9+ drivers in the Valk deliver the goods. The X sounds a bit less snappy and dynamic through a combination of tuning upgraded hardware on the Valk. While the bass is always apparent in both, the X has a smoother bass tone due to its slower decay. I have always believed that the X is more balanced than not—this not a popular belief when the Legend X comes up in conversations. However, the X is not a quick listen IEM and does require adequate seasoning time to reach its full potential.
There is more balance to the LX in the signature than the Valk and more overall smoothness. The stage is somewhat similar, but I enjoy the more precise Legend X in this category.
Treble is perfect in both when factoring in the type of signature that they are trying to represent. In other words, two different signature types, two different treble types, and both work exceptionally well for their respective signatures.
Would I own both the Legend x and the Valkyrie MKII? They are more different than similar, but my preference would lean toward the Legend X. I would love to hear the X with the upgraded W9+ and bass tuning of the Valk, I can imagine that would be close to perfect for my tastes.
I do not have any other comparisons to the type of signature that the Valk imbues. The X was a valid comparison because I know many readers will want bass comparisons.
You might want to own this IEM if:
+ Want a fun, dynamic, and musical signature
+ Prefer a bass that is snappy and accurate with minimal decay
+ You want to listen and enjoy your music without worry about critically listening, plug and play
+ Aesthetics are essential to you. Dragonhide is gorgeous
In Closing
It is always fun to hear a new IEM, even more so one with a tuning that is different from my preferred signature. Valkyrie MKII is not a signature that I would seek out, generally not a V-Shaped fan. The Valk, on the other hand, is a super fun listen. I could find myself reaching for the Valk when I want a musical plug-and-play experience, a non-critical listening session.
Honestly, I expected a much more scooped-out sound, but that is not the case with Valk. Instead, the tuning is so masterful that other frequencies fill in the sound body and the Valk somehow avoids a hollowed-out mid-range.
The design aesthetics are beautiful, with Dragonhide adorning the faceplate. I am huge on the flash, particularly since I don't care too much what others think, and I can't see them when they are in their proper place, my ears. The stock cable and build quality are top-notch, as are the pack-ins and unboxing.
Impressive bass quantity and quality places the Valkyrie MKII at the top of the bass lover's summit. In addition, the new W9+ drivers deliver a bass experience second to none. Snappy and with less decay than the Legend X., I look forward to more offerings with this level of bass tuning, quality, and drivers.
Estats in the Valk are not harsh or incoherent; in fact, the synergy throughout the signature is superb. The Valk II is one of the best utilization of estats for treble that I have enjoyed hearing. Smooth and sparkly on the fringe, excellent extension, smooth and not abrasive.
Mid tier pricing, makes the Valk a blessing at $1600.
I must call the Valk as I see it. Engaging and fun if you are looking for a different type of signature, there are other offerings in the Empire Ears lineup, but this is the most dynamic and musical I have heard from the Norcross, Ga. team.