Arctic Cables Cuprum Series
Cuprum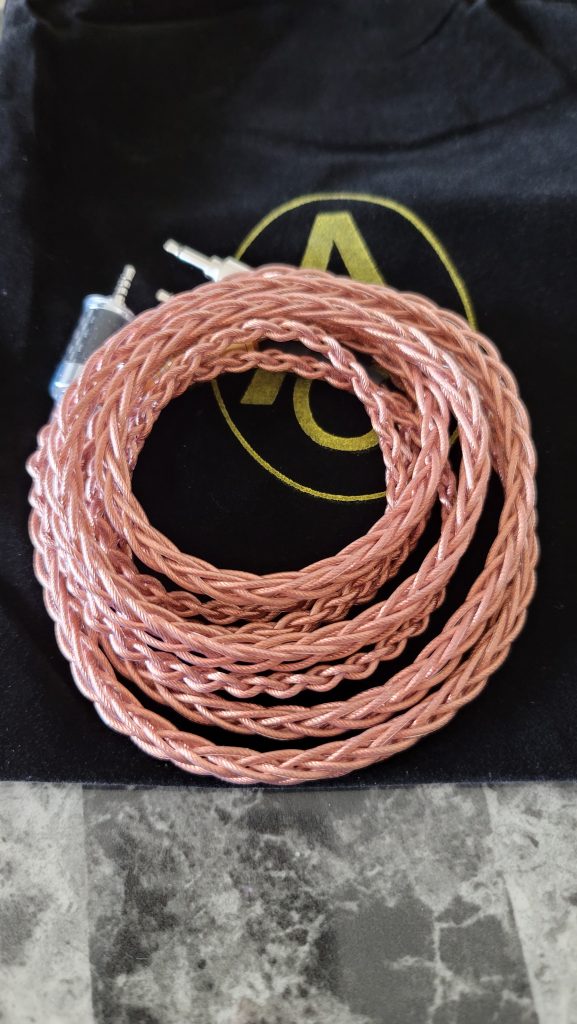 MRSP: Starting at $249.00; price varies due to upgrades you choose
I feel I need to preface the review by saying that cables will make subtle tweaks to the sound quality and should, IMO, be your last upgrade as far as sound is concerned. I feel there is more of a sonic impact when pairing cables with full-sized headphones than with IEMs. To indeed have the most considerable effect on your listening, invest in TOTL IEM's or Headphones first and then a quality source second, and then seek the tweaks from cable pairings.
I want to thank Roy from Arctic Cables for listening to my needs while building this cable. Arctic Cables produces Headphone Cables, Adapters/Aux Cables, Digital Cables, Interconnects, and Speaker Cables.
When speaking about cables, I rank comfort, ergonomics, and aesthetics. For the topics mentioned earlier, I see the importance of cables, with aesthetics being the least important. Cables can undoubtedly affect sonics, positively or negatively, but generally, the difference is subtle. Bear in mind; the cable connects your IEM or Headphone to your source. That said, it is important not to diminish the role of the cable's importance as the conduit between the two; that is why it is essential to look into the world of cables, but know that sonically there will not be a night and day difference.
This review is going to be unapologetically short and to the point. I see no need to write 10,000 words when the photos speak for themselves, and the sound enhancements, while minor, are undoubtedly noteworthy and have brought the best out in the Denon AH-D9200.
I have owned two Arctic Cables in the past. Both of those were made from the same composition and are the Signum + Series Arctic Cables.
Arctic Cables Signum + Series site link
I had the two "like" cables because, at that time, I had two TOTL Closed-Back headphones, the Focal Stellia and the ZMF Verite Closed. I wanted to make sure I was comparing apples to apples when listening, and I knew I would sell one of the Headphones, so being fair, I had a Signum+ for each.  Stellia stayed, Verite Closed was sold.
Compared to the stock cables, in both of the instances, there was most definitely a sonic lift; please read my thoughts below in my Signum write-up;
Arctic Cables Signum + Series write-up
Arctic Cables prides itself in using the finest wire available. Arctic Cables uses a single crystal OCC copper with the highest rated purity of 99.9999% in a type-6 Litz construction. The copper used is enamel-coated to prevent oxidation and significantly reduce electromagnetic interference.
Let me post some photos of the build and aesthetics and then discuss any differences in comfort and sound between the stock cable and the Cuprum Series on the Denon AH-D9200.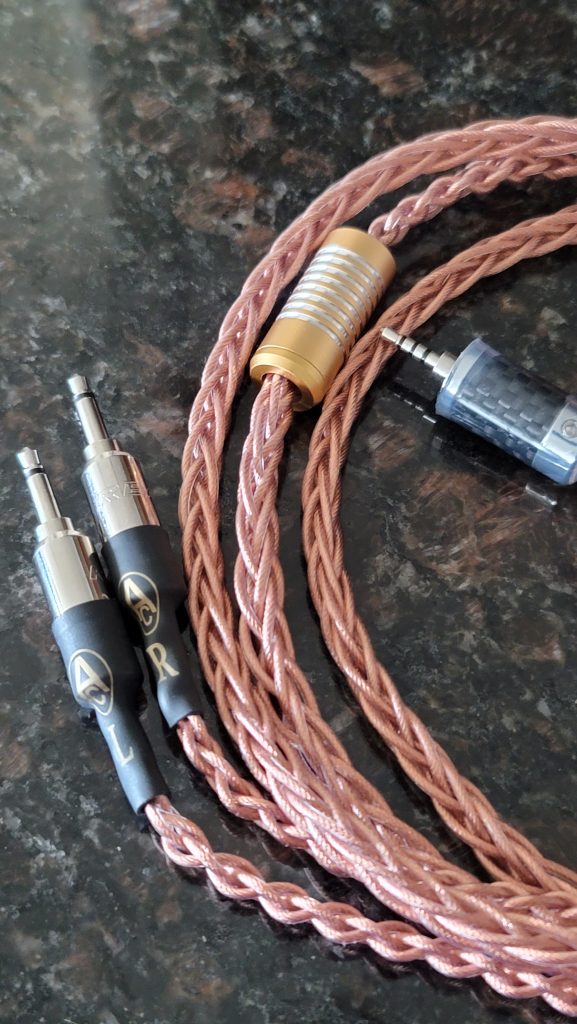 A Little Marketing Hype word by word from their site:
OCC copper cables have been here since the OCC manufacturing process first came to life.
Since copper is relevantly inexpensive and less complicated to produce, there are plenty of excellent OCC copper cables on the market for reasonable prices.
Instead of bringing you yet another OCC copper cable the looks nice and sounds good, we took the purist OCC copper that's currently available for production, and we've added to it all of the latest technologies in OCC manufacturing. Our goal was to create the ultimate, end-game copper cable you could find.
We use a single crystal OCC copper with the highest rated purity of 99.9999%, in a type-6 Litz construction, the most advanced in hookup wires. The cable itself looks absolutely stunning due to its high-priority and sparkles like gold.
We've also implemented the latest deep-cryo technology, and our copper is enamel-coated to prevent oxidation and significantly reduce electromagnetic interference.
Like all braided cables, the braiding is entirely handmade, and we use some of the best solder wires on the market.
Sonically the cable hugely outperforms its price and one of the best aftermarket copper cables you can find at any price point.
UP-OCC TECHNOLOGY
The unidirectional UP-OCC has low electric resistance and practically no crystal boundaries. Accordingly, it can transmit electrical signals faster,
and with less distortion than ordinary OFC and silver wires.
All of these features make the pure OCC copper and silver the state-of-the art conductor materials for the audiophile cable industry.
THE BENEFITS OF UP-OCC
A true unidirectional copper crystal that is as free from impurities as possible to prevent corrosion
Flexibility and fatigue resistance without impairing conductive characteristics
Low electrical resistance
Rapid signal transmission
Corrosive-resistant
Non-crystal boundaries
WHAT IS UP-OCC WIRE?
UP-OCC stands for Ultra-Pure, Ohno Continuous Casting.
The UP-OCC process for refining copper was developed and patented by Professor Ohno of the Chiba Institute of Technology in Japan.
The license to use this manufacturing process is incredibly popular for the production of wire and cable products for the audio/video industry.
In conventional processing, hot molten copper is poured into a cooled mold for extrusion, resulting in multiple, fractionated crystal structure.
While the copper may be "pure" in the sense of measuring gas impurities in the copper in comparison to standard copper refining techniques,
Oxygen-Free Copper (OFC) has undesirable effects that lead many to use more expensive materials such as silver for their conductive strands.
As developed for A/V cable use, the OCC process utilizes a heated mold for casting and extruding, with cooling taking place in a separate process,
the result is a larger crystal size and increased purity that approaches the 6N, 99.9998%!
Looking at it another way, traditional copper has oxygen impurities of 200 to 500 parts per million (PPM), while traditional OFC copper reduces that
to less than 10 PPM. With the OCC process, the figure is cut in half to less than 5 PPM of oxygen,
and less than 0.25 PPM of hydrogen (compared to 0.5 PPM for OFC).
With these results, the OCC process creates "ultra-pure" copper.
WHAT'S IN THE BOX:
Cuprum Series Cable
Large Folio
An AC sticker
Warranty Card
Business Card with an email address
Unboxing and Goodies:
A cable's unboxing is generally not met with the same fanfare as a new IEM, Headphone, or DAP, for example, but it is always lovely to receive a new toy.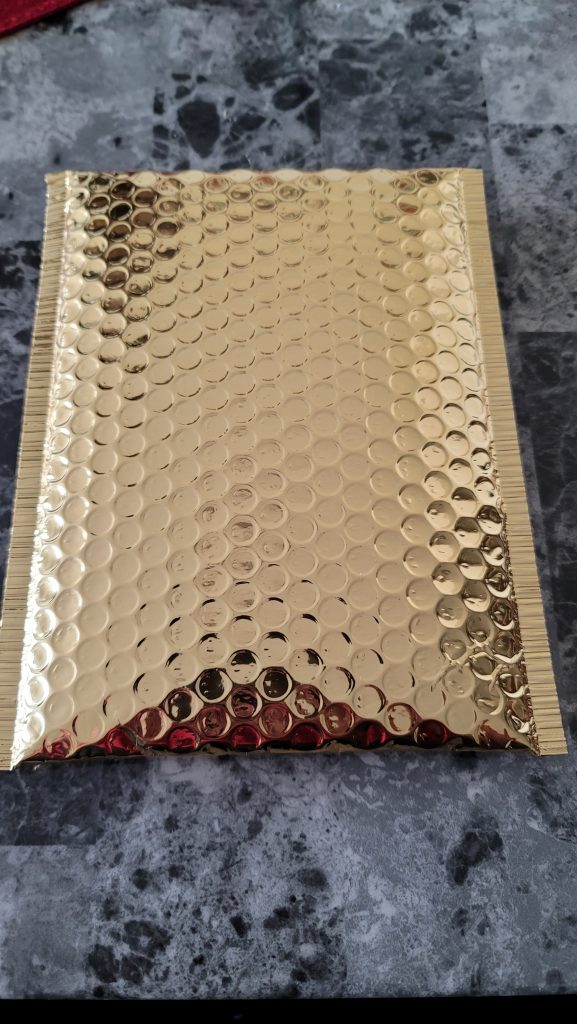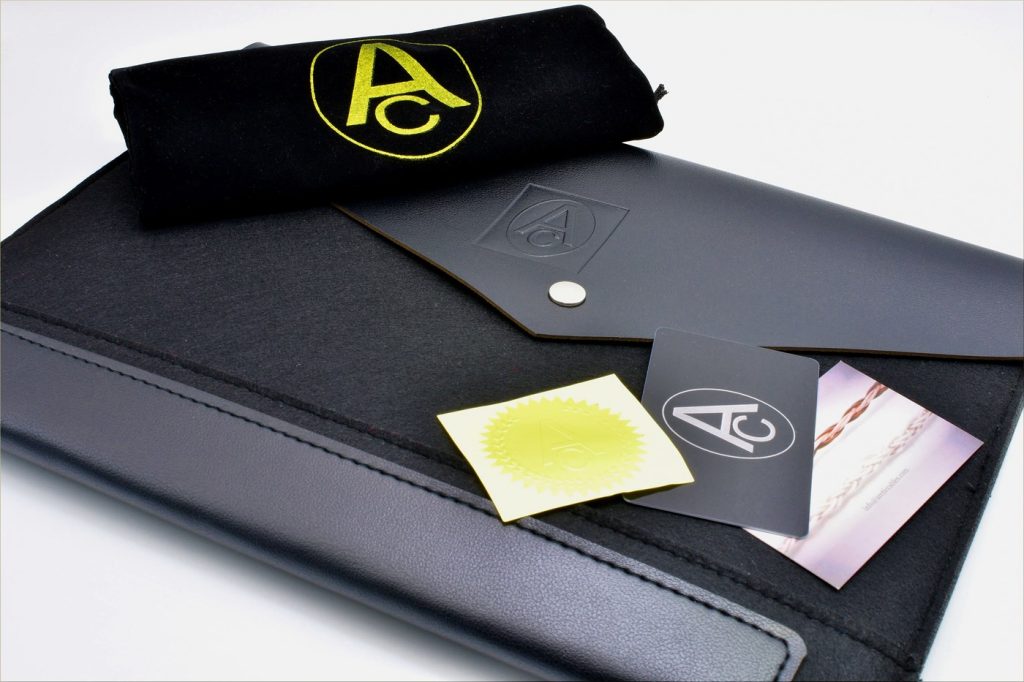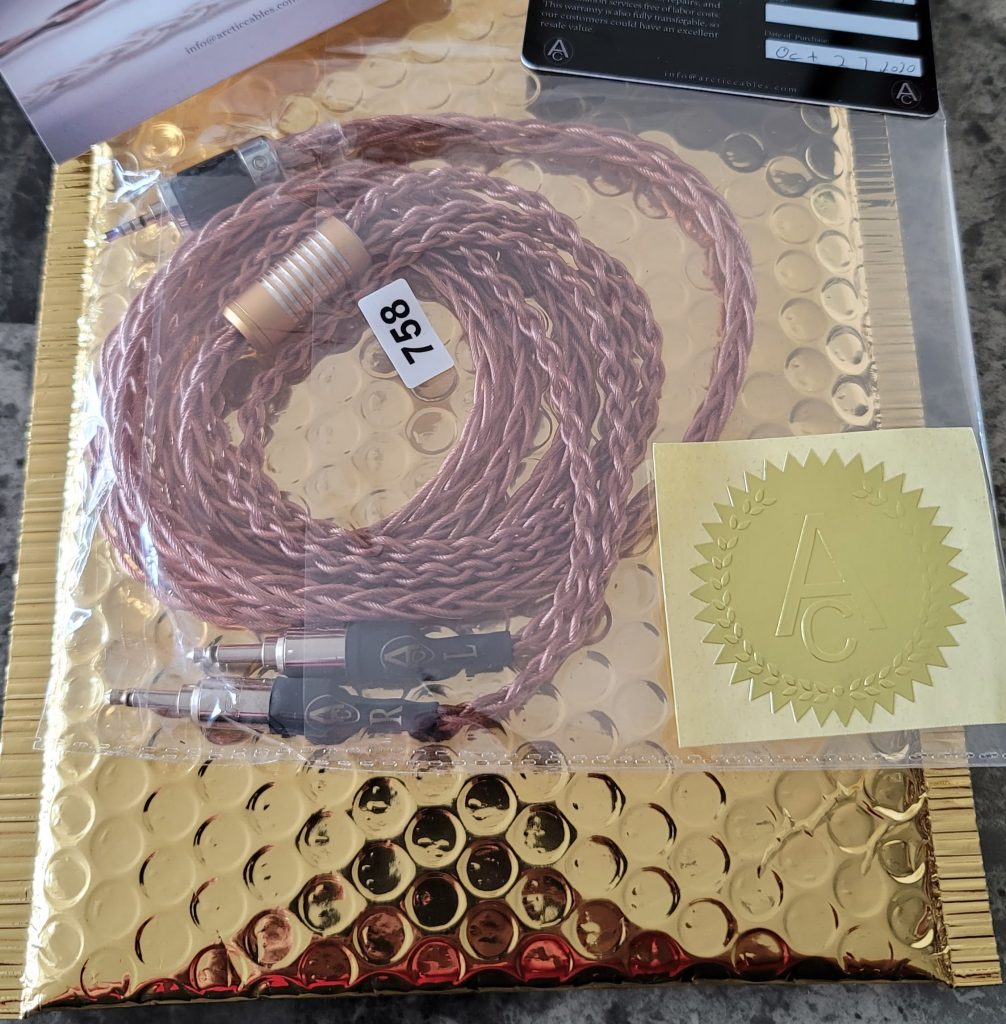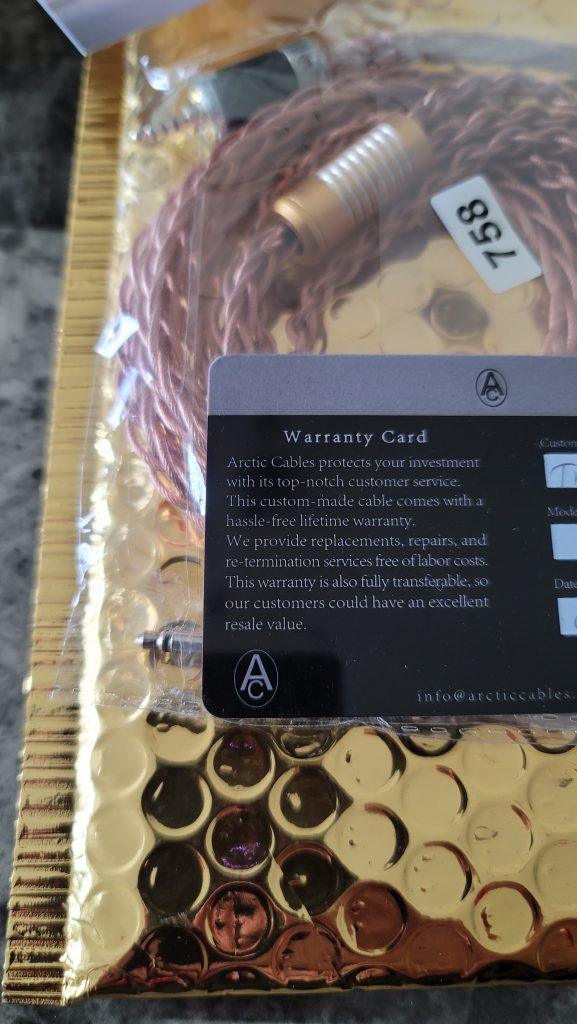 It is nice that Arctic Cables include a portfolio-style folder, but it is on the large size for the contents inside. I requested not to receive it, but you can see it in the photos below.
One of the advantages to Arctic Cables producing your cable is its industry-leading warranty. The cable is warranted for life and is transferable to the next owner if you sell it. If the owner wants to re-terminate the cable, all they need to do is pay for the hardware, as labor is part of the warranty.
I really can't think of any other goodies I would include, except a leather strap or tie, something to hold the cable together when storing. After all, this is a Headphone cable, and they aren't prone to tangling like a thinner IEM cable, but it is nice to be able to have it bound neatly.
Build Quality and Comfort:
The build quality is top-notch. The braid is uniform and with proper tightness. There are three different choices of braids available, Square, Round, and Flat. I prefer the Square braid; I like how it lays, and I like the looks. The Flat braid would more than likely sit flatter than the Square braid if that is important to you; picking the Square braid is only preference, nothing more. The braid has just the right amount of tightness as not to be too stiff and yet holds its shape.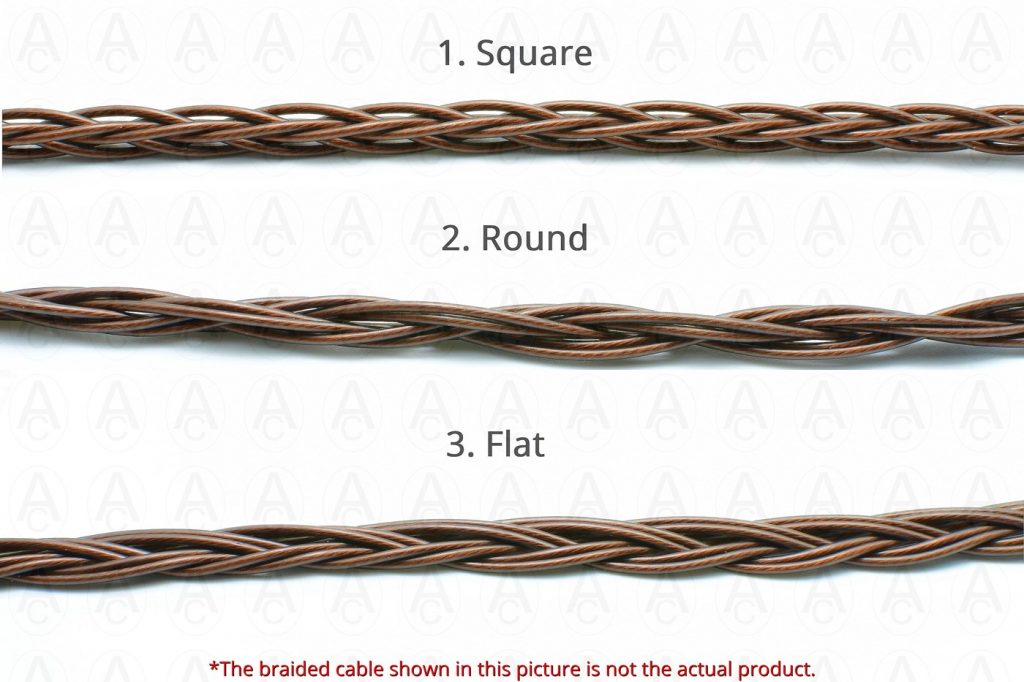 The purchaser has the opportunity to design the cable as they choose. First, you would select the Series, ie. Cuprum, which is the OCC Copper in this review, or many other composites. The composite options are on the Arctic web page, so I will spare you the explanation of the different compositions and place the link here;
There are many design options from Length, Headphone Connector, Termination, Splitter Type, Braid Type, and Solder wire. I will take the lazy route and let you read the options on the Arctic Cables site. Whether you read it here or there, you still need to read it.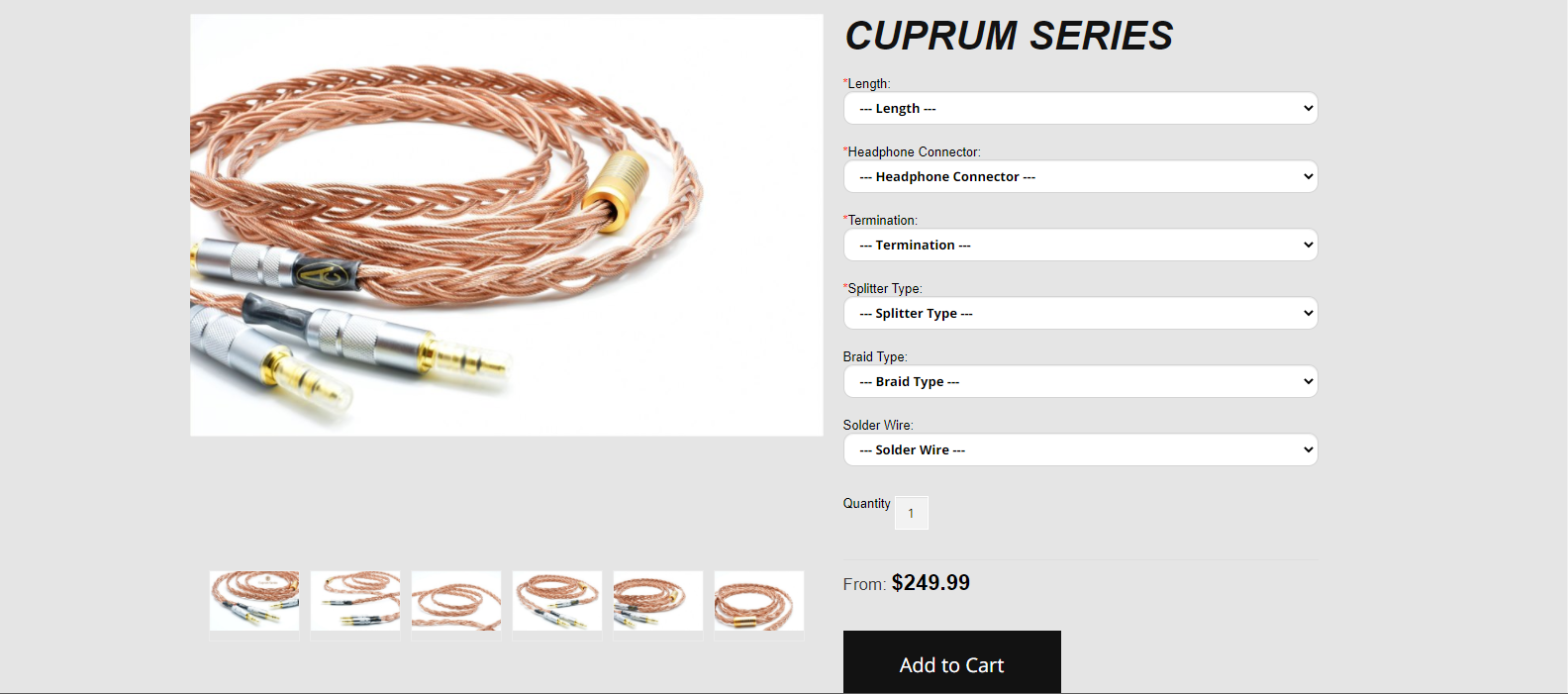 I chose Neutrik Connectors, 5-Coats Rhodium-Plated High Priority Copper Connectors, Matte Gold Splitter.
The Cuprum Cable looks beautiful; photos don't do it justice. It has a sparkle like gold. The termination, which is 2.5mm in my case, is covered in a transparent heat shrink. An Arctic Cable logo shrink wrap protects the Headphone Connectors.
The cable hangs comfortably and lays in a manner that I don't notice, in contrast to the stock Nylon sheathed Denon Cable, which I do notice whether sitting or laying. The stock Denon cable ergonomics are a little on the stiff and unruly side. The Artic Cable gives a clear win in the ergonomics and comfort compared to the stock Denon cable.
For a nylon-wrapped cable, the Denon cable ergonomics are not as bad as I have experienced with other like wrapped cables. The Denon is one of those cables that you coil, and if you work at it, it will eventually lay in a nice coil. The Arctic Cable is more pliable and lays in a flat spiral.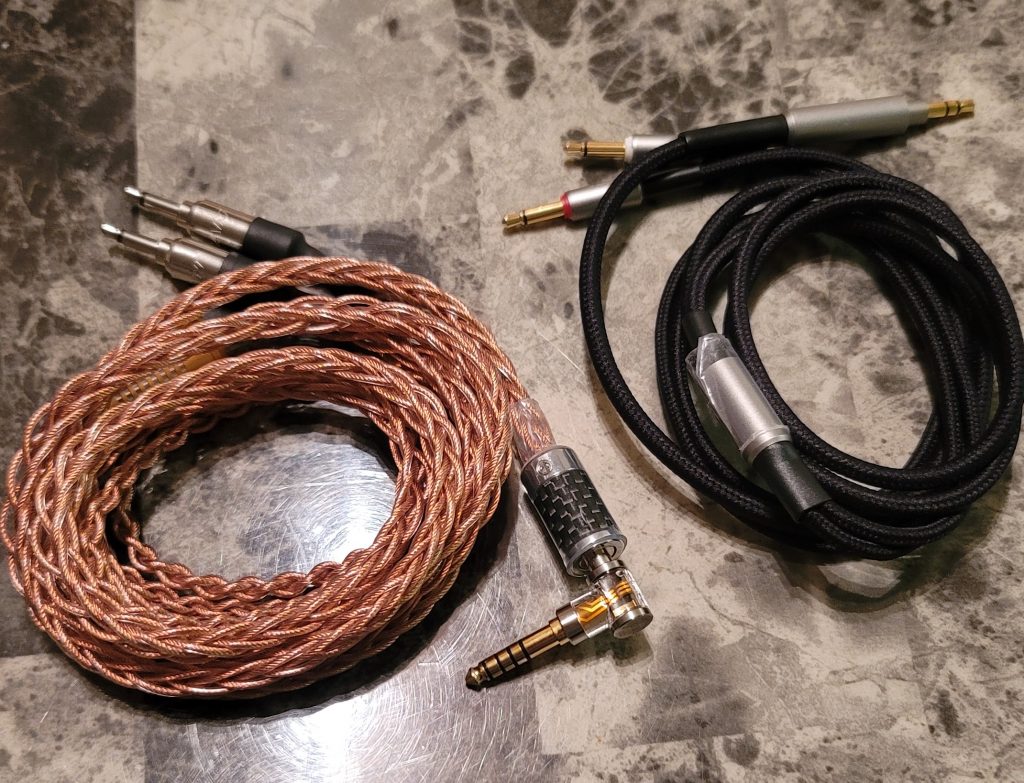 Review Set-up:
I utilized full portable set-ups: the Hiby R8 and a 2.5mm balanced adapter to 4.4mm and the Astell&Kern SP2000, which features a 2.5mm balanced output. I listened to a playlist of DSD and FLAC files and streaming Tidal, Qobuz, and Amazon Music HD.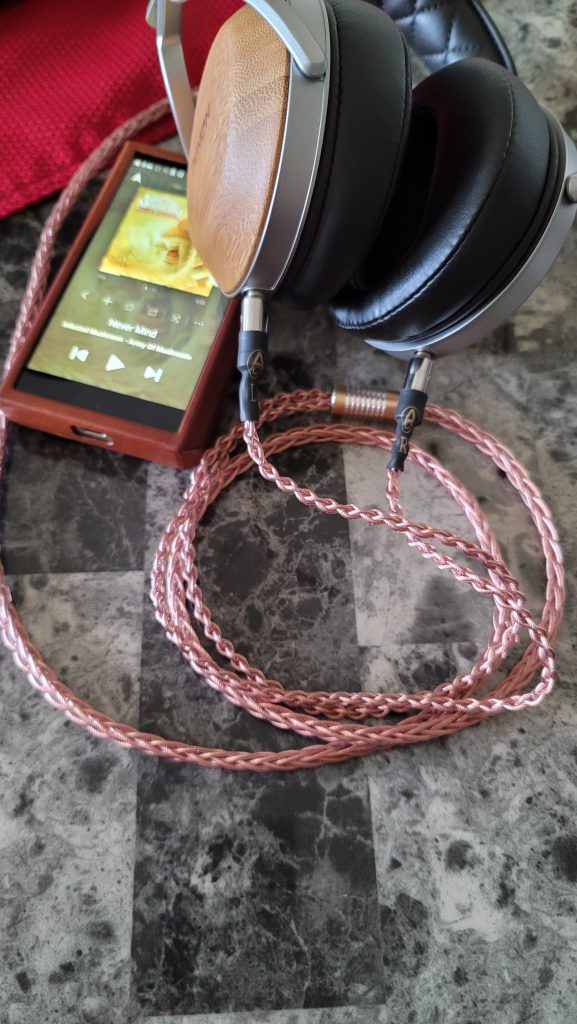 Moving on to the sound section
I am writing this review and comparing the stock Denon Cable and the Arctic Cable Cuprum. It is much easier to review cable pairings with 2-pin IEM connectors because they fit many different IEMs, as opposed to reviewing a Headphone cable in which the connectors only served the Denon, in this instance. I hope you can see the cable and its quality so that you have a better understanding of its comfort and ergonomics.
Overall, when I reviewed the D9200, I was using only the stock Denon cable. The D9200 provides a balanced, detailed signature.
The stock cable pairing focuses on bass quality vs. quantity, with deep bass appearing only when the track has deep bass. The mids have a forwardness that pushes the mids front and center. The treble pushes the limits with its extensions and unveils air around the notes, thus providing details without being harsh. Please read the AH-D9200 review since it is written solely with the stock cable;
In comparison, The Cuprum cable does not color the overall sound, which is a significant plus. Cuprum does, however, provide some lift in needed areas and some balance in others. It almost sounds as if I am speaking of women's lingerie and not Headphone cables.
It is essential to mention that Arctic Cables always recommends some usage or burn-in time on their cables. I have so many folks asking about this cable and Arctic that I have written this review only after a limited usage time; it is good and bad. The bad is I may not have heard the cable at its best; the good is I may not have listened to the cable at its best.
The overall smoothness creates the balance across the board instead of enhancing one frequency over the other—the bass hints at more impact and depth. The mids are a touch more balanced and not as in your face, flattens out that upper mid brightness, without impeding details. The treble still extends but does so with smoother notes.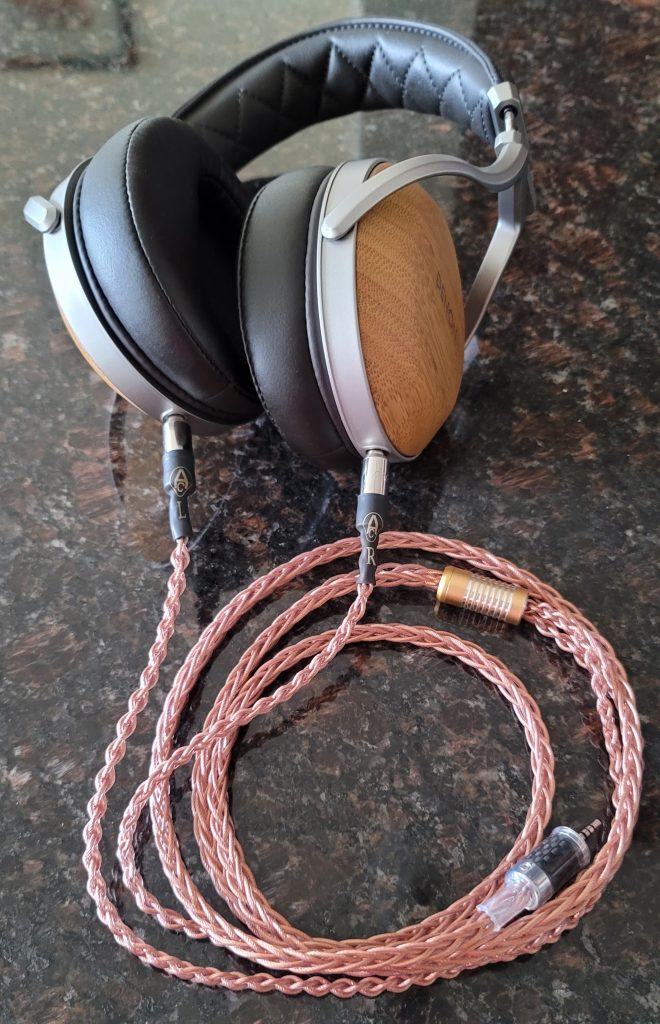 The stage is about equal between the two cables, but I enjoy the tonality and timbre with the Cuprum over the stock cable.
You might want to own this Cuprum Cable if:
+ You want a touch smoother balance
+ You want a cable that doesn't impede the details and clarity
+ You want an aesthetically beautiful cable
+ You want top-notch build quality
+ You want an industry-leading, transferable warranty
In Closing
I struggle with reviewing cables and am not sure how much value I bring to the reader to discuss comfort, ergonomics, and aesthetics. I have experienced sonic differences, but they would not be the first reason I would buy a cable. Sonic differences vary and can create a more considerable impact some of the time and, at other times, have a very minimal effect.
Let's face it, no manufacturer of IEM's or Headphones is going to include a cable that makes their product sound like garbage if a cable is quality and designed as such and has zero flaws during manufacturing processes. That said, comfort, ergonomics, and aesthetics may be an afterthought.
The Cuprum's build quality is impeccable, and the ability to design the cable as you wish on the Arctic site is excellent. The ergonomics are spot-on, and it is so comfortable to lounge around while listening. The cable does not have a "mind of its own" and is relatively lightweight.
Aftermarket cables do require a bit of investment. I do feel that Roy at Arctic Cables is very conscious of the consumer's budget. Don't get me wrong; he has some top-tier stuff priced as such, but not relative to other cable manufacturers. Given the warranty he offers, Roy has a lot of confidence in his product.
I wholeheartedly recommend Arctic Cables and the Cuprum Series OCC Copper cable. It fits the bill as my primary cable for the Denon AH-D9200. I am also cool with the stock Denon cable, but the Cuprum is overall in a tier above the stock cable.
The Cuprum is my third Arctic Cable, and none of them has disappointed!