Empire Ears Hero (Founders Edition)
MRSP: Universal fit $1349 USD
The Hero can be purchased from the retailers below:
888audio website under construction. Email: Info@888audio.com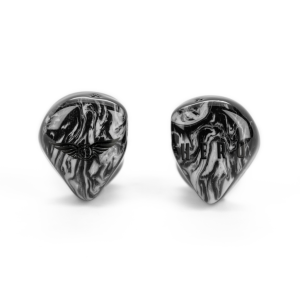 The Specs:
1 Sub-bass/Bass Next Generation 9mm W9+ Subwoofer
1 Mid Proprietary Balanced Armature
1 Mid-High Proprietary Balanced Armature
1 High Proprietary Balanced Armature
6-way synX Crossover Network
ARC – Chassis and Components treated with our Anti-Resonance Compound
ALPHA-IV (A4) 26AWG UPOCC Copper Litz Cable
105 dB SPL @ 1kHz
5Hz – 40kHz Frequency Response
17.6 Ohms @ 1kHz Impedance
The Hype:
THE VOCAL LEGEND
Hero is relentless, fierce and unapologetic – a renunciation of rules, preconceptions and
everything that's expected from it. It represents a tour de force of Empire's expertise and
craftsmanship, elevating musicality presentation to a level non-existent in its tier. With DNA
sourced directly from Legend X and Zeus XIV, Hero reveres our past to emulate flagship levels
of performance without the flagship admission.
The heart of Hero is a proprietary quad hybrid configuration comprised of proprietary triple
balanced armatures and a next generation W9+ subwoofer. This staunch combination generates
legendary bass response while delivering lush, intimate vocals and supreme detail retrieval via a
4-ways synX crossover network backed by ARC resonance mitigation technology.
Hero's sophisticated design, proprietary technology and extraordinary audio reproduction
capabilities make it a class-dominating masterpiece.
A HEROIC HYBRID:
Boasting two of the industry's most advanced driver technologies, HERO is truly a standout
hybrid IEM with an uncompromising performance ethos focused on delivering the purest
connection between listener and IEM.
W9+ Subwoofer – Sub Bass/Bass
Our signature W9+ dynamic driver brought serious performance to the IEM world by
combining the breakthrough of an enclosed woofer in a tuned bass-reflex system. Elevating the
W9 design formula to its highest level, the W9+ boasts a larger internal coil diameter, more
linear excursion envelope along with a more capable suspension to handle peak-to-peak
excursion while mitigating distortion. W9+ extinguishes any limits the previous design had and
delivers breathtaking bass on all fronts.
Three Precision Balanced Armature Drivers – Mid, Mid-High, High
Hero comes equipped with 3 proprietary balanced armature drivers to deliver the signature
midrange that the world has come to know and love from Empire Ears.
LEGENDARY CROSSOVER SYSTEM:
Genetically dissimilar from the rest of the IEM world, our synX crossover system truly stands
out with countless bespoke methods and technologies protecting it as a unique masterpiece. A
marriage of 2 different driver technologies become symphonized by a unique, proprietary 6-way
synX crossover system designed to maximize performance from each and every driver.
ALPHA-IV:
At Empire Ears we believe that an extraordinary IEM requires an extraordinary cable. We're
proud to introduce Alpha-IV (A4); a premium handcrafted 4 core cable comprised of a
proprietary 26AWG UPOCC Litz Copper with multi-size stranding. The advantage of multi-sized
stranded design within the same encapsulations enables A4 to achieve distinct highs and details
due to the signal transmission speed in thinner cable strands, while the thicker size cable
strands deliver smoother bass and mids.
A4 features a durable, overmolded .78 2-pin connector offered with either a 3.5mm right angle
or 2.5mm balanced termination and improves upon the previous cable design. 2.5mm to 4.4mm
adapters are available here (attach link).
BLACK TIDE:
Donning a monochromatic black on white theme, Hero features our exclusive "Black Tide"
faceplate with the classic Empire wings spanned on the right and "HERO" on the left.
"Black Tide" is proudly handmade in the USA.
**ECT** Titanium Blizzard:
Hero makes an even more powerful statement, inside and out, with the ultra-exclusive
"Titanium Blizzard" faceplate.
"Titanium Blizzard" is proudly handmade in the USA.
Empire Ears:
Operating from Norcross, Georgia, Empire Ears has created some of the most radical and technically sophisticated IEM's to date. Founder Dean Vang is an absolute mad scientist of sorts and meeting him in his lab recently, and it was quite the experience. It allowed me to see the day to day operations and the inspiration for what precisely the team over at Empire Ears has set out to achieve. Many familiar with Jack Vang, the VP of Empire Ears, know he is a significant factor in the design, sound, and execution of the final product as well. He often spends endless hours in the lab over-seeing operations and managing the logistics for distributors overseas.
Additionally, I spent quite a while chatting it up with Josh Watkins, who handles most, if not all, of the domestic-related marketing. Fun fact, he's quite knowledgeable about IEM's and schooled me on how they are constructed, tuned, and the countless revisions that never see the light of day. All in all, the visit made me appreciate Empire Ears even more so. It is one thing to think you know how the process is managed, but to see with your own eyes, is another thing altogether. The undertaking involved is humbling. Hat's off to Empire Ears for the unbelievable hospitality. I would highly recommend anyone who is a fan of their work to spend a few hours at their facility, and you will not be disappointed.
Fun fact, the Founders Edition Hero I will be reviewing today was hand-picked for me by Dean Vang. How awesome is that?!
My hard-earned money was spent on the Hero. There was no discount, nor was there a promise of anything in the future for a favorable review. I had the luxury of hearing these first hand , if I didn't like them during my listening session, I wouldn't have purchased them. In writing this review, my honest feelings are scribed. What I hear and what I feel.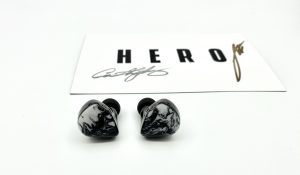 Visuals:
The Hero has an elegant, simple black and white swirl type design but only to the untrained eye or poorly lit photo. In-person, the white in the shells has a deep white, almost layered marble appearance to them. The black swirling in adds depth and contrast that make them pop. I like the look of them a lot more after seeing them in person. What appears to be a simple color scheme, really opens-up and shines when you get to see them up close. Like most of the Empire Ears line, the Hero is made of hard acrylic. The acrylic can be great for resisting annoying blemishes from use but can be detrimental if dropped, so keep that in mind.
Warranty:
"Custom In-Ears Limited 2 Year Warranty Empire custom in-ear monitors are warranted against material defects and workmanship defects for a period of twenty-four (24) months from the original shipping date or manufacture date, whichever is later. During this period Empire will, at its discretion, repair the defective unit or replace it. Universal In-Ears Limited 1 Year Warranty Empire universal in-ear monitors are warranted against workmanship defects and material defects for a period of twelve (12) months from the manufacture date or original shipping date, whichever is later. During this period, Empire will, at its discretion, repair the defective unit or replace it."
In addition to the warranty, if you are a complete dufus and bust them up, you can always send them in to be repaired for a fee, of course.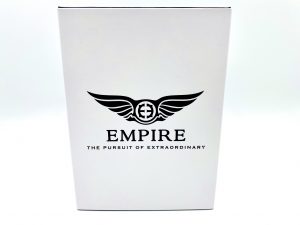 What's in the box:
(2) Hero in-ear monitors
ALPHA-IV (A4) 26AWG UPOCC Copper Litz Cable
Metal Pandora case (circular)
Final Audio E Type silicon tips (from SS to XL)
Cleaning tool
User Manual
Empire Ears branded stickers
The Founders Edition is limited to 100 units and exclusively includes:
Personalized serial number
Engraved serial number plate in place of the thank you card
Dean Vang's (Founder & CTO) signature on the shell
A photo of Dean building the IEM with a personalized thank you signed by the entire EE team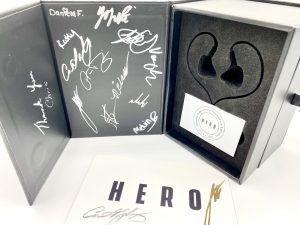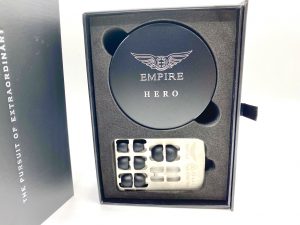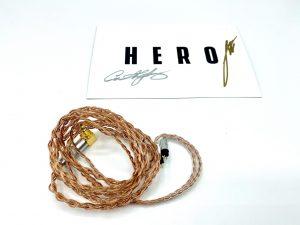 Review Setup:
Fiio M11 Pro (2.5mm)
Fiio BTR5 (2.5mm)
FLAC files
Tidal MQA streaming
Sound:
I tested the Hero on the 2.5mm balanced termination of my listed devices. There were Chord products available for me to use, but after a bit of listening, I determined it was not necessary being predominantly a mobile setup guy anyways.
Bass:
The first thing I thought of when listening to the Hero was, "Damn… this is good." There was no apparent sacrifice to achieve what many consider to be "fun neutral." The holographic-ish soundstage was there, the clear vocals were there, and the plentiful treble was there, but what else was there? One word, bass.
Hero takes bass that is to the likes of the Valkyrie and improves the quality. The bass is executed well. The sub-bass grunt extends to the depths and reminds you there is an Empire Ears proprietary Weapon IX+ inside. The mid-bass is slightly elevated above neutral, but as far as I am concerned, there is no bleeding into or interfering with the mids, so party on, right? I love well-executed mid-bass enhancements because they provide that impact that is natural to many percussive instruments. Without that "feeling" mid-bass delivers, I often feel something is lacking. I understand the audiophile accepted parameters for neutral tuning, but having stood in front of a drumline, neutral and accurate means, you feel it.
Mids:
The mid-range of the Hero is noticeably clear and present. It may not be the forefront of the sound signature, but it is not sitting back in the mix by any means; it is centered or slightly forward. The vocals just come across as dead-natural and crisp. Male vocals sound on point, and Female vocals sound exceptionally invoking.
Treble:
Treble, the good ol' make or break of many in-ear monitors. I am happy to report that the Hero provides enough treble energy and detail to satisfy the treble-heads and avoid harming the sensitive folk. The treble falls right on the line of reference and energetic and sounds like accurate treble should; lively. It is present in the signature, but it is not overpowering the mix, all while remaining crisp and impactful.
Presentation:
Overall, the Hero provides an incredibly unique sound that teeters on the line of reference and energetic, without being harsh or boomy. I perceive a decently wide stage, approaching holographic if you will, with fantastic imaging. Every sound has its place or location and is easily identifiable. The Hero is a coherent in-ear monitor that resembles a W shaped tuning to the likes of many other $1500 to $2300 IEM's, except it is $1349. This thing can do it all and puts up a strong contention for an excellent price to performance ratio.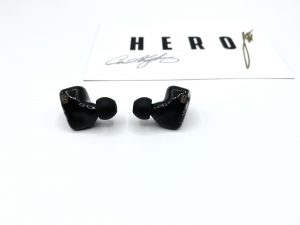 Comparisons:
Campfire Andromeda 2020:
Bass is more impactful and accurate with Hero (DD vs. BA). Hero mids are more transparent and more engaging. The treble is a toss-up for me and is dependent upon what you want. The Hero provides a crisper and slightly more centered treble, whereas the Andromeda has a smoothed out but recessed treble from previous iterations. That said, I find the Andromeda 2020 preferable over the Solaris 2020 because of its improved tonality, it is just not quite at the level of the Hero.
Campfire Solaris 2020:
The bass on the Hero is deeper and more present while not ruining anything, whereas the Solaris extends deep but often leaves you feeling that some passages were not as pronounced as they should be. The Hero quells that insufficiency. The mids are a hint warmer on the Solaris and a bit more etched but not cold on the Hero. The Hero comes off as more reference in the vocal region, but the lack of coloring here bodes well as you hear the vocalist precisely as intended. The Solaris is not bad by any means, but it is slightly colored for warmth. Sometimes I noticed that warmth and the bumped mid-bass of the Solaris 2020 sounded congested or veiled. The treble of the Solaris 2020 got a nudge back, so it is now less pronounced.
The Hero retains the likes of the previous Solaris models treble but adds a smidgen of flare. Some may perceive this as energetic, but in my view it as just squeezing out the last bit of detail without over-doing it. To be completely blunt, my feeling is they recessed the treble too far in the Solaris 2020. The original Solaris and the Special edition are closer competition for the Hero and will primarily come down to preference.
64 Audio Nio:
This is just an odd comparison, but I will put it out there. First and foremost, they sound nothing alike. The Nio is highly capable but smooth and relaxing listen. The Nio's bass is more emphasized in the mid-bass region, less so in the sub-bass. The Hero has an about even amount of sub-bass and mid-bass to offer. Neither which overpower the mids. The mids of the Nio are smooth and lush while the Hero lean more towards clarity and resolution. Both do vocals supremely well. The treble is more recessed or smoothed out on the Nio, and this is the most immediate difference upon first listen between the two. Just think Nio, soft treble, Hero, crisp, and more present treble. Hero is more oriented towards detail, and the Nio is more for smoothness.
Conclusion:
I feel that the Hero is a solid buy, and in the sea of $1k something IEM's, it holds its own and even flaunts it's worth. There are several factors when purchasing in this price range, and it's tough to ignore how dynamic and well-executed the Hero is. I foresee many jumping from the Solaris train and getting aboard the Hero train. I also see the Hero making the Valkyrie obsolete, but I am confident the crew over at Empire Ears knows that as well. The Hero has better bass than the Valkyrie, better mids, better vocals, and the treble is cooled down enough to be still present but not so polarizing. Oh, and it's also cheaper.
If I likened the Hero to any other IEM, it would be the 64 Audio Trio. They both possess much detail that presents a W shaped sound that some confuse as "V-shaped." The difference lies within the Hero having more bass, both sub, and mid-bass, in addition to a warmer signature and more powerful overall sound. The Trio is brighter but softer and feels more open, or maybe elegant would be the word. The Trio is what most would consider the more technically proficient IEM, but I would say to be in the company of the Trio, Empire Ears knocked it out of the park with the Hero at $1349.