Sennheiser Momentum True Wireless
Momentum True Wireless (MTW)
Sennheiser MTW– Sennheiser Direct link
A Little Technical Stuff:
Dimensions 78.6 x 45 x 35 mm (charging case)
Microphone MEMS
Bluetooth Version Bluetooth 5.0 compliant, class 1
Supported Profiles A2DP, AVRCP, HSP, HFP
THD, total harmonic distortion <0,08% (1kHz / 94dB)
Ear coupling Ear Canal
Weight 69.8 g (earbuds and charging case), 13.2 g (both earbuds), 56.6 g (charging case)
Charging time Approx. 1.5 hrs
Microphone sensitivity 94 dB SPL at 1 kHz
Operating temperature 0 to +40°C
Power supply 5 V, 650 mA: USB charging via USB-C socket at charging case
Battery Specification Built-in Lithium rechargeable battery
Frequency range 5 Hz to 21 kHz (earbuds)
100 Hz to 10 kHz (microphone)
Sensitivity 107 dB SPL (1 kHz / 1 mW)
Speaker type Dynamic
Operating relative humidity 10 to 80%, non-condensing
Battery time Up to 4 hrs (A2DP) with rechargeable batteries of the earbuds, Up to 12 hrs with rechargeable battery of the charging case
Water Protection Code IPX4, splash resistant (earbuds)
Type of Codec SBC, aptX™, aptX™ Low Latency, AAC
 -MRSP: Universal fit/BT Wireless USD 299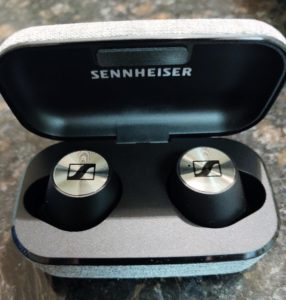 The Sennheiser Momentum True Wireless, henceforth dubbed MTW, hit my doorstep around a month ago.  I have dabbled in the wireless arena with V-Moda and the Forza Metallo and the Crossfade 2 Wireless and the Senn Momentum 2 Wireless. The Metallo is a neckband type earphone, and the Crossfade 2 and Momentum 2 Wireless are over-ear headphones. It is my first foray into a True Wireless solution. I have read about a few True Wireless offerings in the market, and many other options give the listener the same features as the MTW, but an array of different results in connectivity and battery life. The one recurring theme with the MTW was that it had the best sound quality available in the True Wireless market when listening to your music. I wasted zero time in going straight to the top of the True Wireless royalty. Thus, I am reviewing the Sennheiser Momentum True Wireless.
I have owned quite a few Sennheiser products over the years.  I enjoy their products from the stylistic design to the sound quality they offer. Sennheiser has been able to cross between the audiophile market and general consumer market successfully.  I have recommended the Momentum 2 Wireless headphones to many people looking for a full over-ear wireless solution. The M2W was my go-to wireless headphone for quite a while. Since the MTW and the M2W have the name Momentum in common, I was interested to know if there were any other parallels.
One other point is that these are currently the TOTL in the True Wireless realm at USD 300. I know that many of my readers are just starting down the rabbit hole and have tried neckband wireless monitors or AirPods and that at the $300 asking price these constitute a significant investment. In the end, you have to decide what direction you want to go with your gear.  In my time with the MTW, they have endured many dog walks and much time at the gym.  I found them to be a superb on the go option. One difference between you and I may be the fact that most of my listening is in short sessions. My career does not allow me to listen at a desk, nor do I have a long commute that doesn't involve me driving my car, in which I can't use earphones while operating a motor vehicle. The reason I point this out is that I always have the luxury of a charger nearby.  The MTW would quickly become my standard hit the road gear, along with my keys, eyeglasses, and wallet, if my lifestyle were more commute oriented. Unfortunately, I didn't have any vacation or air travel planned during my time with the MTW, but I can undoubtedly say these would be a must-have travel companion. On the go, top tier wireless sound quality, what's not to like.
A Little Marketing Hype:
MOMENTUM True Wireless
A new dimension in wearable sound
Uncompromised sound performance, state-of-the-art technology, and refined design all come together in Sennheiser's True Wireless premium earbuds.
Discover a new way of listening
Make the music you love sound even better, whenever you want, wherever you are. These attractive earbuds, with Sennheiser's audiophile driver technology, guarantee superior stereo sound performance at all times. Thanks to advanced Qualcomm apt-X Low Latency compatibility, you can experience media with perfectly lip-synced audio, whilst 2-mic noise cancellation beamforming technology and Transparent Hearing allows you to always be aware of your surroundings, with or without your music playing.
Experience long lasting comfort
Comfortably carry your music with you all day. These lightweight, splash resistant ear adapter come in 4 different ear tip sizes, ergonomically designed for the perfect fit. Just connect them and use the intuitive touch interface to control your music, answer phone calls or access your voice assistant with a single tap or swipe.
Appreciate timeless elegance
Enjoy excellent craftsmanship. Attention to detail and a strong sense of aesthetic make these small, shiny, lightweight earbuds one part listening instrument, one-part ready-to-wear accessory. With premium black housing, polished metallic spin ring and gold-plated charging pins, function meets fashion in iconic design. A handy and compact charging case allows you to extend 4 hours of battery life to 12, so you can enjoy all day use, for years to come.
Personalize your experience
Listen to your music the way you want with Sennheiser Smart Control, the next generation companion app. This free dedicated app for iOS and Android provides an effortless way to control, personalize, update and configure your headphone, headset or soundbar.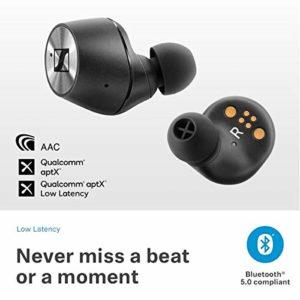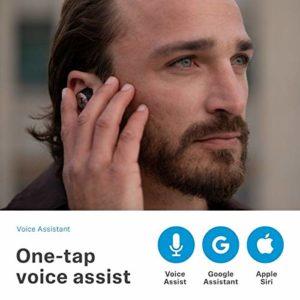 WHAT'S IN THE BOX:
MOMENTUM True Wireless earbuds
Silicone ear adapter sets (in size (XS/S/M/L)
Charging case
USB-C charging cable 20 cm
Manuals (Safety Guide & Quick Guide)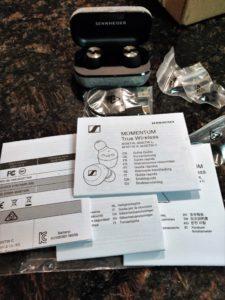 Unboxing and Accessories: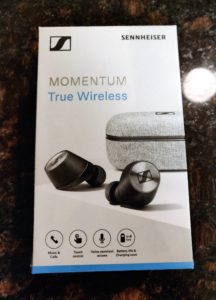 The MTW comes in a small box with only a top and a bottom. No fancy sleeves, no 21-gun salute. The box top has the Sennheiser name and logo in black font, with the logo in the upper left corner and the brand name in the upper right corner. Immediately below that is the word Momentum (in silver), and the words True Wireless below that in a light blue. There is a photo of the charging case and the earbuds below the wording. At the bottom of the front, there are four icons, representing music and calls, touch control, voice assistant access, and battery life and charging case. On the right side of the box, top shows the Sennheiser original label and QPR, to verify they are genuine, as well as the words Bluetooth, AAC, Qualcomm apt X, and Qualcomm apt-X low latency. The left side of the box top shows you where you can download the Sennheiser Smart Control App. The bottom box shows the four previous icons, plus displays that they are Bluetooth 5.0 compliant.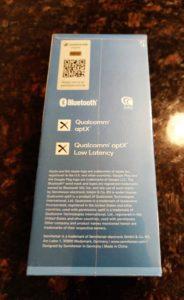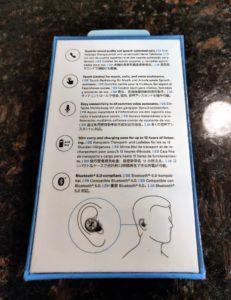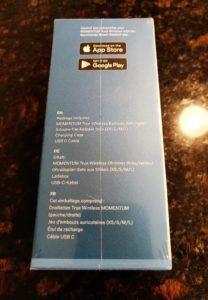 Upon removing the box top, you are staring at the charging case and both the L and R earbuds cradled in a foam cutout. There is also a tiny information sheet that explains you need to plug in the USB-C cable to wake up and charge the earbuds. Under the foam cutout is a white box which includes all of the accessories and paperwork that comes as a pack-in with your purchase. I will include some photos of what you receive as a pack-in since my description of the box top was exhausting.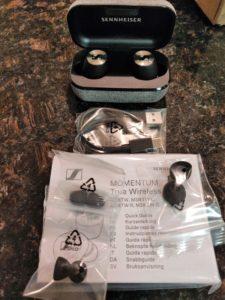 Build and Design: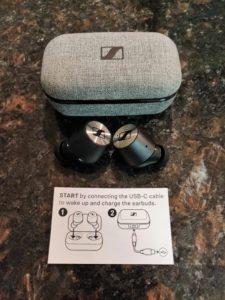 The design is top notch, as I have grown to expect from Sennheiser. There is nothing flashy about the design itself, but if you are familiar with Sennheiser, I would say it falls in line with the brand in general. The shells of the monitors are all black plastic with a silver faceplate emblazoned with the Sennheiser logo.
With regards to the build quality, the earbuds are plastic, and while they do not feel fragile nor does the plastic feel low-grade, I was cautious with the $300 earbud. In my mind, you cannot be sure how many drops the plastic shell could withstand. I am super careful with all of my stuff, but as we all know accidents do happen.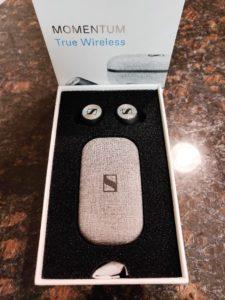 The stem(nozzle) of the earbud is very short and has a tiny catch lip for the ear tips to stay in place. I was fortunate that the large stock ear tips fit me perfectly, so I didn't try any of my usual go-to tips. The fact that the tips seem proprietary is an issue that Sennheiser should overcome. I have many ear tips in my collection and some that I swear by when using my IEM's. I would have liked to use my go-to tips, but I could imagine that the shallow nozzle would be a challenge. It does appear that Comply tips would work as they can grip a nozzle, but I wouldn't say I like using foam ear tips, not to mention that the overall signature of the MTW is warm and foam tips exacerbate the warmth and can detract from some of the treble extension.
It is nice to have only the earbud in your ear and nothing more around your neck, thus True Wireless. After using a neckband type of wireless headset, I was pleased with the design of the MTW. They are super lightweight and just a quick insertion in your ear and a little twist, locks them in place reasonably well. Again, your ear shape and finding the correct seal will have everything to do with the level of comfort that you achieve and how well they stay put once inserted.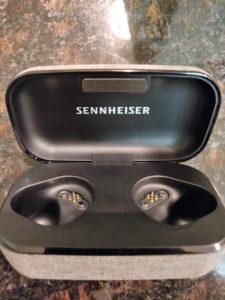 Sennheiser has added sweat and water resistance, IPX 4, to protect the buds from your workout sessions at the gym or any water you may come in contact. They are not waterproof; they are merely resistant, but I found that they stood up to the test at workouts at the gym. I would say swimming and showering, no, but for the gym they are excellent.
The charging case also has a beautiful design, and I like the aesthetics of the cloth covering on the case, reminiscent of some cellphone cases I have used in the past. I think it is a fresh design. The case is not substantial, in size, when sitting on a desk or tabletop, but I felt its bulk when it is in my shorts or pant pockets. It would be fine in a backpack or a jacket pocket, but it was a bit too much in my pant pockets. Size has to be a consideration since you will need and want to carry the charging case with you. There is a small LED light on the rear of the charging case that indicates the level of charge in the case, green for over 50 percent, yellow for less than 50 percent and red for empty. It is a nice touch to let you know where you stand with your charge at a glance of the case.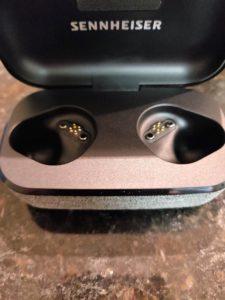 The MTW has a quoted battery life of 12 hours (including case charges), and as previously stated I am never that far from a charging cable. I ran them out of charge one time, and it appeared to be around 3:30-3:45 hours of use, but I always find myself almost maxing out the volume when listening to the MTW, so I am confident that has an impact on how much battery life I received. You can use your charging case to give you two extra charges so I would assume you would have 10-11 hours of total charge at your disposal.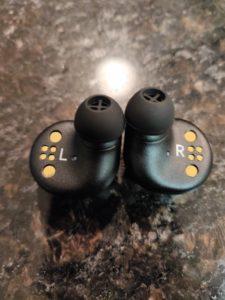 One design key is the fact the there is no on/off switch on the earbuds and waking them up is achieved by removing them from the charging case, then they are ready to function. Powering down is accomplished by cradling them in the charger. I am not sure there is a need for a formal on/off switch, but it could be an added feature on future models. Once you remove one, or both, from your ear, the music stops automatically, but I always immediately trickle charged them in the case, upon removal from my ear, because I was never quite sure if pulling them out of my ears and setting them on a table would slowly discharge them.
Connection
The MTW utilizes Bluetooth 5.0, which works for me fortunately since every handset I have is Bluetooth 5.0 compliant. I had zero issues pairing and connecting with any of the handsets I own. The connections were quick and stable. I also found that using the Sennheiser Smart Control app helped with the pairing and as well you could verify the remaining battery in the app. The app also updates the firmware of the MTW. I received a firmware update during my review time and am now on 1.25.0; I like the changes it brought. More on the app later.
I found the wireless range to be exceptional. I could leave my phone charging on my desk in the office and walk anywhere around my apartment without a cutout or hitch. I cannot complain about this at all, as in the past with my wireless gear would start to fade from my office to the kitchen, and how inconvenient that is when you need to refresh your adult beverage. These easily allowed for 30 feet, which was the Bluetooth 4.2 standard, and then some.
The call quality is outstanding. On my calls I never once had the person on the receiving end ask if I was using a headset. The sound of the calls is full and not tinny or robotic sounding in the least. The microphones did an excellent job of cutting noise, including wind. I don't recall ever using them in a strong wind, which can challenge even the most adept wireless mics, but in breezy conditions, no problem.
The MTW supports apt-X, and if I am not mistaken, they are the first to support low-latency apt-X as well.  Low-latency reduces delay and improves the end-to-end speed of the audio transmission, resulting in high quality, synchronized user experience. This enhancement is incredibly useful for watching movies and sporting events without lag or synchronization issues in the audio. Bear in mind, that the apt-X and apt-X low-latency are codecs found in Android not iPhone and you iPhone users will have to utilize AAC or SBC.
Controls
One area I am just lukewarm with on the MTW is the touch controls. It took me quite a while to master the controls as I felt they are really sensitive to the touch.  Sometimes I thought I was doing the right thing and would end up pausing the music or performing some other unwanted function.  The good news is, with time, I became proficient in controlling the MTW.
The MTW operates as the Left side Master and the Right-side Slave. The left side will perform most of the controls for your music. One tap on the Left side will play and or pause. Two taps move forward to the next track, and three taps move backward in the tracks.
Touching the Left and the Right together for 5 seconds will enter pairing mode although I found it easier to use the Smart Control App for pairing.
The Right side controls your phone calls. The Right side will also allow you to access Siri or Google if you want to access your Digital Assistant. If a call is incoming one tap will answer, and if you're going to end the call, one tap will do that as well. If you would like to reject an incoming call, two taps will complete that task.
Volume control is another area that I had a difficult time mastering out of the box. Again, with time, I had zero issues. The Left earbud lowers the volume with a long press, and the Right earbud raises the volume with a long press. I would have to make a conscious effort to think about what function I wished to perform. One tap, two taps, long press, Left side, and Right side can be difficult for someone that struggles with walking and chewing gum at the same time.
There are a few voice prompts that you may hear such as when you hold the Left and Right for 5 seconds to enter pairing mode, you will listen to a soft female voice state "Pairing," and when you remove your buds and put them in your ear you will hear "Power On-Connected."
Sennheiser Smart Control App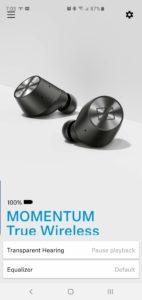 I chose to pair the MTW through the Smart Control App. I also utilized it for the firmware update and to check battery status. Before the 1.25.0 firmware update, you could see the battery remaining for the Left and Right buds independently. After the update, it only shows one battery remaining notification. The new display makes more sense to me; I was never sure why it would show both sides independently because you are going to charge both when they need a charge.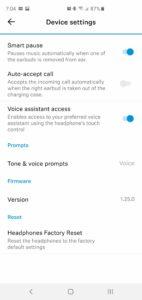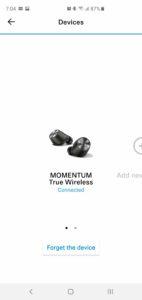 If you are a person that likes to EQ their music, EQ'ing is completed through the app.  There are not any presets to choose, and there is no ten channel EQ. Instead, Sennheiser decided to have a "dot" that you can touch and slide anywhere you would like to adjust the sound. I preferred the flat sound, in the dead center of the EQ.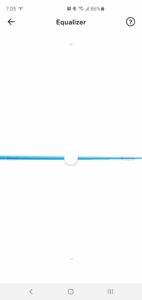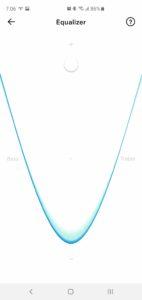 From the app, you can also control the Transparency Mode which allows you to hear ambient sounds without interfering with the sound quality that you are enjoying. I found the feature to work very well, but it is not a feature I needed for my daily usage.  The isolation for me is very good so I could understand that the practical use of the Transparency Mode in many commuter situations and I am confident the majority of folks will leave it on.
Review Setup:
My review was written utilizing the Samsung S10 +, streaming Tidal Hi-Fi and Masters as well as Qobuz Hi-Rez.
Moving on to the sound section….
I have to preface the sound section by saying that this is a really good sound for a wireless earbud. Those of you that follow my reviews know that I review many mid-tier and TOTL IEM wired offerings. I am not comparing the MTW to any level of wired IEM's at the $300 price point or otherwise; I am strictly reviewing these on their sound merit. One other point as mentioned above is that I am listening to these with a flat EQ. That would enable me to evaluate these without any lift in treble or drop in the bass.
To my ears, it is pretty amazing that the MTW has a similar house wireless sound, as I recall, from my extended time with the Momentum 2 Wireless.  The smoothness of the Senn mids and bass is ever present in the MTW. It is Deja vu for me, and I feel right at home with the Sennheiser MTW and its sound. I have, for the most part, always loved the silky tone of the Sennheiser offerings, I have tried, wired or wireless.
The bass is solid and deep with a proper seal. Powering the bass are 7mm drivers which are tuned to assist in creating isolation from the outside. The bass isn't the most transparent and detailed that I have heard, but it is awe-inspiring for a wireless earbud. The depth is impressive, and to my ears, the bass and lower mids create a full rich and deep signature. It is not bloomy and muffled but does not have transient bass layers; it is more the type of bass that is warm, inviting and mood setting and provides a thump to the bass frequencies. Impressive for a wireless earbud and very reminiscent in the bass of the full sized M2W headphones from Sennheiser.
The mids are smooth and flowing and again are set on flat EQ. With the EQ you could easily create a "U" shape, or you could push the mids front and center. The lower mids support the bass frequencies to round out the fullness of the signature. On some of the vocal tracks, I found the vocals to be a bit far back for my taste, but again you may be able to adjust this to your liking. The upper register of the mids has clarity and detail but in that creamy Sennheiser way of reproducing mid-range.  Many times, I have found that on graphs the Senns will have a dip in the upper mids, and while I hear a slight pullback, it is what creates that smooth, silky Sennheiser mid-range tone.  I am not bothered by anything I hear in the bass or the mids, but of course YMMV.
The treble has an average extension. There is never a time that I have felt that the treble was harsh or abusive. The lower treble shows detail, but the upper treble is what creates the hint of liveliness. I will say that in my brief exposure to wireless headsets I have been impressed at both ends of the spectrum with the MTW. If the treble had just a touch more sparkle in the mid to upper ranges, it would probably allow for more details to shine through and thus minimizing the overall bassy feel that can be apparent. All in all the treble has enough air to almost create balance in the MTW. I think it is important to note that warm, bassier signatures generate a  level of isolation that works so well for a daily commute or for environments that you are more than likely going to use a True Wireless earbud.
The soundstage is average and rectangular with there being more width than depth.  In some of my music, I was impressed with the level of stereo separation.
You might want to own this IEM if:
+ You want a true wireless solution
+ You prefer a smooth, balanced, non-offensive signature
+ Top tier sound amongst other wireless options
+ You crave a comfortable fit and the best on the go sound available
+ Price is not a consideration
In Closing
The $300 price tag can be a bit imposing. One must put this into perspective. I have a feeling in the true wireless realm the consumer could buy and return many items before finding the proper blend of features and sound quality. I went straight to the top of the food chain in True Wireless with the MTW.
It is a sound quality that is reminiscent of the Sennheiser Momentum 2 Wireless full-sized headphones I owned and adored for many years. Impressive indeed! The call quality is reliable as is the connectivity to the Bluetooth 5.0.
The Smart Control app assists in pairing the earbuds as well as allowing you to turn off/on the Transparency mode. Transparency Mode works incredibly well and will enable you to enjoy your tunes and still hear the ambient noises of your world.
For my use, the battery was sufficient, but you will need to asses your daily use and your individual needs. I am always close to a charging cable.
With apt-X Low latency, I observed zero issues with synchronization. iPhone users will need to use AAC and SBC. It is enjoyable not to be plagued with lag and synchronization issues. Watch your events and not be reminded of the Godzilla movies in days gone by, where lips and words don't sync.
I do wish the controls were more straightforward and designed more for folks, such as myself, who would rather tap and not think about how many taps or which side I am tapping.
Without hesitation, these are at the top of a very short list of True Wireless gear in which I have an interest. Personally, If it required me to save my money a bit longer, for top-tier sound quality I would make that sacrifice for the Sennheiser Momentum True Wireless.