Questyle QP2R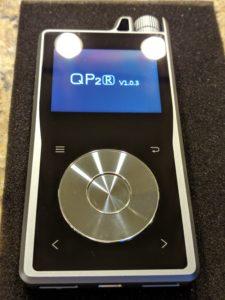 QP2R
Manufacturer Website: Questyle QP2R
A Little Technical Stuff:
Patented fully discrete/full-balanced/Current Mode AMP
Pure Class A BIAS control system
Audio Formats Supported – WAV, FLAC, WMA, MP3, OGG, AAC, ALAC,
AIFF, DFF, DSF,APE(Normal/High/Fast)
Sample Rate – PCM 32kHz – 384kHz (16/24/32Bit)
DSD Native: DSD64(1Bit 2.8MHz), DSD128(1Bit 5.6MHz), DSD256(1Bit 11.2MHz)
DAC – AKM AK4490 DAC chip
Outputs – Headphone out(3.5mm)/Optical out(3.5mm)/Balanced out(2.5mm)
Output Level – Unbalanced 1.8 Vrms / Balanced 3.6 Vrms
Output Power – Unbalanced RL=32Ω,Pout=38mW; RL=300Ω, Pout=9mW ; Balanced   RL=32Ω,Pout=70mW; RL=300Ω, Pout=38mW
Frequency Response – ±0.1dB (20Hz-20kHz) S/N 100dB @ 1kHz, Unbalanced /102dB @ 1kHz, Balanced THD+N 0.0006% @ 1kHz, Unbalanced / 0.0005% @ 1kHz, Balanced
Output Impedance – 1Ω
Charging & Data Transfer – TYPE-C, 5V 2A (PC & MAC)
PC OS Requirements – Windows XP & Windows 7 / 8 /10 (32/64bit) /Mac OS X 10.7 or later
Memory – Internal: 64GB; External: Micro SD card (Max. 2TB) x 1
Battery – 3,100mAh 3.7V Li-Polymer battery, 10 hours of battery life
Display – IPS 2.4″ (Sharp LCM)
Operating System – Linux
Body Material – CNC machining aluminum, available in Gold/Space Gray
Dimension – 65[W] x 134[H] x 14.5[D] (mm)
Questyle QP2R
-MRSP: $1299
Questyle, based in China, is known for their high-quality audio equipment. Their QP1R made quite a splash and is considered a benchmark DAP. The QP2R is their second iteration, although the first one is still widely available and revered. Questyle has also released the HB2 Hi-Fi Hub System as an addition to the high-res QP2R portable player, I cannot tell you how the dock functions in tandem with the QP2R because I was not offered one for review. It acts as a dock for the QP2R and can charge the DAP. It appears to come with a remote control that allows playback and menu navigation.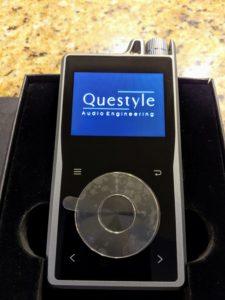 Never hearing the original, but reading all of its accolades, certainly had me anticipating this review and the opportunity to give some serious critical listening time to this offering. I will say that the QP2R has not disappointed and has knocked my current reference player, the Opus#2 by theBit, off of that pedestal.
The QP2R is officially my reference player moving forward until it is otherwise dethroned.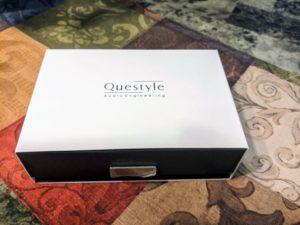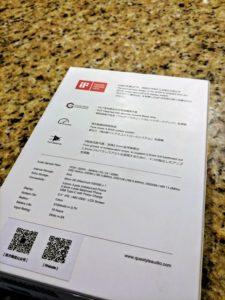 A Little Marketing Hype:
High-Res Portable DAP
A New Chapter in High-res Source
People's view on high-end audio has changed in the past few years. It seems a bit out-of-date just to sit in front of those heavy and complicated traditional audio systems in a fixed room. While what's going on outdoors is really amazing. Fashionistas are now enjoying the high-end and lossless music by taking along a top-tier portable player and a pair of decent headphones. QP2R, a well-designed and fine-crafted high-end portable player with excellent performance, is from Questyle.
The more complicated the world is, the more concise we are.
QP2R basically maintains the style of QP1R, the iF Industrial Design Award winner: the impressive design of tucked waist on the surface with a twin steering wheel, the helm style volume control inspired by a fine watch, and the patented design of hollowed-out protective crown against inadvertent volume change or accidental damage to headphone plugs. The perfect aluminum finishing, the unbroken lines flowing with a smooth-faced structure, and the curvilinear machined Gorilla Glass panels, all of which are telling that Questyle has strict requirements on manufacturing.
It keeps challenging the conventional concept by combining outstanding audio performance with unchanged size, doubled driving power with un-increased power consumption, fine craft with reasonable price, which is seemingly contradictory but solved perfectly by Questyle.
Meanwhile, Questyle sticks to their mission of taking audio performance and listening experience as their core values and achieving perfection in design and operation. In short, QP2R has preserved and inherited the typical and professional genes of Questyle which are becoming perfect over time.
Like the Engine to A Car
Global PCT Patented "Current Mode Amplification" Technology
Global PCT patented No.: PCT/CN2014/075775

As the "engine" of an audio system, Current Mode Amplifier, featuring a fully discrete and topological structure, achieves ultra-high sound performance close to recording scene that makes the audience truly moved. Meanwhile, based on the Current Mode Amplification technology, users can get much better listening experience from QP2R than other devices when matching with their own headphones or speakers which even though may not be the original matched ones.
Current Mode Amplifier can achieve excellent specs. For example, the THD+N can easily reach the ultra-low level to 0.0002%—0.0005% which is tens or hundreds of times lower than the ordinary professional devices, challenging the physical limits of audio testing and
bringing perfect listening experience.
Like A Supercar in "RACE" Mode
BIAS Control System
With the high bias setting, just like a supercar is set to "RACE" mode, QP2R immediately attains stronger power and quicker responses, fully improving the mid and the low-frequency sensitivity. There is a bias indicator on the side of QP2R and it tells the standard bias indicated by the orange light, and the high bias by a red light. It ensures that QP2R operates only in the state of pure Class A when driving different loads, especially heavy loads, and provides a constant flow of strong power for the amplifier.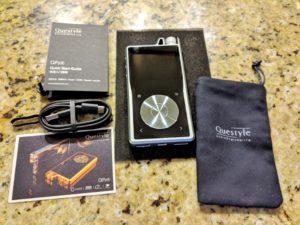 Unboxing and Accessories: 
Questyle went for a simple, understated packaging. The QP2R comes in a black box with a white sleeve on the outside of the box. The sleeve has the words emblazoned "Questyle Audio Engineering" on the front and some simple device specifications on the back.
The black box opens in the landscape position and has a magnet that holds the box flap closed. Open the black box and you will see, on the left-hand side, the data/charging cable, the 5mm optical Toslink adapter and the paperwork. On the right-hand side, you will see the QP2R nestled in a foam cutout with a piece of foam lying on top of the player. Nothing over the top or pretentious for such a quality device.
Included is:
USB C cable for charging and data transfer
Warranty Card
Instruction Manual
5mm Optical Adaptor (a handy thing to include)
Tiny cloth carry bag
QP2R
As appears to be the trend with the DAP's I have recently reviewed the QP2R does not include a case, it is one of my biggest annoyances. For a TOTL device such as the QP2R, I feel it should be the price of admission. I am one of those consumers that likes to keep his equipment pristine and refuse to set a naked device on a table without protection. I also noticed one a couple of occasions mine has grown feet and attempted to walk off of the desk a couple of times. I saw it sliding and caught it and narrowly escaped catastrophe, YOU HAVE BEEN WARNED. There are aftermarket cases available and the one I decided on was from Miter, it has a kickstand and does an okay job. If I didn't pay so darn much for the case I would probably look at some other options, but that is only personal preference and I have read that others love the case. The device is slippery like a bar of soap and with such a fine-looking piece of kit it would be a shame to damage it, any protection is better than none. In my packaging, there was also no screen protection. Seems like an oversight to not include a screen protector, but it is what it is.
There really isn't much more to say about the accessories or unboxing. The photos can tell the story much better than I can.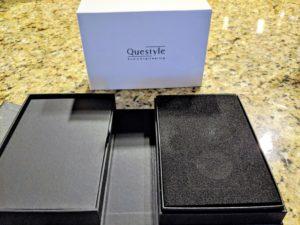 Design and Build:
If you are familiar with the QP1R you will be very familiar with the QP2R, the design and build have not really changed much. The chassis is made from CNC machining aluminum and is available in Gold/Space Gray. Either color option to me is quite striking in its appearance. The front and back are adorned with glass, I read somewhere to be Gorilla Glass, the same product they use on many cellphones today.
There is a lot of heft in its design. In your hand, it has weight and feels substantial.  Is it heavy, yes? I would have expected it to be heavy, based on its design elegance and visual appeal. I think the weight is what you would expect and I would have been really disappointed if it were lightweight. This device does not look "cheap" and it shouldn't feel "cheap" either.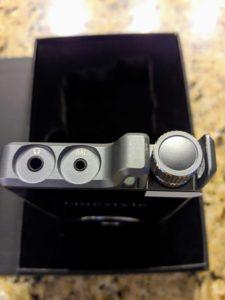 The volume knob is located in the upper right corner, on top of the device. It is a big, textured control knob which looks as if it is a precise machine. The volume control is protected against accidental turning by guards on the left and right of the knob. The guards do not impede the ability to adjust volume as it is easily accessible from the front or back, please refer to pictures to know exactly what I am talking about. The volume can be controlled in 60 or 120 steps, and the ability to choose 60 or 120 is in the settings menu. I love the feel of the volume control but it is easy to go + or – 1 when trying to select your volume. Not a major deal as an increment of one is not going to damage your hearing with an accidental + 1.
Also, on top of the device are the headphone ports. There is a 3.5mm SE and 2.5mm balanced output ports that are both recessed into chassis. The 3.5mm output serves double duty as the optical port.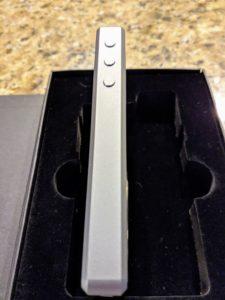 On the left side of the player are the music control hard buttons, play/pause, skip a track. On the right side of the player are the power on/off button and a light which displays which bias mode you are in, standard or high. The indicator light would be orange in standard mode or red in high bias mode.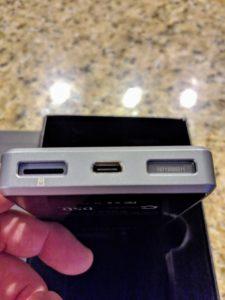 On the bottom of the device, is the charging/data transfer port(USB-C), one micro SD card slot.  The QP2R has an internal storage of 64 GB. I am not certain of the maximum size of micro SD card the QP2R will tolerate as the largest cards I have are 256GB capacity, but the specs say 2TB is the maximum card size. A second slot would be wanted by some consumers and I think the elimination of a slot was due to the new amplification. I had zero issues with the 256GB card I used, it read quickly and without error.
The QP2R has a design reminiscent of Apple devices of years past. It has a navigation wheel instead of a touchscreen or manual buttons for control, I will delve into this more later in the review. On the four diagonal corners surrounding the navigation wheel are touch controls. Starting upper left is a home key of sorts, that during the playback screen will take you to a menu for Favorites, Add To, Loop and Delete, thus providing you those options for the track you are listening to. If you are on a playlist menu screen, the options of the Home key are Add To and Delete. I am not going to go into great detail about the menus but I wanted to let you know that the options change depending on what menu or sub-menu you are presently on. The right touch button is the Return button and if you hold it down it will take you all of the way back to a menu that offers you what song is currently playing, a Category selection, Playlists, Browse Files and settings.  The two remaining lower touch buttons are for back and forward, which can be locked in the settings screen to avoid accidental touch.
The QP2R showcases an IPS 2.4″ (Sharp LCM) color screen. It is functional and provides adequate vibrancy and readability. It is not the best screen I have seen on any device and it does not have touchscreen capabilities. Of course, if the screen was touchscreen and of a super vibrancy the cost of the device would be greater, so it is a tradeoff. It is perfectly fine for my needs but the inclusion of a touchscreen would be nice for future models.
I mentioned earlier I would touch on the control wheel later and now is later. I need to preface this by saying that the QP2R is supposed to include a friction overlay in the packaging for the scroll wheel. My unit did not include that in the packaging. It is a rubber circle with adhesive on one side to stick onto the scroll wheel keep your finger from slipping on the metal wheel when you are turning it. If you do not receive one in the package, for whatever reason, I would certainly request one from Questyle.  The naked wheel is slippery and has provided me with a bit of frustration during control. The scroll wheel also selects by pushing the center of the wheel to enter. I so pine for my rubber friction overlay. I feel the addition of a touchscreen, and a button control system would also be a positive upgrade, lose the wheel. The player oozes quality and workmanship and the wheel hints at a distant memory from Apple. Maybe I am being picky considering this is the finest DAP, sound quality wise, that I have heard, but sound and total experience can sometimes be two different things.
The specifications state that you will get 10 hours out of the 3,100mAh 3.7V Li-Polymer battery. I must assume that is based on using the low gain. I think 10 hours seems like an ambitious number. It would be difficult for me to gauge this as I always use either M or H gain. I also find I like the screen brightness bumped up. The battery charges through the USB-C port on the bottom of the device. It is not a quick charging device and I often let it charge overnight because when fully discharged it would take roughly 4 hours to fully charge.
UI: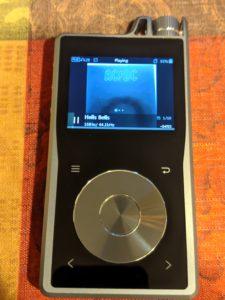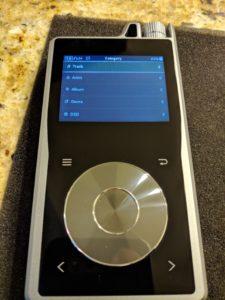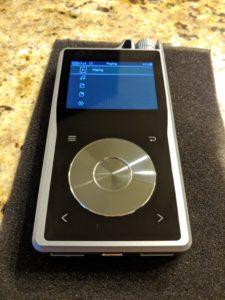 I have long touted the UI of the A&K players and theBit as being the most refined that I have used. Both of those companies have created a rather simple, bug-free experience. I will add Questyle and its Linux iteration into that mix. The QP2R is very simple in its layout and I will not discuss all of the menus and options but instead will highlight some options and settings that are noteworthy. As mentioned above, they are an entire bevy of features which have settings on top of settings.
One setting that sometimes takes a lot of hoops to jump through is a delete option. With the QP2R deleting is simple. Deleting from the micro SD, deleting from playlists and favorites, it's all there and simple. When selecting the 2.5mm balanced port there are no additional steps, just plug-n-play. I think that the flow of the menus is logical and only requires a small learning curve. I generally use the browse folders option as opposed to selecting by genre, artist or album, I find this is the best for me. I have not found the ability to complete a search within the folders. If you want a specific track you will have to access it through one of the categories or browsing and know where to find it.
The gain control is a setting that I switch between Medium and High settings. I do not have any sensitive IEM's to drive and many of mine are Dynamic Drivers which like the power. I find myself on High gain 90% of the time. If you listen to DSD files the QP2R allows you to set an adjustable gain from 0 – +6 dB. When utilizing the 3.5mm SE output the power is about average but when utilizing the 2.5mm balanced output it had more than enough power to drive everything I threw at it. For the Custom Art ME, I found my listening level to be about 50% and for my Atlas or Legend X around 60%.
One last setting in the UI that will truly enhance your listening is the bias control. A bias control allows the listener to choose standard or high bias settings, depending on the loads being driven. I found High gain, High bias to be my preferred setting. With the high bias setting, the QP2R immediately attains stronger power and quicker responses, fully improving the mid and the low-frequency sensitivity.  It ensures that QP2R operates only in the state of pure Class A when driving different loads, especially heavy loads, and provides a constant flow of strong power for the amplifier.
The QP2R can also be used as a USB DAC if you have the need for that when listening from a laptop etc. There is also a 10-Band EQ, while I never use EQ I know many users like to tweak their music.
Moving on to the sound: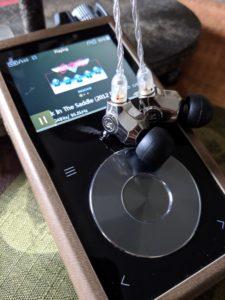 The QP2R delivers sound that is pure mastery. I have really enjoyed the QP2R and while the Opus#2 has been a loyal mate I feel that I have certainly moved on with the QP2R. It is now the benchmark player that the others need to beat.
The sound is wholly organic and voluminous. It is large as if you are in a concert hall. Very much a reference sound as opposed to being overly rich but it so super resolving and true to the music. Flawless in its delivery, I find it very difficult to find fault. As previously stated, I do not have any sensitive IEM's. There have been discussions that with sensitive IEM's that there is hiss. I cannot confirm this, I am only passing on what I have read. To me, the noise floor is silent, black and hiss free. The sound quality to my ears sounds like a much higher priced desktop unit, which for me is great because I love to be portable and hate to be tethered.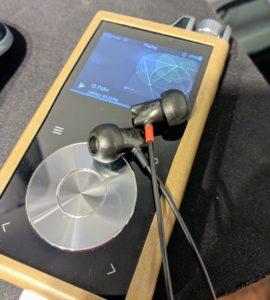 I have not found any genre of music that does not come alive with the QP2R, EDM is presented with all of its quick bass driven beats. It is effortless in its delivery, and Jazz is as involved as the artist intended.  The QP2R delivers the bass frequencies with impact and energy without any over inflation of the tones. I am trying to put into words my overall impressions of this DAP but it is difficult without gushing and fawning over it. As a reviewer, I probably shouldn't do that but as a human, a consumer and a music lover I find it very difficult not to gush. It is the best I have heard.
Keep in mind that the QP2R does a great job at playing quality when quality is there. I have found it is not the most forgiving player out there. Give it quality FLAC files and let it work its magic.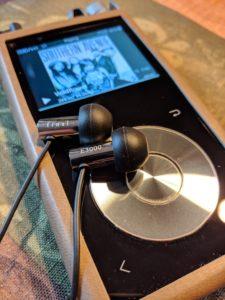 How does this DAP stack up to some of the other DAPs in my possession?
The only DAP I will give a comparison against is the Opus#2.
Feature wise the Opus#2 delivers more goods. To be able to utilize Wi-Fi and sideload apps certainly will provide more value to some. The QP2R is a feature light device all of the way around. Power wise, one of my biggest complaints with the Opus#2 is the high levels of volume I had to throw at some of my headphones. Opus#2 or QP2R, either will more than satisfy your audiophile desires. I may have gushed at the QP2R but I can tell you I also gush at the Opus#2. If my review has made it appear that the winner was a runaway, this is not the case. When I listened to the QP2R I could hear a difference in the quality vs. the Opus#2. The Opus#2 delivers a touch warmer sound overall. While it is not a warm player like some of the A&K players I have heard, it slightly tilts warm. The QP2R is not warm but full and comes at you in organic, natural volumes. It truly would come down to a preference. I would say that the 2.5mm balanced output of the QP2R bests the Opus#2 as it delivers the power needed to make your gear shine.
I have recently found myself attracted to the less feature-focused players, such as the Opus#1S and QP2R. I love the attention to be on the sound.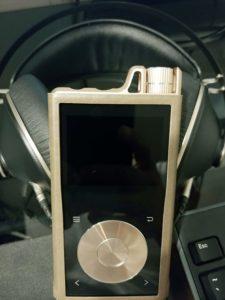 In Closing:
The QP2R has delivered on the goods. While some may like more features, I find the quality of the sound to make me forget the lack of features. It's handling of DSD and the number of file formats played, today appear to be the price of admission. The ability to tweak settings to find one that works best for you is great. I enjoy the High gain, High bias.
I wish that a protective case would have been included and I hope in future models that they employ a touch screen or a button-driven control system. I am not a fan of the wheel, but it is important to remember that I did not receive the friction wheel cover that should have been included in the package.
Excellent amount of driving power in the 2.5mm balanced output.
The UI is, for the most part, refined and Questyle does support the player with updates. I have had two updates to firmware in three months.
Build quality screams TOTL, with its aluminum chassis and Gorilla glass front and back. It has great weight and heft in the hand, it feels substantial.
Well, the Opus#2 has been bumped from its lofty perch in my collection. It really was close between the two but the sound quality of the QP2R was ahead at the finish line by a nose. Nothing is perfect but the QP2R is the best sounding DAP I have heard, thus it is now my reference player.