PW Audio No.10
No.10
PW Audio Homepage – PW Audio Home
Musicteck Purchase – Musicteck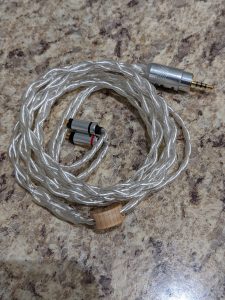 A Little Technical Stuff:
Specs
PWAudio No.10 upgrade cable
Jacket Material: PVC
Conductor Material: Top Secret
Conductor Gauge: 24awg with fiber in core
Number of conductors: 4
-MRSP: $190 for 4-wire/$345 for 8-wire
I want to thank Andrew at Musicteck for his patience and excellent customer service.
When you mention cable upgrades, the first thing this conjures up is the vision of a traveling snake oil salesman, guaranteeing you it will cure what ails ya! This review will not follow my usual format because I don't see the need to touch on all of the general categories.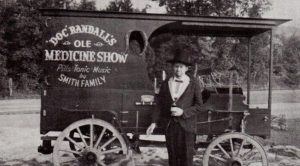 Cables are controversial amongst the audiophile community, and in my opinion, for a good reason. Cables can be super expensive and, for sure, will not produce a night and day change to your setup. Attaching a cable does not unleash the mystical Unicorn.  I set a cap on the amount of money I will spend on any given cable. The main reasons I invest in after-market cables are comfort, ergonomics, and to have a specific type of connection or termination—for example, MMCX vs. 2-pin and 2.5mm balanced vs. 3.5mm. Once I have a particular need, I then shop for the composition of wires.
I have many opportunities to review cables and receive review samples. I generally, graciously decline, because I must not have the golden ears that many reviewers do because I don't hear an earth-shattering change. There is one thing to keep in mind; the Cable is what ties your source and IEM or Headphone together.
Many companies are now including an upgraded stock cable experience compared to the Plastics 1 cable or years past, I applaud this. Before you chose to go down the cable "rolling" path, keep in mind that it wouldn't make any sense for the IEM companies to include a cable that isn't going to showcase their craft. Another thing to factor is the fact that many companies won't warranty their IEM's for damage to sockets if there is evidence of cable rolling.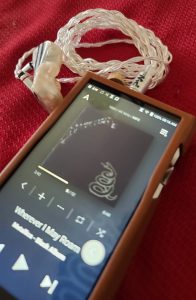 In this hobby and the audio rabbit hole that it is, there is a hierarchy of purchases. What this means is, in my opinion, you should first invest in a quality pair of headphones or IEM. I can guarantee you that the best Cable in the world cannot replace the bang for the buck you will receive with a TOTL IEM.
Secondly, your source is your next big purchase. Invest in a quality source; there are so many options available. Some are full-featured and offer streaming, WIFI, Bluetooth, etc. and others just focus on sound quality without the kitchen sink included. I have both options, featured and featureless.
Lastly, a cable purchase would be the final enhancement.
Cable companies have sprung up like weeds in recent years, and there are a few names in the industry that have higher brand recognition among the audiophile in-crowd. PW Audio is one of those names, not at the same level as say Effect Audio, but they PW Audio are established, particularly their higher-end line such as their 1950 and 1960 line, search them if you want more information.
PW Audio is located in Hong Kong. Peter Wong(PW) has been perfecting his craft for many years and builds cables at many different price points. Musicteck PW Audio line will take you to the PW Audio section of their website. Scroll down near the bottom of that page to find the cables are in my price point. Entry-level to TOTL. One such entry-level Cable is the No. 5. The 5th commemorated the anniversary of PW Audio, thus following in the same pattern, the No.10 in honor of their 10th anniversary.
The PW Audio No.10, the Cable I am reviewing, checks all of the boxes for me. Comfort, build, ergonomics, and price.
Unboxing and Accessories: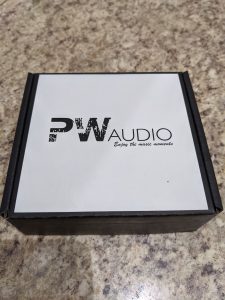 The Cable comes in a little black box with a sticker adorning it that states, "PW Audio, enjoy the music moments."
Inside, you will find the Cable, a little black storage bag, and a leather strap to keep the Cable wrapped and organized.
That's it nothing more, nothing less to the unboxing.  The interesting thing is that I owned the TOTL 1960's Cable, and its package has the same limited fanfare. Before you call me out because I previously stated I have a price limit. I purchased the 1960's from the classifieds, and it fell into my acceptable spending range.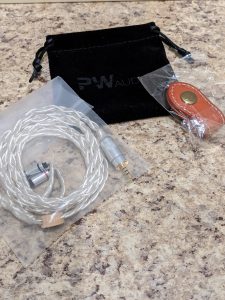 Build Quality and Comfort:
If you noticed under my "specs" section above, under conductor material, I listed top secret. PW Audio has refused to state the composition of the wires inside. In good light, I can see what might appear to be an SPC wire. Silver Plated Copper would make sense given its price point. That is only speculation, and frankly, I don't care, it checks my boxes, and that is what matters the most.
The Cable I received from Musicteck is 2.5mm and 1.5m in length or 48 inches. It is the 4-wire version, but the No.10 is also available in an 8-wire variety.
On the Musicteck site, you can have the Cable in 2-pin or MMCX configuration as well as 2.5mm, 3.5mm, and 4.4mm. Furutech connectors can be added on other websites, as is seen in the photo below. I would inquire of Andrew at Musicteck and see if the Furutech connectors are available, if so inclined.
The Cable I received from Musicteck is 2.5mm and 1.5m in length or 48 inches.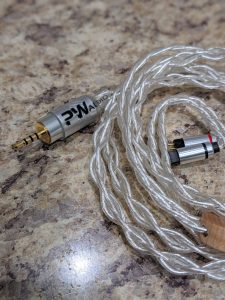 I read this on a vendor site, but found it fascinating; The size of each wire at 24 AWG is 20% bigger than a 26 AWG wire with around 30% more turns of wire. The 4-wire configuration should, in theory, give a better performance in terms of dynamic range and lower resistance than smaller gauges.
The No. 10 makes the similarly priced Effect Audio Grandioso look frail by comparison.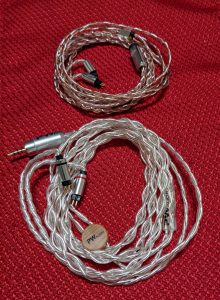 The wire is wrapped in a PVC covering, which is silver/clear in color. The No. 10  is braided at just the correct tightness as to not make the Cable too stiff. Thus, contributing to the overall ergonomics.
The 2.5mm is gold plated and met by a sturdy, textured housing which has a heat shrink cover that says PW Audio. A little more than halfway up the Cable is more heat shrink with PW Audio inked on the covering. Just north of the heat shrink is the split, and at that split, there is a wooden chin slider with the Pw Audio logo on one side and a serial number on the other. Moving up the Cable towards the IEM connection ends the Cable thins out and becomes very pliable.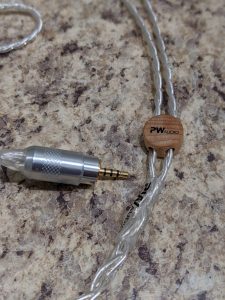 At the 2-pin connectors is the shrink wrap, which is formed and goes around your ear. Thank goodness there is no ear wire. The absence of an ear wire rounds out the entire comfort aspect of this Cable. The other comfort factor is the fact that this is not a bulky cable with a lot of weight. The 2-pin connectors are also color-coded with either a red or black band to signify the ride side from the left.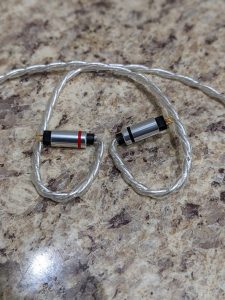 Moving on to the sound section….
Since, to my ears, the sonic differences are minimal, I am not going to spend a lot of time on the sound. Remember, the Cable only connects you to what provides the audio. I can compare what I am hearing relative to other cables using the Custom Art FIBAE 7 https://audiorabbithole.com/custom-art-fibae-7-initial-thoughts/ , as my Guinea Pig.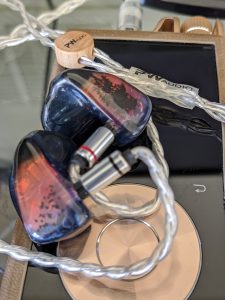 Overall, in general terms, I find the No.10 to be an overall smooth, yet dynamic wire. There is no sharpness in the treble, and its characteristics allow it to be a perfect all-arounder. It is vital to realize that when A/B'ing cables, it is critical to maintain consistency with utilizing the same source, same IEM's and if a Universal IEM, the same eartips.
The F7 and the No.10 is a pairing made in heaven. The No.10 seems to provide life in areas that I didn't realize the F7 needed. Compared to the F7's stock Arete cable, there is more smoothness and a bit less fullness. The fullness in the signature with the No.10/F7 pairing is because there appears to be more lift in the upper bass and lower treble. It is a wonderful pairing.
The PW Audio 1960, OCC Copper Litz, is one of the PW Audio's TOTL offering, coming in at a hefty 1K price tag. 1960 is a special cable showing at 26 AWG; this copper cable enhances mid-bass clarity and details. While it appears to reduce the upper treble, it somehow has a particular sparkly effect on the fringe. Generally, that is not my experience with copper.  In my opinion, I felt that the No. 10 was a better pairing for the FIBAE 7 than its 1K sibling.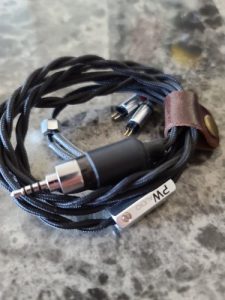 In summary, the No.10 has a copper smoothness with the detail of an SPC wire. I am not always a fan of SPC, but the No. 10, whatever the mystery wire is, has the best of its worlds. Adding a smooth, organic fullness and helping to tame any inoffensive peaks.
You might want to own this Cable if:
+ You want a quality cable that won't break your bank
+ A smooth overall signature with a touch of fullness is what you crave
+ Ear wires are evil incarnate and comfort, and ergonomics are important
+ You want the flexibility of configuring the Cable as you desire to choose from multiple connectors  
In Closing
I enjoy playing with cables, but no so much writing about them. I do enjoy writing about comfort, build, and ergonomics, which are an essential part of the cable experience. Some may want to spend as much on cables as they do their IEM's and if that is your thing, go for it.
When I find a cable that I can recommend, then I enjoy writing about it. To me, cables are not a guilty pleasure; I have other things that are.
This review has been a long time coming, but I genuinely enjoy all aspects of this Cable. I have two of them, so I do not have to swap them as much, thus saving wear and tear on my IEM sockets.
The build quality is great relative to other cables at this price range, see the EA Grandioso photo for comparison. It is lightweight but not frail feeling with its PVC covering.
No ear wires. Can I have a Hallelujah?
If you are in the market for an upgraded cable or a replacement, I think the PW Audio No. 10 should be on your shortlist.