Pros – Balanced tone, great accessory package, first class cable, great with all music genres
Cons – Isolation could be better, cable L & R not easy to read
A Little Technical Stuff:

· Transducer unit
N50 high magnetic composite moving-coil driver
· Diaphragm
Polymer composite titanium-plated diaphragm
· Frequency response
15Hz-40kHz
· Sensitivity
≥101dB(at 1000Hz)
· Impedance
16Ω
· Distortion
<1% 101dB(20μpa)
· Channel imbalance
<1.5dB(at 1000Hz)
· Rated power
10mW
· Cable
Hybrid 8 cores of single-crystal copper and silver-plated wires
Simgot EN700 Pro
-MRSP: Universal fit $150

"SIMGOT, means "Simple and elegant". "We trust only finest product and perfect service, only the fusion of old-school rules and fashion creativity".

I want to thank Sabrina from Simgot as she contacted me and asked if I was interested in doing a review of their product and obviously I said yes. She provided me with the EN700 Pro in exchange for my review. Links to the Simgot website are above as well as their Facebook page and links to Musicteck who is a Simgot distributor in the USA.

"Budget" level IEM's can be difficult to review after having a focus on so many TOTL options. Limiting yourself to only the TOTL gear makes you realize that you could quite possibly be ignoring some very good options that are fairly priced and more palatable for the masses. It is very important to understand that what is a budget IEM to one man may not be to another. Memories of when I first started down this rabbit hole of a hobby, cause me to flash back to the intense amount of buyer's remorse I had when I purchased the Klipsch S4 for something like $70, this upgrading me from stock ear buds. However, since it was a "upgrade" purchase by price point and in sound quality I settled in with my purchase and grew to appreciate the Klipsch.
At this point, I am having a senior moment and can't recall exactly when I moved on to my next remorseful purchase but I do remember it was the Rock-It Sounds R-50 based on a Knowles TWFK driver. The R-50 caused me to break the $100 mark and also made me question what the hell am I doing? The R-50 was priced at $120 and from that point forward the price has grown astronomically to a point where I have plunked down between 2K-3K without wincing near as much as I did with the $100 something purchases, go figure. The Simgot EN700 Pro brings me back to an IEM that is priced at $149 and I can attest that the sound quality as well as the overall quality of today's $100 something IEM's has really surpassed the similarly priced products of old, at least that is the case of the EN700 Pro. It is so refreshing to know companies like Simgot have broken into the game with a focus on quality as well as price.

I was grateful when I was asked to review the EN700 Pro because I have seen so many positive comments regarding the Simgot line and it has been a long time since hearing a IEM at this price point. This is the third iteration in the EN700 line. The original EN700, EN700 Bass and finally the EN700 Pro. I have not reviewed any of the other options but after reading thread comments it appears that the tuning is similar between the Bass and Pro, with one of the major non-sound related differences being an upgraded, detachable cable, but having never heard the others I can't truly attest to any differences in sound. On the back of the included carry case the quote "Salute to Art and Science" is emblazoned. It appears to be the Simgot slogan or maybe a mission statement of sorts. The level of thought, detail and attention that went into this IEM from it's packaging, accessories, build quality, handsome looks, and balanced, fun sound make this an incredibly worthy buy. Honestly, I wish that all companies touting TOTL would make such an all-inclusive, classy package.

As I pen my reviews I make it a point to listen to the gear I am reviewing. I have a genre diverse playlist that I utilize for evaluating head gear and I will say that when listening to the EN700 Pro that I have yet to find one genre that does not sound great. I would say that is a testament to how well balanced the tone from these is. We will discuss the intricacies of it's sound later in the review but it is certainly noteworthy that each genre is represented well with the EN700 Pro.

When you begin to listen to an IEM, for evaluation or enjoyment, the first thing to generally strike you is any glaring faults you may hear. If there aren't any obvious imperfections in the sound quality you settle in to listen to the nuances in which the product excels. Let me say that I was trying hard to find any glaring faults and there just weren't any glaring weaknesses in the quality of the sound. It is just a pleasant listening experience.

A Little Marketing Hype:

Final chapter of EN700 SERIES
With its acoustic design and unique appearance, EN700 PRO delivers a great performance in auditory and visual.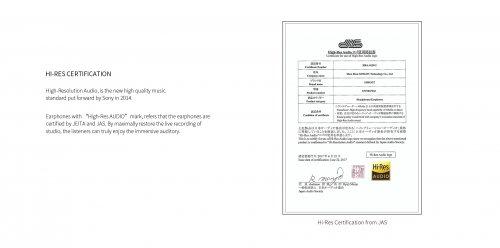 WHAT'S IN THE BOX:

Earphone, eartips, faux leather storage case, information manual, global warranty & VIP card, brush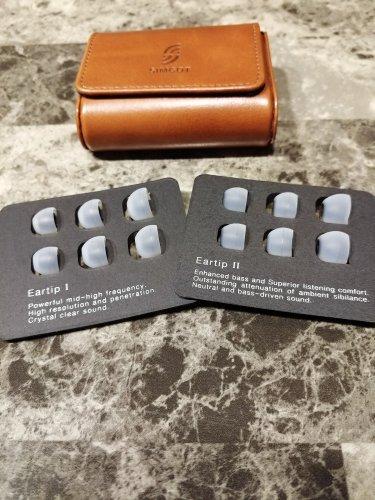 Review Setup:

My review was written utilizing four sources, Opus #2 and LG V30(quad DAC) and Shanling M2s and Shanling M3s. I utilized the stock cable SE(3.5mm connection) and Eartip 1.

SIMGOT supplies two different types of eartips with the EN700 PRO, labeled Eartip 1 and Eartip 2. Both 1 and 2 are comprised of 3 sets total, 1 small, 1 medium and 1 large. They are silicone tips and are placed in cardboard trays (credit card size) with the explanation of what effect you can expect from each tip, see the photo below. My EN700 Pro monitors are black and my eartips color coordinate with the monitor color with clear caps and black stems. For example, the EN700 Pro is also available in blue and red monitors, blue being the left monitor and red being the right. The eartips on that version color coordinate with ear monitor and use a clear cap with either a red or blue stem. This may not be a big deal to some folks but I thought it was a cool touch.

Where the 1 and 2 tips differ is in the diameter of the opening with Eartip 1 having the larger opening of the two and larger cap width. Eartip 1 with it's wider bore will increase the higher frequencies and create a more balanced signature. Eartip 2, with its narrower bore opening, is designed create a bassier signature. I have a weird size earhole and I could not receive a seal with Eartip 2 because it's cap size is narrower so my entire review is written using Eartip 1. I found that there was adequate bass when using Eartip 1. Isolation is average and is fine for a morning walk but I am not sure I would use them for flights or noisy environments.

Build and Quality:

The EN700 Pro is made from a single piece of Series 7 aviation aluminum resulting in an entirely metal body. Looking closely at the EN700 Pro revealed zero imperfections and with the only seam being where the faceplate is attached. I found the EN700 Pro to be a handsome design with a golden color outlining the black grill work face plate (vented looking). It is kind of egg shaped in design and those familiar with the EN700 Bass will not see any difference in the shape of this IEM. Being all metal in design does not mean they are the lightest IEM I have had in my ears but they never felt heavy or uncomfortable in my ears. I must applaud Simgot for placing a lip around the nozzle so that the eartips stay on the monitor when removing them from your ear. The nozzle itself is really a perfect length and in the opening of the nozzle is a screen to trap the dreaded earwax. The connectors were without fault and were slightly recessed into the housing, no problem using any after-market cables if you so choose.

One very positive accessory note I would like to touch on the is the included cable. Great job Simgot. I have a few after-market cables in my possession but with the stock cable being so good I never felt the need to use of any of them for extended listening sessions. The cable is a 2-pin removable type, which is my favorite type of connection as opposed to MMCX.

 

The cable is a top 6N single-crystal copper and silver-plated braided variety. The braid was tight and the 400D Dupont Kevlar fiber did not create any microphonics. The ergonomics of this cable are really incredible. Very soft, pliable and not easily tangled. Another positive design attribute is the fact that there is no memory wire, it is more of a heat shrink tubing that goes around the ear. The only negative I have found with regards to the cable is the clear plastic 2-pin connector housings. They are marked L & R but it is without any color, bumps or marking to identify and it is very difficult to see clear on clear.

I tested the EN700 Pro with my Ares II cable but only found a slight elevation the bass and was equally as happy, if not more so, just staying with the stock cable. I found it to deliver the most balanced and transparent sound out of my cables. If you do not have aftermarket cables feel confident that you do not need to purchase any with theEN700 Pro, which makes it value pricing that much more appealing.

Let's dive into the sound….

I completed roughly 100 hours of physical burn-in and many hours more while in ear. I didn't really notice a massive change, if any it would be in the lower regions. There may have been a slight bit more of an awakening in the bass. It could be attributed to brain burn-in as well, YMMV.

The overall sound and tone of the EN700 Pro is just a little south of neutral, causing a slightly warmish tone. I would not classify this as an overly, warm IEM. It is fairly balanced across the spectrum but the dynamic bass give a nice warmth. I was a little surprised at how much volume it took to drive the EN700 Pro. From all of my sources I found myself pushing up the volume to maximize my enjoyment of the music. It is just a little more difficult than average to drive.

Presentation

This is a fun, musical yet detailed, not analytical or micro-detailed IEM. The DD bass is very evident in the sub bass rumble and the mid bass also has a smooth, bloat free, fantastic color to it. Overall, it is smooth, but the sound is very natural with clarity and smooth tone to compliment the signature.

The separation is about average with good transparency and average layering. These are not negatives just not necessarily strong points. The soundstage has an average width, with a bit more depth and an average height. Sometimes a stage of this type can create congestion, but the EN700 Pro is not a congested sounding IEM. I wish the stage was a bit wider to help to create some more air and allow the listener to hear pinpoint accuracy of where each instrument is placed. The stage sounds and instruments sound closer together. This is not to say they are muddy, or incoherent, only close.

Simgot has done a great job in creating an IEM to use with all genres of music. I did not find one genre that was not completely enjoyable while listening with the EN700 Pro.

Bass

As I have briefly touched upon the bass has a nice sub depth rumble and the mid bass is clear and not negatively interfering with the clarity of the mids, there is only a slight bleed, very slight, and I do not find myself thinking bloat. Keep in mind it is a dynamic driver and this IEM shows off the positive characteristics of a DD, not to the level of say a Dita Dream, which is my high watermark for bass, but again it is not a fair comparison based on the disparity in price between the two. To my ears, the bass is just part of the overall sound, not one of the strongest points, but also not it's weakest. Recently, I find myself migrating more towards a DD bass, as it checks a lot of boxes for me. The EN700 Pro bass is not the fastest and the rumble sometimes lingers a touch too long. I find the lower bass and mid bass to be the strongest aspect of the bass as opposed to it's sub bass. I do feel if the speed of the DD was faster it would eliminate any appearance of thickness. It overall provides the warmth and natural, smooth notes that are so easy to enjoy for long periods. For example, when listening to Stanley Clarke's Silly Putty, the bass lines are clear, resolving and had an average amount of texturing. The overall tone of the bass really is smooth and cohesive with the signature of the IEM.

Mids

When describing the mids the first two thoughts I have are tone and balance. The tone of instruments throughout the mid-range is very natural. When listening to Hiromi the piano notes leave her fingers and are delivered to the listener in a natural tone that does not appear to have coloration. Both male and female vocals sound strong and clear with a fantastic tone, with male vocals delivering the best performance. There is a lushness to the overall mid frequencies that adds emotion and grabs the listener. I would not call the mids recessed, however it is clearly the treble that reveal the crispness and details to the overall signature, not the mids. I feel the treble is slightly in front of the mids in the signature but that is not to say the mids are recessed. Great tone, smooth and lush best describes the Simgot mids.

Treble

The treble adds the details and crispness to the EN700 Pro. It is the finishing touch, that creates the overall balance that I have been referencing throughout the review. It is a crisp and accurate treble, for the most part. When hearing cymbals crash and other musical notes on the upper end of the scale they sound distinct and accurate. The notes linger just long enough, not giving the illusion of being slow as I noted with the bass. The treble extends well with a shimmer and sparkle that rounds out the complete signature. That said, I have never detected any harsh or sibilant tones in any of my music while listening to these. I have music that I use to test for stridency and when I listen to those files with the EN700 Pro the harshness is not exacerbated. The treble extension is very good and I fight the urge to say, as I have through the entire review, for the money. Again, in my experience, it is not often that you find such a jack of all trades at this price point.

Shanling M2s – expanded balanced sound, punchy bass with a little less sub-bass rumble, but the mid-bass stays tight and punchy, upper mids are a little more revealing, and lower treble has more sparkle and crunch.

Shanling M3s – well balanced sound, kicks up the bass punch a notch. Details shine with very clean mids through-out mid ranges, but primarily in the upper sections treble. A favorite pairing.

Opus #2 – sublime pairing, balanced sound, tight punchy bass with a great sub-bass rumble, overall neutral through the mids with great transparency.

In Closing

Fair price, balance across the frequencies, smooth tone, great accessories and a high-quality cable are what you can expect from the Simgot EN700 Pro. The build quality is exemplary and I think it is handsome to look at or better yet to have others see in your ears. At this price point I am struggling to find fault with the EN700 Pro. Yes, there are things it could do a bit better and yes it isn't the analytical detail king, but that is not the idea behind this IEM. It is very engaging and smooth which make for quality time with you and your music files. I think you will find the listen to be engaging and never fatiguing. The great thing about this price point is that the EN700 Pro can reach the masses. I feel that if someone was trying to upgrade the current earbuds that they would quickly be spoiled by the overall package that is the EN700 Pro. Having many TOTL offerings in my stable I never once felt I had to struggle to give these ear time. To me it is a testament that in this third and final offering in the EN700 line that Simgot achieved what they were hoping to achieve.