Astell & Kern SP2000t
Feeling compelled to introduce one of the newer DAPs on the market, I am writing this brief introduction.  I wish to write a couple of comprehensive reviews to close out the year, let's see how that pans out. This is not as comprehensive review as some I have written, it is more of a long drive-by.
SP2Kt comes from the Korean company Astell & Kern. Arrogantly, Astell&Kern claims it is the ultimate digital music source that brings you Mastering Quality Sound or MQS. Astell means 'Stars' in Latin and Kern means 'Center' in German. They believe Astell&Kern is the center of music.
Like most of their releases, it is not an inexpensive purchase. It comes in at USD $2499. If you have interest you can purchase it from Bloom Audio
A Little Technical Stuff:
 Specs
Vacuum Tube Amplifier Compatible with 2.5 mm, 3.5 mm and 4.4 mm Output Jacks.
Equipped with ESS ES9068AS QUAD-DAC, for Balanced, Ultra Detailed Sound.
TERATON ALPHA, Astell&Kern's Ultimate Sound Solution.
Replay Gain Function to Maintain Consistent Playback Levels between Tracks.
Dual-Band Wi-fi Support for Uninterrupted Wireless Connection and Improved Compatibility.
Internal Mechanical Design to Minimize Noise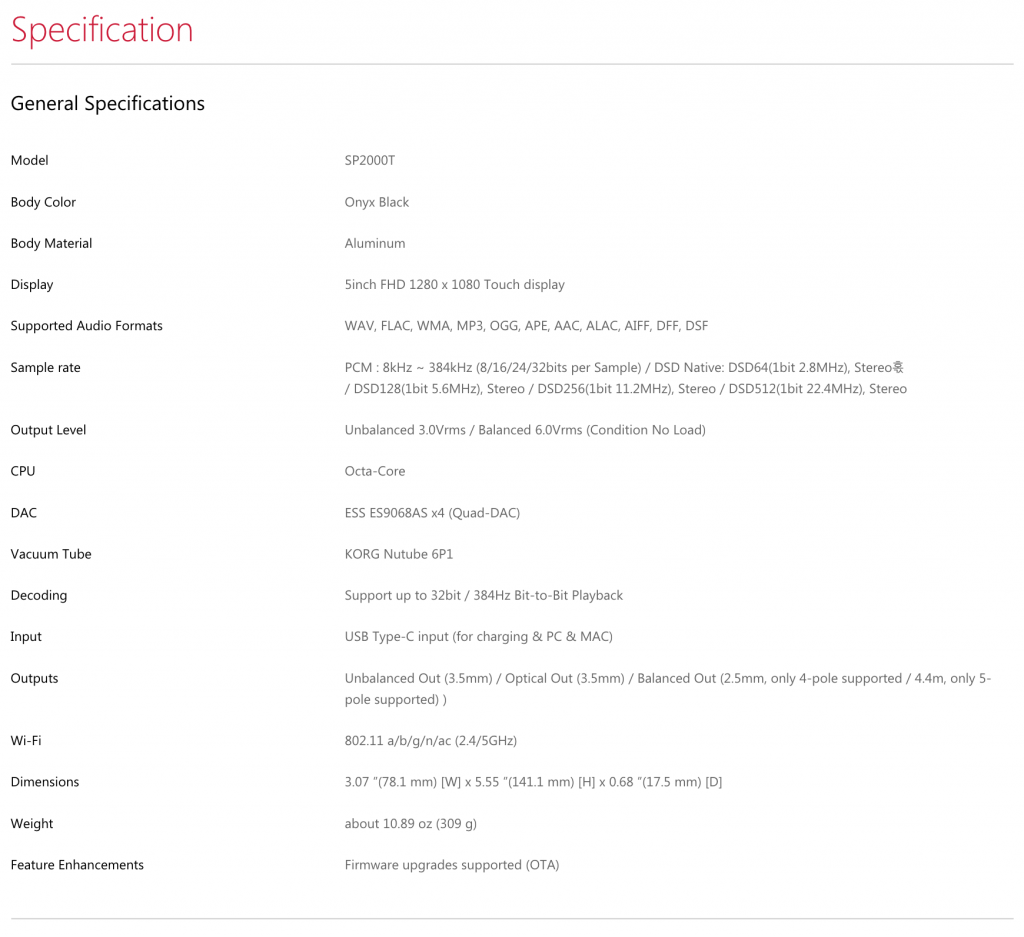 A Little Marketing Hype word by word from their site:
Staying true to our philosophy of delivering original audio experiences without compromise, Astell&Kern strives to design portable music players that reach beyond the capabilities of a standard playback device to enhance the listener's music enjoyment. The SP2000T combines the OP AMP configuration of our SP2000—the culmination of Astell&Kern's finest audio technology—with a nostalgic vacuum TUBE AMP, adding a vintage feel to the portable player.
Triple AMP System is the Next Generation of AMP Technology
The SP2000T exceeds the standard approach to AMP Mode selection, based on the type of music you are listening to.
Select between TUBE AMP mode, OP AMP mode or the brand new HYBRID AMP mode.
OP AMP mode puts Astell&Kern's AMP technology expertise to use, delivering extreme clarity and dynamic sound, while TUBE AMP mode provides a uniquely warm and musical sound.
HYBRID AMP mode – a first for digital audio players – enhances the resolution and clarity of the existing TUBE AMP mode to express more musical detail. HYBRID AMP mode combines the advantages of retro analog performance and high-resolution output, giving you the pleasure of a brand new tonal characteristic.
Experience the unique sound enhancements that AMP technology has to offer.
Vacuum Tube Amplifier Compatible with 2.5mm, 3.5mm & 4.4mm Output Jacks
The SP2000T supports all output types, with no restriction on the type of receiver used, so you can enjoy the unique characteristics of the vacuum tube.
There is more on their site but to me these are the highlights.
WHAT'S IN THE BOX:
A&ultima SP2000T Device x 1
Leather Case x 1
USB Type-C Cable x 1
Quick Start Guide x 1
Warranty Card x 1
microSD card slot cover x 2
Protective Film (Front x 2, Back x 2)
Unboxing and Accessories:
 Photos can speak for the unboxing.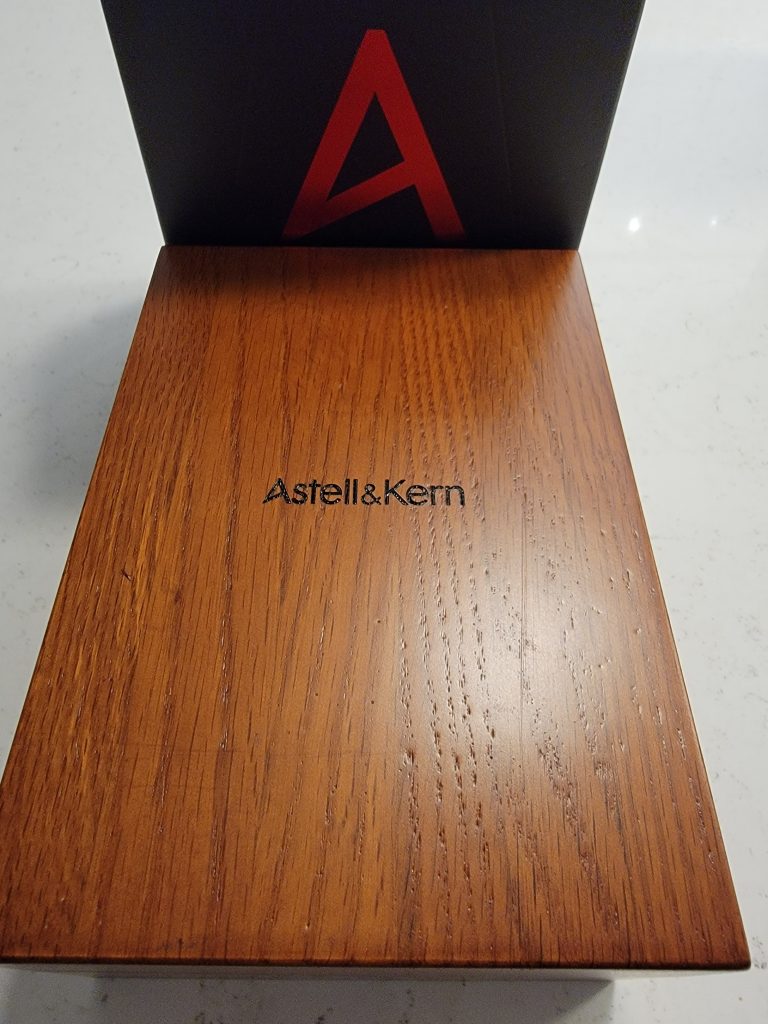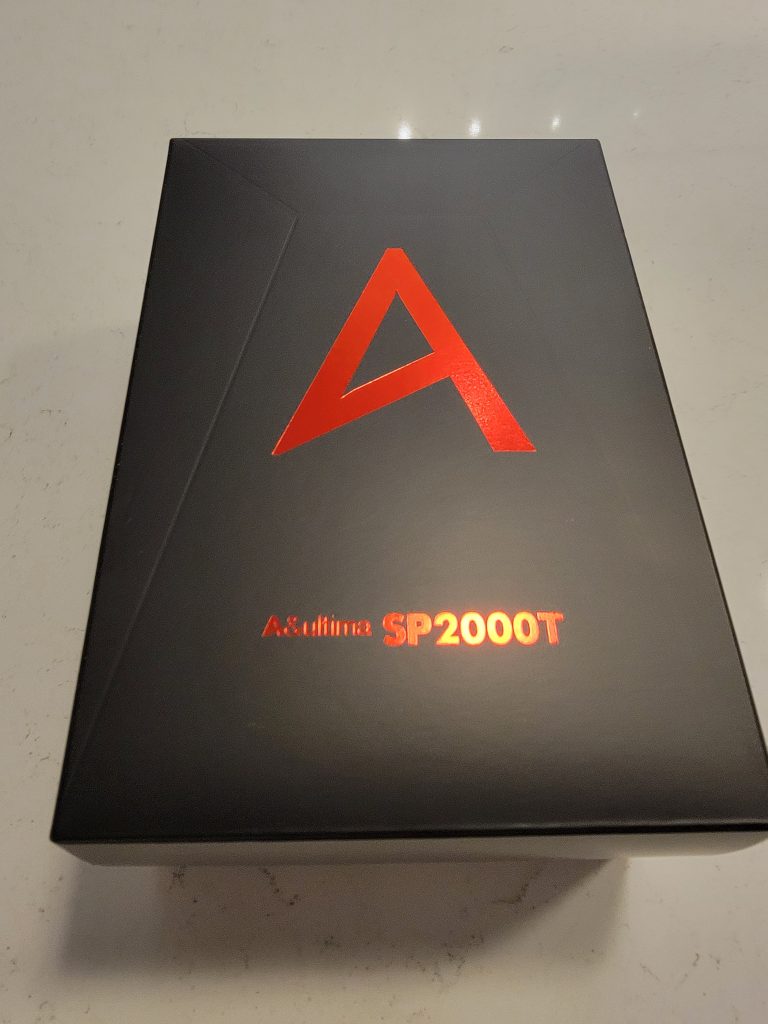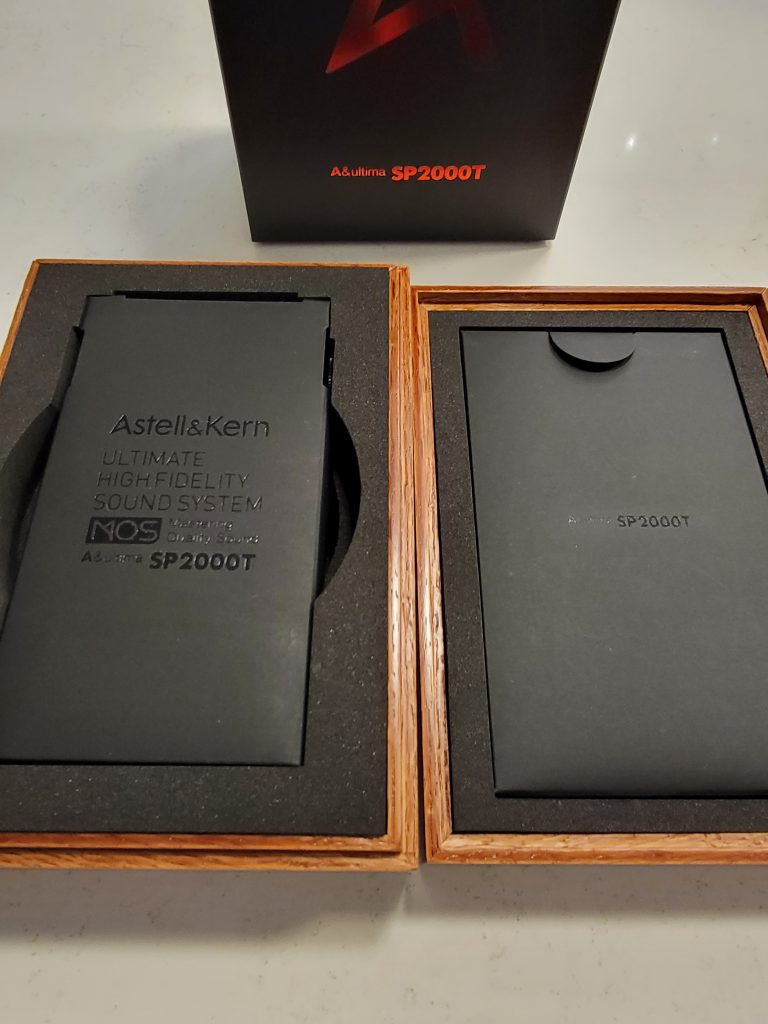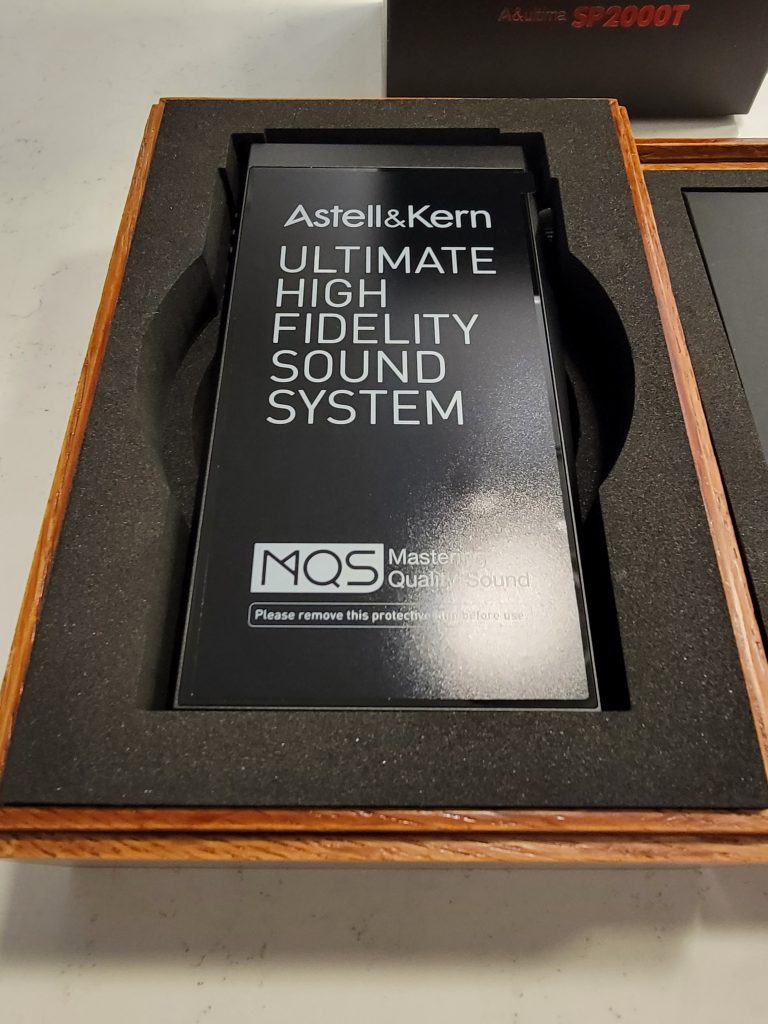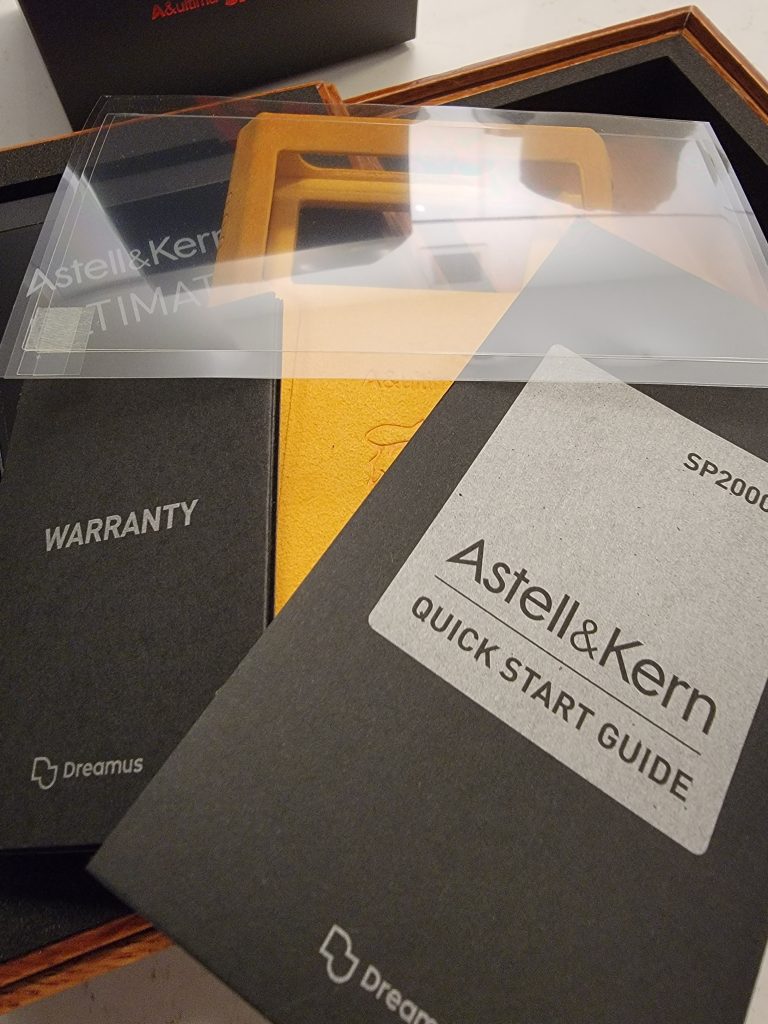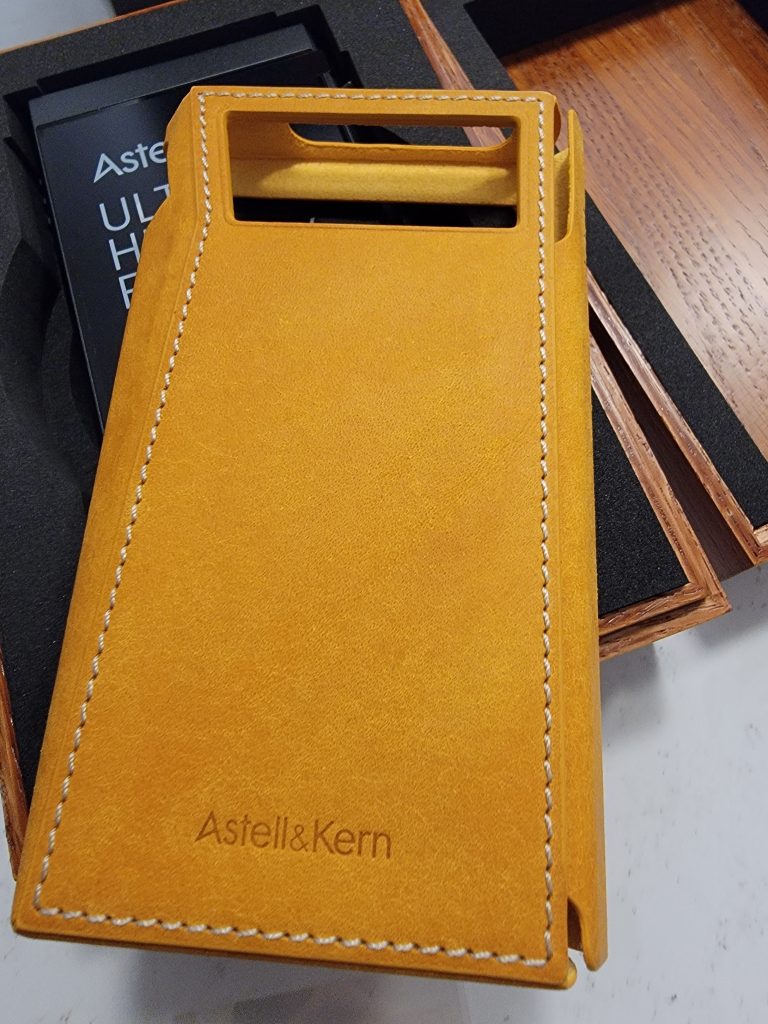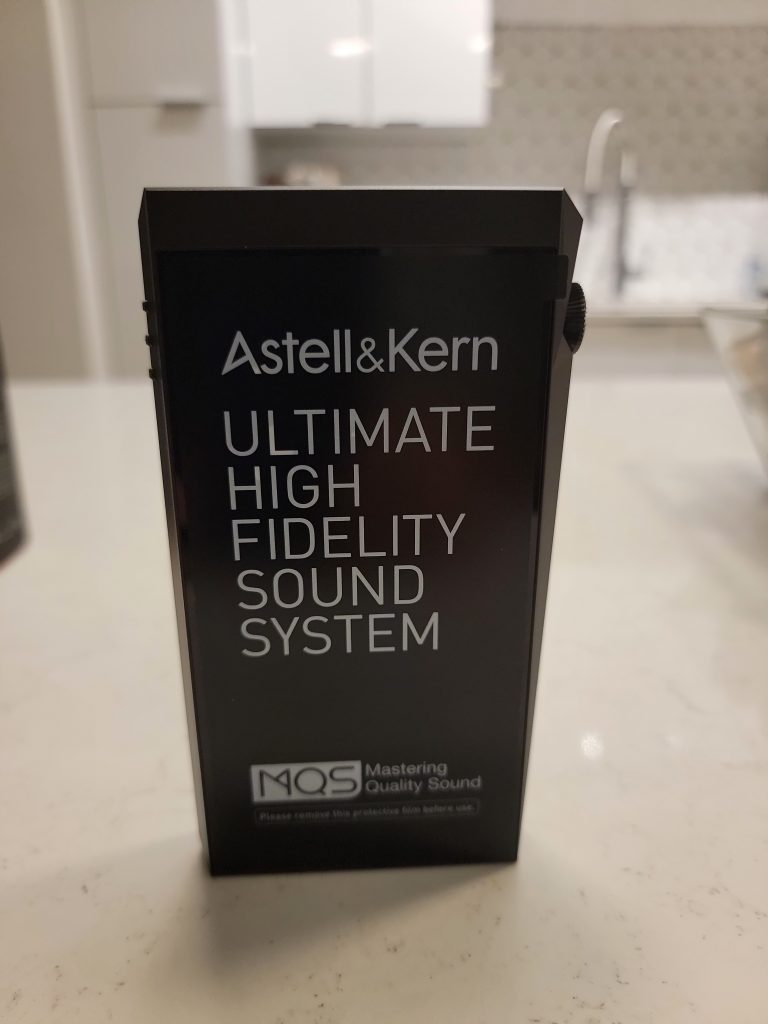 Build Quality and Fit:
The form factor is subjectively good, as is the build quality and weight of the device at 10.89 oz or 309 g. Its scroll wheel is precise and clicks with each turn.
It is cool that they include a nice case. The color is not my favorite but for a pack-in, I can't bitch. Especially when they want $200 for olive or black colors on their website, cash grab nothing more nothing less IMO.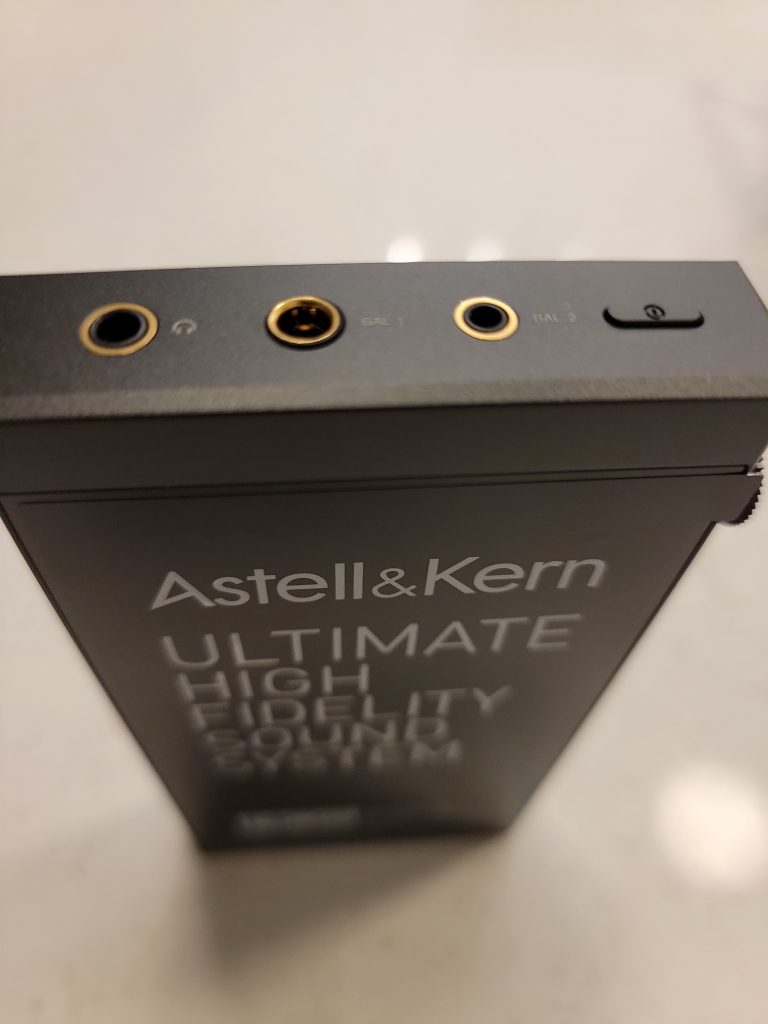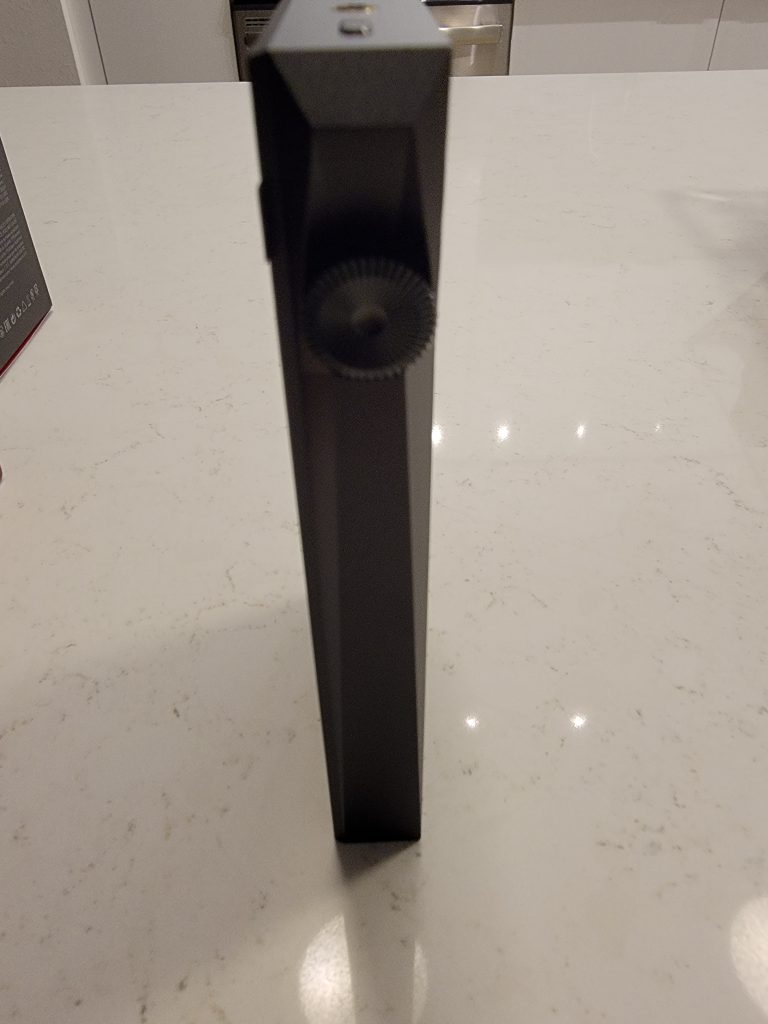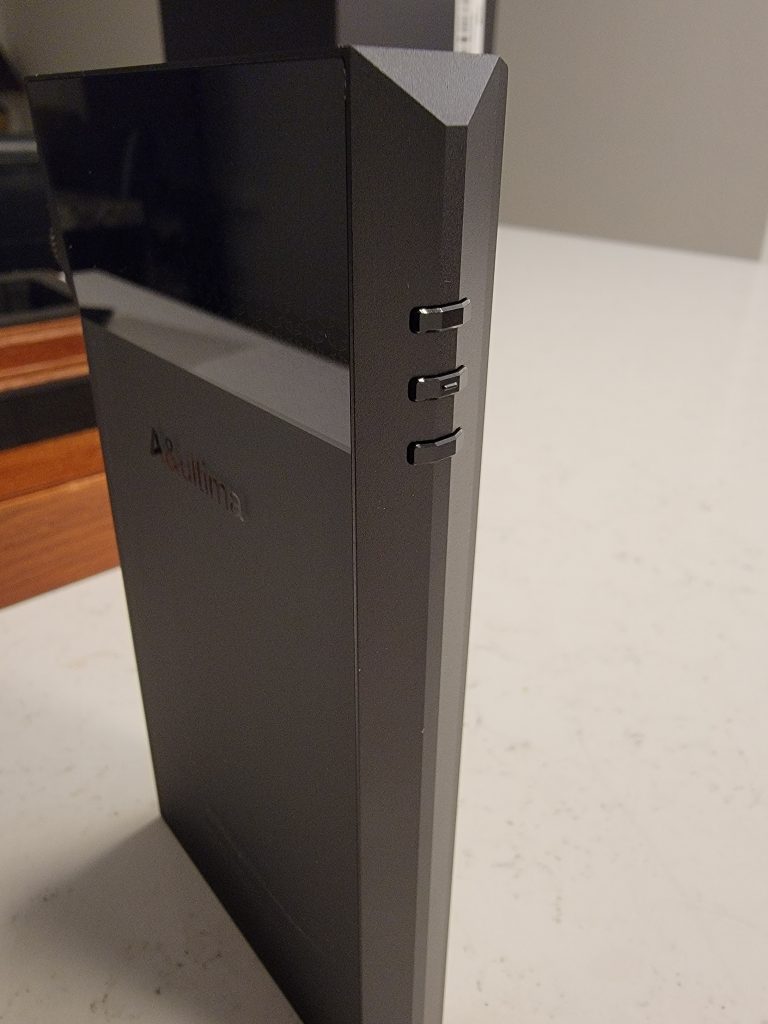 Moving on to the sound section….
SP2Kt is a great holdover until AK announces and releases the new flagship. The SP2K is still the best AK I have heard and my favorite DAP of all-time.  I now use my 2Kt primarily as I sold my 2K. I miss my SP2K, but if I sell the SP2Kt and repurchase the SP2k, I will miss the 2Kt as well, thus the Audio Rabbit Hole.
The SP2Kt is a touch brighter than the SP2K. It lacks the dynamics, resolution, and detail of the 2K. It is somewhat close, but not all of the way there. If I hadn't had both at the same time and didn't A/B the two DAPs, would I personally be disappointed with the SP2Kt? No, not in the least. The bass quality is good and not the primary focus. Overall, it is balanced but north of neutral, favoring a shimmer of brightness.
I use the Hybrid mode primarily. To my ears, it is very IEM or HP specific if you hear huge sound differences using the different modes. Maybe I was expecting more in Tube mode. It is possible in Hybrid mode to fold in more Tube or more Solid State as you wish, some dials give you controls built into the UI. As far as DAC filters they provide three options with very subtle changes to my ears. It will be subjective if you hear a difference.
There have been rumblings of noise issues, such as humming. I have not had any issues so I can't relate. If you wish to read more about this you can visit the dedicated AK SP2Kt thread on Head-Fi. Head-Fi whines about most everything so take it with a grain of salt. Between, shilling for brands and the gear du jour it is difficult to find the truth.
As far as HP and IEM pairings, to my ears, it favors an IEM such as Empire Ears EVO or the Custom Art FIBAE 6 or the balanced sounding FIBAE 7. If your IEM or HP has harsh upper mids or shrill treble, this can be a bit bright. I do appreciate the synergy of the V-shaped Valkyrie MK2 as well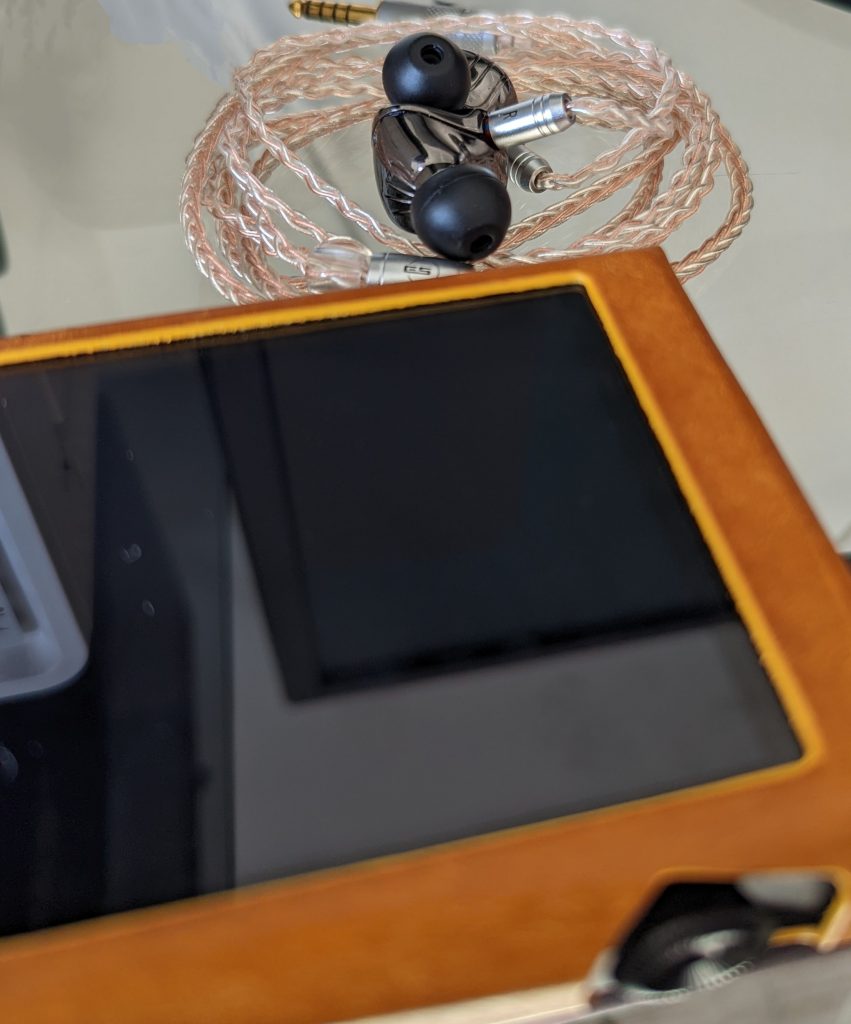 Sound is so subjective, but I have always had a soft spot for the AK signature.
UI:
It is difficult to hate the AK UI, IMO it is the most polished and bests of every Chinese DAP out there. I went through almost all of the recent offerings M8, R8, and DX300, and the MAX version of that as well. With the M8 being my favorite of that batch but not to the level of AK. I know many folks wish for a straight Android AK player with access to the Playstore, you won't find that here. For me, as long as I can sideload or download streaming apps(Tidal & Amazon HD) I am cool.
Except for increasing word count, I see no reason for going into how the UI looks or the settings and options. It is almost the same for all DAPs these days. There are reviews out in the wild that go into that indepth and with photos.
I do wish AK would support their DAPs  with more firmware updates, not sure what I would add, so I may just be Petty Roosevelt wishing for more updates.
The battery life has been okay, seen better, and seen worse. They claim 9 hours, but YMWV depends on your specific usage.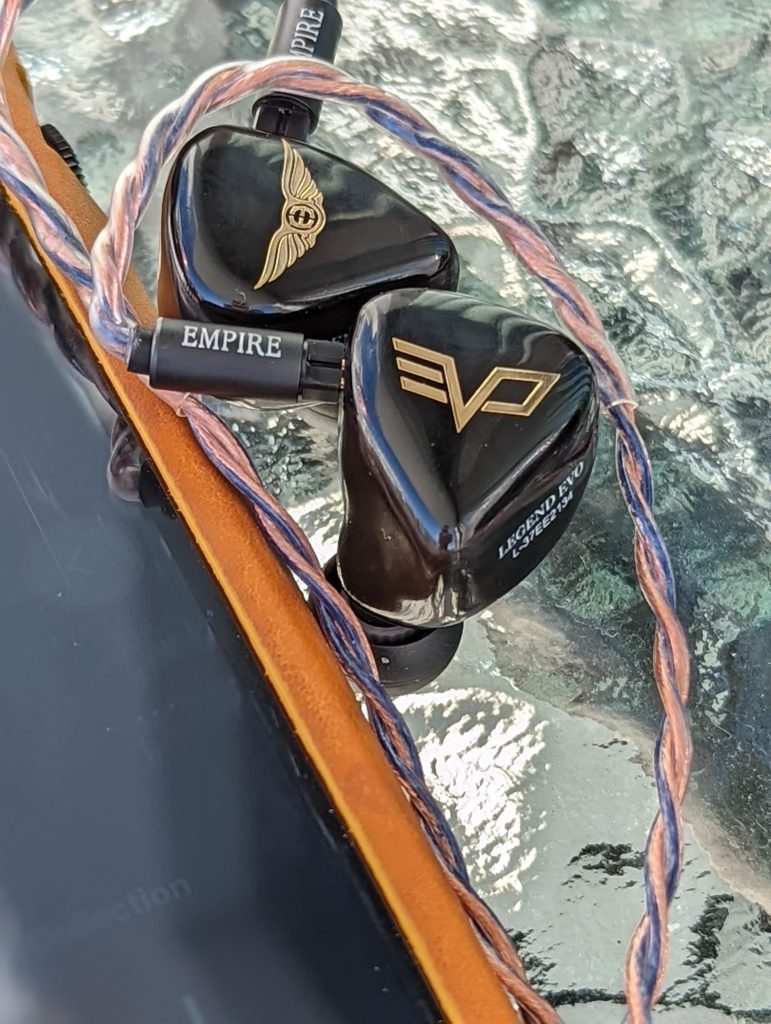 In Closing:
I like the SP2Kt but it isn't the best DAP I have heard and I do think if I hadn't A/B'ed the SP2K and SP2Kt I would sing the latter's praise more. It is a positive move for AK to begin incorporating multiple outputs to include the 4.4mm balanced. Overall, I am happy with the DAP, love their UI and the sound quality but I am spoiled by the SP2K. Pound for pound, I do believe this is a better buy than any of the glut of Chinese DAPs that have been released in the past year. I recommend the SP2Kt.
Footnote:
In the past couple of years, I have limited my reviews to anywhere from 4-6 a year. I have been at this a long time and it is a lot of work to try to deliver a quality review. To boot, I get tired of rejecting gear from companies, having deadline obligations, and frankly, at times I just want to listen to music and enjoy. I don't need free gear. Some unnamed companies refuse to deal with me after I informed them that I can't give them favorable write-ups and I am so cool with that, if that is their wish.
Never fear, Audio Rabbit Hole is not going anywhere. I have thought about broadening the scope of the site to include dialogue and more content, not audiophile-related.  As I have mentioned Ad Nauseum, this site is self-funded. I don't make money on any of this, I pay to continue the site each year. No clickthroughs, no payments from companies. The reason you see some companies on banners is that I respect those companies and feel they have fair business practices and offer excellent service.
As we approach another close to a year it is always exciting to see what new technology a new year will bring.